This is the second of a series of posts looking at how to impact the veteran suicide epidemic using a public health approach. You can see the original overview post here. 
As a mental health professional, one of the most common things that I hear from veterans is that they struggle with the loss of camaraderie in their post-military life. They're no longer part of a team. They feel like strangers in a strange land, where they don't seem to fit in no matter where they go.
While this can certainly be unsettling and frustrating as we navigate the non-military world, there are very real dangers that come with a sense of isolation. A lack of connectedness is an increased risk factor for suicide. This isn't only true for the veteran population, but has been found to be a risk factor for all who attempt to take their own life. Dr. Thomas Joiner's Interpersonal Theory of Suicide identify three factors that increase the risk of suicide: thwarted belongingness, perceived burdensomeness, and capability for suicide. The first factor, thwarted belongingness (social isolation) is a critical factor. If a veteran perceives themselves to be a burden, but are well connected to family and friends, it is unlikely that hopelessness will develop.
So the question, of course, is how to help veterans improve connectedness to their peers and their community? The Centers for Disease Control's Technical Package of policies, programs and practices highlight two components that could increase connectedness: peer norm programs and community engagement activities.
Peer Norm Programs
One of the most significant challenges related to connectedness is the stigma related to talking about it. Many veterans are afraid to talk about their suicidal ideations, out of fear of loss of freedom or control over their own lives. Peer norm programs are those that try to help veterans address those fears. These programs help veterans to understand that they are not alone in struggling with suicidal thoughts. They encourage reaching out, talking to trusted peers and organizations, and promoting connectedness with a suicide-specific focus. These types of programs attempt to shift the way that veterans and their families think and talk about suicide. They also promote positive social and behavioral changes: reaching out for help is a sign of strength, not weakness. Three peer norm programs that are attempting to maintain connectedness are the Veteran Crisis Line, Objective Zero, and Vets 4 Warriors.
Veteran Crisis Line
The Veteran Crisis Line is well-known and often-utilized, and can be a resource for veterans struggling with current thoughts of suicide. While some veterans express a lack of trust in the crisis line, others have found that it has been helpful in increasing connectedness both during and after the call. The VA has Suicide Prevention Coordinators in clinics around the country, and they typically follow up with veterans who have called the crisis line in order to remain connected.
Vets4Warriors
For those veterans who may not feel comfortable with the crisis line, Vets4Warriors is a 24/7 Peer Support network that is housed at the Rutgers University Behavioral Health Care National Call Center in New Jersey. From their website:
We are committed to ensuring that all veterans, service members, their families, and caregivers always have direct and immediate access to a peer who understands their life experiences and the challenges they face, and can provide support whenever they confront an issue, wherever they are in the world.
Objective Zero
Another peer network program specifically dedicated to promoting connectedness is the Objective Zero Foundation. Objective Zero is a technology-based platform that connects veterans to peers and advocates of their choosing. Their goal is to enhance social connectedness and increase access to wellness resources for veterans. For more information on Objective Zero, you can listen to my interview with OZ co-founder and Executive Director Betsey Mercado.
Community Engagement Activities
Another strategy highlighted by the CDC to promote connectedness is to increase community engagement activities. By becoming more involved in their community, research shows increases in enhanced physical health, reduced stress, and decrease in depressive symptoms. This is especially true in the veteran community. In a recent study about the link between PTSD and social connectedness published by Sarah Kintzle and her colleagues, they found that connectedness had a direct effect on PTSD symptoms. They also found that developing new social connections may be protective against developing PTSD symptoms. This can be especially true for veterans with high exposure to combat or those with "bad paper," a non-honorable discharge status. Both of these factors also increase the risk of suicide in the veteran population.
There are a number of ways that veterans can engage in community activities, both with veteran peers and with the community as a whole.
Veteran Community Activities
In many communities around the nation, the opportunities to connect with other veterans are all over the place. Of course, you have many veteran service organizations, such as the American Legion and the VFW. Both of these organizations, and others like them, are long-standing advocates on the national scale for veterans, but also provide a local connection to other veterans in the community.
There are other organizations, both community-based and national, that provide veterans an opportunity to connect with other veterans. Many are centered around a veteran's particular interest. Going back to college? Check out the Student Veterans of America. Want to work with kids? The Travis Manion Foundation. Community service? The Mission Continues. Disaster relief? Team Rubicon. Fitness? Team Red White and Blue. These, and dozens of others, are devoted to helping veterans engage in local community activities.
Non-Veteran Community Activities
A veteran doesn't just have to hang out with other veterans, either. Part of the transition process is reintegrating back into the community, and integrating a non-military identity with the military identity. If we only continue to hang out with other veterans, wearing our old Army t-shirts and combat boots, are we really moving beyond our military service?
A quick search in any community is likely to provide a number of opportunities to connect to community organizations. For example, a search in Colorado Springs came up with over one hundred community and family organizations within a fifty mile radius. Long-standing community organizations such as your local Elks Lodge or Kiwanis Club can be a resource. Interested in networking while improving your public speaking skills? Toastmasters International is a great resource.
Another non-veteran resource is to become involved in a local faith-based community. Not only does being involved with a local church, temple or mosque increase connectedness with others, research has shown that spirituality is an important protective factor that reduces the risk of suicide in the veteran population. A 2016 study looking at suicidal behavior and spiritual functioning in veterans indicated that faith, spirituality and religiosity have a significant role in suicide prevention. Problems with forgiveness and negative religious coping (struggling with questions of faith) increased the risk of suicide, while connection to a faith community was associated with decreased suicidal thinking.
Connectedness is Protective
The strategy of promoting connectedness in the veteran population in order to reduce suicidal thoughts and behaviors is critical. This is more about wellness than illness; there is no discussion of sitting down and talking to a therapist here. Just as proper stretching and form can keep someone from going to see a physical therapist, so can social connection keep someone from needing to see a mental health professional. This, among many, is a way to address the veteran suicide epidemic.
---
Do you want to help offset some of the costs of the Head Space and Timing Blog and Podcast? Want to show your appreciation and support? You can put some paper in the tip jar by going here or clicking the button below
Want to keep up with all of the Head Space and Timing content? Subscribe Here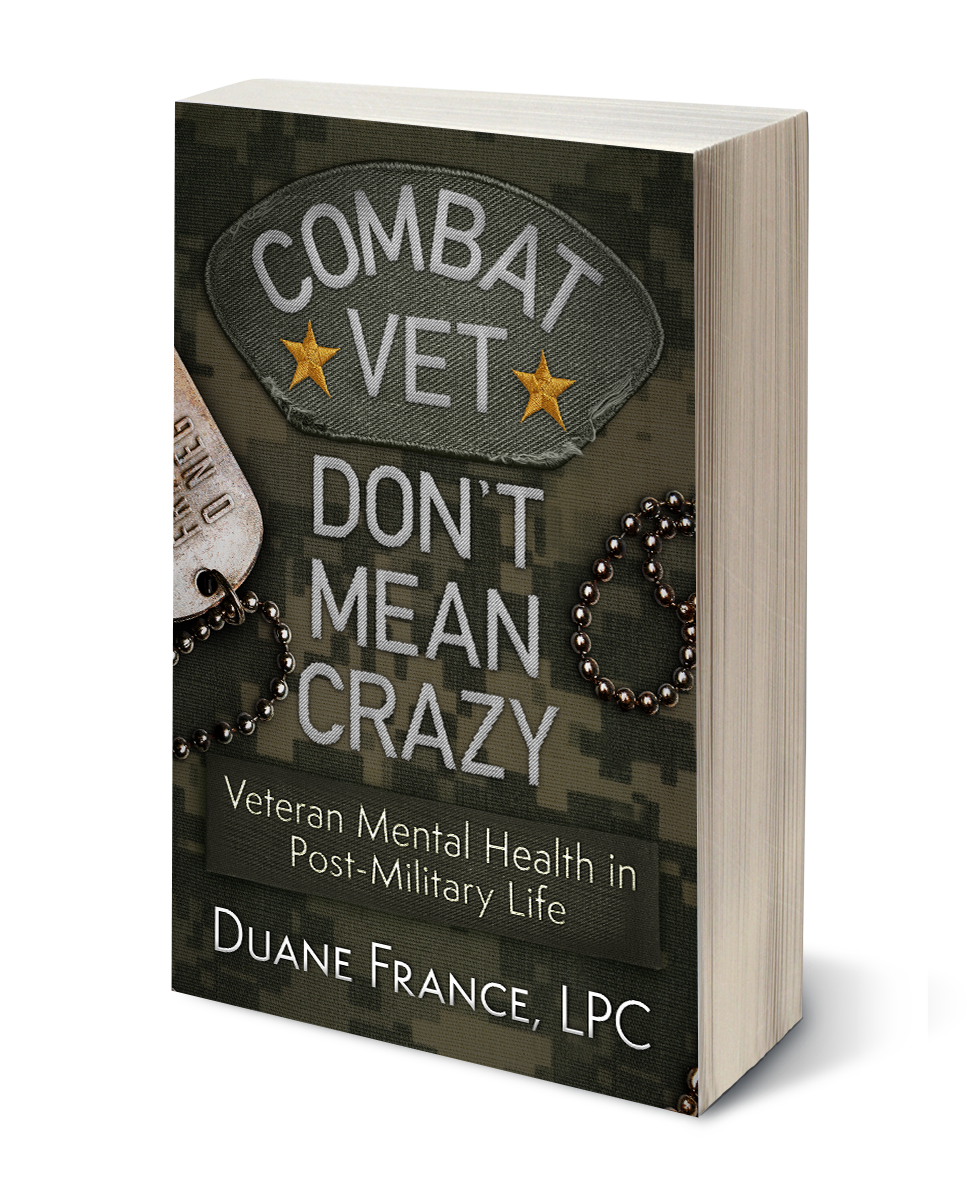 Want to learn more about veteran mental health? Check out the latest Head Space and Timing book


Check out what people are saying about it:
Overall 'Combat Vet Don't Mean Crazy' is a very well written, thought-provoking book. As usual, SFC France did a fantastic job! Being a combat veteran myself who has served in both Iraq and Afghanistan, I feel there's a lot of powerful information and tools in this book that you can put to use immediately – even as you're reading this book. Definitely an excellent read on those days of rest and/or distress. – J.C.