A single drumbeat, by a solitary drummer, will not create enough noise to shake the rafters of a nation.
It could, though.
If joined by enough drummers, beating with different rhythms for different reasons, at different paces and with beats strong and soft, these beats will join together to create a sound that will shake the foundations of the world.
Occasionally, a few drumbeats together will gather to raise some attention. Within a single week in April, three veterans took their own lives at Department of Veterans Affairs facilities throughout the nation. Only four months into the year, it already happened nine times. The frustration, the outrage, the national outcry for "something must be done" is suddenly raised…then quickly fades back into the low murmur of the background noise of our lives.
This is not a hit against the VA, either. This happens in homes and businesses, places of worship and places of entertainment around the nation. With twenty veterans a day taking their own lives, that three should happen in one week in similar locations should not be a surprise. What we can and should be outraged about is that, despite the best efforts of dozens of organizations and tens of thousands of citizens around the nation, the epidemic of veteran suicide still exists.
Suicide: A National Problem Across Many Groups
Yes, this is a tragedy that impacts all of us, not just veterans. The suicide rate in our country has been rising exponentially across a number of different populations: youth, young adult, older adults, the LGBTQ community. A number of different interventions have been developed; hotlines and drop-in centers, billboards and social media advertising. High profile suicides like Kate Spade or Robin Williams, or repeated extreme examples like the VA's parking lot suicides, will cause the nation to have a conversation about it…but only for a little while.
The specific tragedy for veterans, however, is the fact that these men and women, young and old, are a cross section of our society. They chose to serve our nation, for whatever reasons, knowing that they are engaging in a dangerous occupation. Many veteran suicides occur after a service member has survived combat; the stories like that of the Arsiaga brothers demonstrates the impact of this epidemic on a single family and compounds the grief of those left behind.
Army Specialist Robert Arsiaga died in combat on April 4th, 2004, during the events known as Black Sunday. He was one of four children; all four of whom served in the military. While struggling with the loss of Robert, his family then endured the loss of his brother Marine Corps Sergeant Jeremy Arsiaga. Jeremy took his own life in 2015 after struggling with PTSD and depression.
The loss of these two young men, and the impact on their families, is a single drumbeat for the nation but a loud and reverberating crash in the lives of those who knew and loved them. It fades into the background of our lives, but the grief and pain of loss is ever present in their mother, their sister, their brother.
And this happens repeatedly. Daily.
Suicide: Both Rare and Common
In a conversation about Operation Deep Dive, an ongoing research effort sponsored by America's Warrior Partnership (AWP), Dr. Phillip Smith of the University of South Alabama talks about the impact of suicide. He says that suicide is complicated, in that it is both individually rare, because most of us go years without having our lives directly impacted by it, but collectively common; everyone has personally known someone that has taken their own life. Another challenge is that the typical predictive events for suicide, such as substance abuse, depression, life stressors, do not always end in suicide. The reasons for veteran suicide, and for suicide across the nation, are many and varied; our responses must be many and varied as well.
In another conversation with a colleague, Dr. Dan Libby of the Veterans Yoga Project, he pointed out that suicide is an act, not a condition. It is a huge problem, but what if it's not the problem that needs to be solved? What if the problem is deeper, and in order to address veteran suicide, we need to address the underlying causes of it?
And this is the dilemma of our current efforts. Why, with all of the efforts to change the course of veteran suicide, does it still keep happening?
We need more money, some say. Or more discussion, more research, more efforts on a national level. Millions of dollars have been spent on the problem. Organizations such AWP and the George W. Bush Institute's Warrior Wellness Alliance are making Herculean efforts to impact the conversation about veteran mental health and wellness and, by extension, veteran suicide.
And still it keeps happening.
Suicide: Community Cooperation is a Solution
What if what we need is more cooperation? What if the barriers and silos that exist in our veteran support community are hampering our efforts, and it is only through collaboration and cooperation that we finally make a difference?
It's beyond my ability, some say. I'm just one person, what can I do? Everyone knows that the World War II generation changed the course of the 20thCentury. Service members returned home and became Presidents and artists, Nobel laureates and captains of industry. Not all of them did, though; two of my grandfathers returned home, and one became a tailor and the other became a mechanic. They did not have an impact on the nation, individually, but they both had an impact on their families, with single drumbeats. The same way that the single drumbeat of the loss of the Arsiaga brothers had on their family.
It doesn't matter why it's happening, only that it's happening. The argument about which came first, the chicken or the egg, doesn't matter when our yard is full of chickens. It is through sustained collective effort…the beating of drums constantly and incessantly…that we make enough noise to get attention.
And that will be enough to change the world.
---
Do you want to help offset some of the costs of the Head Space and Timing Blog and Podcast? Want to show your appreciation and support? You can put some paper in the tip jar by going here or clicking the button below
---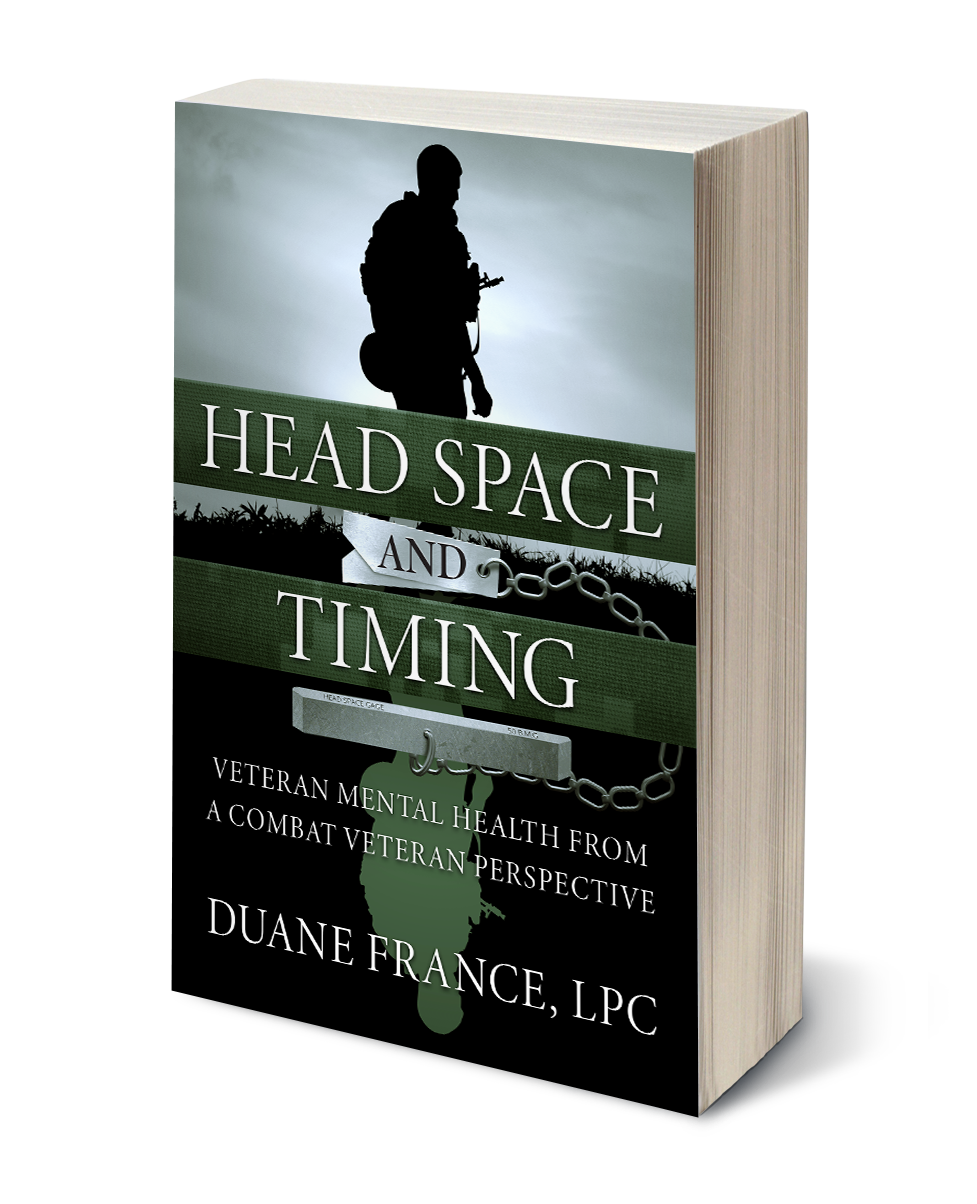 Want to learn more about veteran mental health? The first HS&T Book has recently been released in paperback. Click on the image to the left or this link to purchase the book. See what people are saying about it:
This compilation of Duane's work is key and essential to anyone working with Soldiers and Veterans. Duane provides a senior NCO's perspective with unmeasurable experience and knowledge on top of his natural gift for seeing numerous levels of humanality and the challenges faced by those who have served our country. I highly recommend it! – A.C.