As Suicide Prevention Month 2019 draws to a close, we can ask ourselves…what steps are we taking to reduce the number of service members, veterans, and their families that die by suicide?
When I saw "we," I don't mean we as a nation. I mean we as a community. We as individuals. We can talk about intervention and education. We can talk about raising awareness about suicide in the SMVF population. We can talk about the national problem…but what are we actually doing in the communities where we live? What is happening in your neighborhood, your town, your city?
The news over the last two weeks of September indicate that we have a long way to go to address the problem. The Department of Veterans Affairs released the 2019 National Veteran Suicide Prevention Annual Report. It shows an increase in veteran suicides in 2017 over 2016. It also indicates that over 60,000 veterans have died by suicide over the past decade. While these are looking at information that is several years old, the problem is just as bad right now. The Air Force has directed a force-wide stand down after 78 Airmen have died by suicide as of 1 August. Another article describes how three sailors aboard the USS George HW Bush died by suicide during the week of 16-22 September…in the middle of Suicide Prevention Month.
It is happening, and it's in our face. As my colleague Dr. Sally Spencer-Thomas said when we spoke on the Head Space and Timing Podcast, it's time to move beyond awareness into action. But what action can you take?
What are the Numbers in YOUR Community?
We know the national numbers…for veterans, at least. Whether it's 22 a day, 20 a day, or the revised number of 17 a day (which is actually an increase rather than a decrease), the national number of veteran suicides is known. But what is the number in YOUR community? How many veterans die by suicide in your community? One of the problems is that many of us don't know.
In El Paso County, Colorado, an average of 45 veterans died by suicide in 2015-2017. That's about one veteran every ten days for a year. In my community, from two weeks ago to two weeks from now, we're going to be losing a veteran to suicide. That is an increase from 26 veterans who died by suicide from 2005-2007. In one decade, the number of veteran deaths by suicide in my community nearly doubled. How do we know? Colorado has had one of the most robust suicide tracking mechanisms in the country for nearly fifteen years, the Colorado Suicide Data Dashboard. Does your community have a reporting mechanism? this is the first step…we can't solve a problem if we can't define it.
What Numbers is Your Community Missing?
If you do know the numbers of veteran deaths by suicide in your community, what are the numbers you don't know? What is the number of reported suicide attempts by demographic in your community? This is something that can be determined at local emergency rooms. How many non-veteran suicides are military related, such as veteran and military spouses? How many of the teen suicides in your community are military or veteran children? These numbers are elusive. Steps are being taken nationally, as the Pentagon is about to release data related to military spouse suicide deaths. But what are the numbers in your community?
This is an action step that you can take. Engage local lawmakers. Determine if your state has a suicide prevention office as part of the state department of public health and safety. Determine if your city or county public health department is addressing suicide, and if not, why not? Local coroners or medical examiners likely have information you're looking for. Does your state have a suicide death investigation form? If they do, does include questions about the military affiliation of someone who died by suicide? Contacting your local coroner's office is a step in the right direction.
What Role Do You Play?
There are a number of different areas that we can get involved at the local level. Not everyone is able or willing to conduct suicide intervention, work with people in crisis. Just like not everyone is able or willing to sit with someone after a crisis has occurred. If that's not you, that's okay…other people are good at that. You should do what YOU do best.
The public health approach to suicide prevention identifies a number of different protective factors that keep someone from going into a suicidal crisis, and a number of different risk factors that make a crisis more dangerous. The important thing is to learn what those are. Increasing connectedness in the SMVF community, improving economic stability, and providing effective education about suicide are all areas that can keep someone from getting into a critical place. If prevention measures don't work, then ensuring that people have access to effective care, reducing access to lethal means while in crisis, and providing support after an attempt or death by suicide has occurred are all different ways that we can make an impact. What role do you play in your community? Is it improving economic stability…helping people find jobs or housing? is it being part of an organization that helps keep service members connected to each other…the Big Six veteran service organizations, faith communities, other VSOs that provide veterans with what they need? Believe me, the problem is big enough that there is a place for everyone somewhere.
Do What You Do…AND Prevent Suicide
The bottom line, you and everyone in your community can get into the mindset of doing what you do AND prevent suicide. Maybe you make coffee or change tires or roof houses. You do those things…and prevent suicide. You bag groceries and prevent suicide. You take care of people's teeth and prevent suicide. The problem is so great in our country…and by extension in our community…that we need to be as vigilant about this as we are about keeping our children safe in their schools. Or smoking cessation or health promotion.
The time is now to take action. What will you do today to impact SMVF suicide in your community?
---
Sign Up for Updates
Enjoying this article? Click here to subscribe and get a free preview of Combat Vet Don't Mean Crazy
---
Do you want to help offset some of the costs of the Head Space and Timing Blog and Podcast? Want to show your appreciation and support? You can put some paper in the tip jar by going here or clicking the button below
---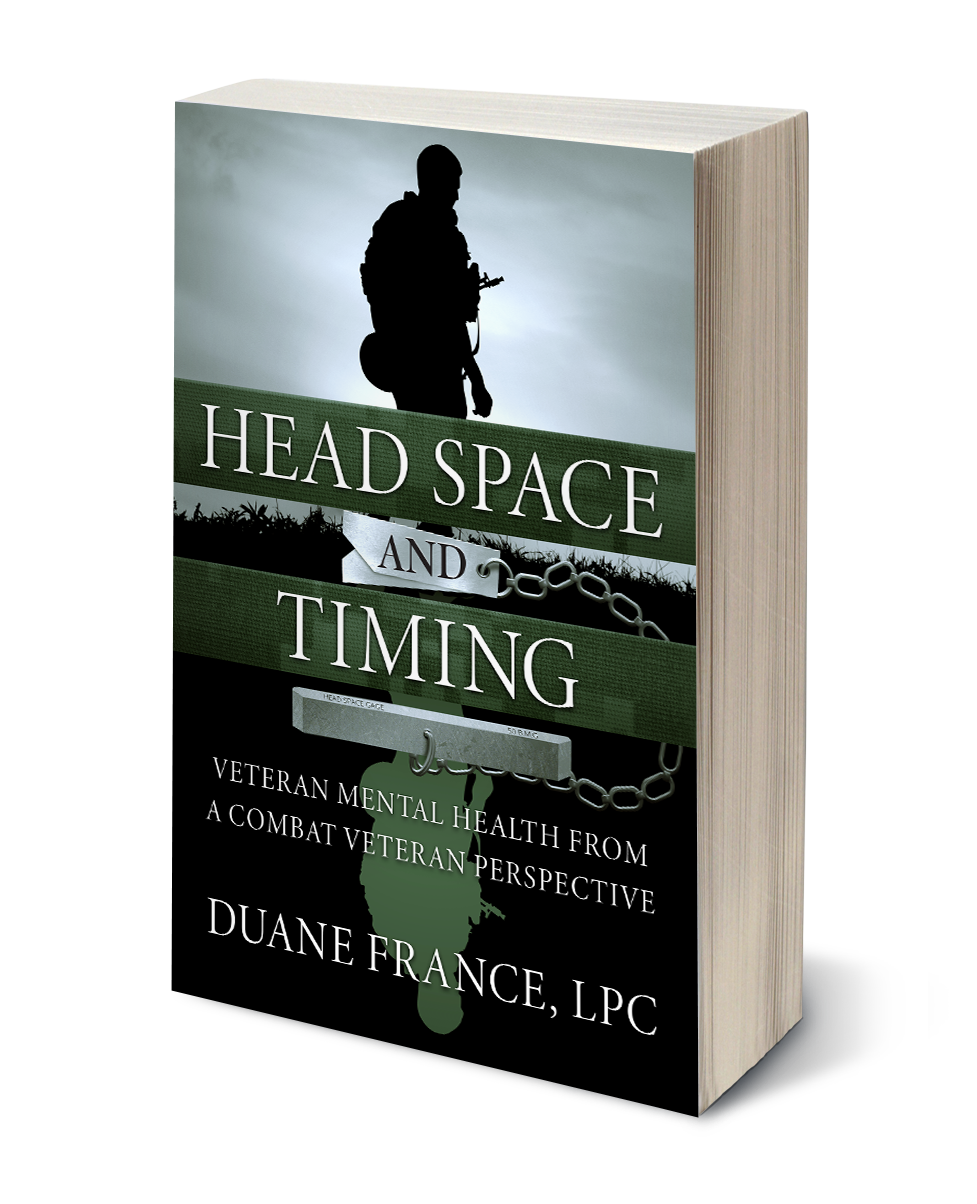 Want to learn more about veteran mental health? The first HS&T Book has recently been released in paperback. Click on the image to the left or this link to purchase the book. See what people are saying about it: This compilation of Duane's work is key and essential to anyone working with Soldiers and Veterans. Duane provides a senior NCO's perspective with unmeasurable experience and knowledge on top of his natural gift for seeing numerous levels of humanality and the challenges faced by those who have served our country. I highly recommend it! – A.C.