This is the fourth of a series of posts looking at how to impact the veteran suicide epidemic using a public health approach. You can see the original overview post here. 
In the last year before I retired from the Army, I was an instructor for a suicide prevention and awareness program called Applied Suicide Intervention Skills Training (ASIST). My fellow instructors and I performed trainings for a number of units on Fort Carson and Peterson Air Force Base in order to help our fellow service members understand the warning signs of suicide and how to intervene appropriately.
One of the questions that I often asked was, "You'll do everything you can to save a buddy's life, right? Run into a burning building, dodge bullets, perform lifesaving measures under dangerous conditions?" The answers were generally head nodding and agreement. I would then ask, "Does that include asking them if they're thinking of killing themselves?" Then there were shocked looks on faces. For some reason, even the bravest of the brave seem to have an aversion to asking each other if the danger that their buddy is in comes from their buddy themselves.
Much of this comes from a lack of understanding and awareness around suicide; what causes it, who's at risk, what can be done about it. Many people don't understand it, and if we don't understand something and feel helpless to stop it, we're less likely to engage in it. The challenge is that, even though many don't want to talk about it, the problem isn't going away. Another way to address the problem, in the military and veteran community specifically, is through education. The CDC suicide prevention technical package identifies training and education as a core aspect of suicide prevention.
Community Education
One aspect of suicide awareness and education is bringing the problem to the attention of the community at large. In my conversation with Dr. Phil Smith and Nick Fadoir from the University of South Alabama on episode 78 of the Head Space and Timing podcast, Dr. Smith said something that struck me as important to understand. He said that suicide is both very rare and very common. Rare, because most of us will go years without knowing someone personally who takes their own life. It's more frequent in the helping professions, such as case managers or outreach workers for a high risk population like veterans, sure. But generally, it's a rare occurrence in our daily lives. At the same time, however, we have all been impacted in some way by the suicide epidemic. Everyone you come in contact today has likely lost someone in their lifetime to suicide. The commonness of it makes it universal, but the rareness of it keeps it out of our mind.
One way to bring it out in the open is to talk about it, to develop community awareness around it. An example provided by the CDC is directly applicable to the military and veteran population. The Air Force Suicide Prevention Program is a group of policy and education initiatives that were developed to change the community culture towards suicide. Also applicable to the discussion of the public health approach to suicide prevention, the program moved away from suicide and mental illness as being a medical problem. Instead, it helped service members understand that it wasn't just the Doc's problem to solve; it was a community-wide issue that required community-wide support from everyone. Commanders, peers, organizations throughout the Air Force. If this can be implemented in such a diverse and widely spread organization like the Air Force, could it not be done in our communities?
Medical Professional Education
In 2002…long before the current prolonged rise in national suicide deaths…a review of forty different studies found that nearly half of those who died by suicide had met with a primary care provider within the month before their death. Older adults…as in the veteran population over 65…had an even higher rate of primary care contact prior to their suicide. This is something that has continued to be an issue; while a veteran comes in to see someone for a medical issue, there is possibly an underlying psychological concern. If medical professionals aren't trained in and comfortable addressing psychological concerns, then it is unlikely that they're going to ask the questions that may indicate the possibility of self-harm. And we're not just talking doctors here; anyone, from the Medical Assistant taking vitals, the Phlebotomist drawing blood, the EMT bringing someone to the emergency room, can and should be trained in basic suicide awareness and prevention.
This is part of a larger conversation around medical provider education about veterans in general. Many medical providers fail to ask a critical question to begin with: have you ever served in the military? The State of New Hampshire developed the Ask the Question campaign to address this initial problem. Once we address the fact that medical professionals are not identifying the patient as a veteran, then providers need to be supported in having real and honest conversations about mental health in a primary care setting. One example of effective mental health intervention in primary care settings is the VA's Translating Initiatives for Depression into Effective Solutions (TIDES) initiative, which uses a depression care liaison to link primary care and mental health services.
Gatekeeper Education
Along with community education and awareness in general, and medical provider training in particular, there is a need for those who are frequently in contact with high-risk populations to have more specific training in suicide awareness and prevention. There are a number of programs available to help people learn about suicide in general, and many of the gatekeeper training programs can be applied to the veteran population if provided by an instructor who is familiar with the unique circumstances surrounding military and veteran populations. In a study in 2008, gatekeeper training provided to non-clinical VA staff demonstrated improved confidence and perceived knowledge in those who attended the training.
Operation S.A.V.E.
An example of a gatekeeper training program is Operation S.A.V.E. (S=signs of suicidal thinking, A=ask questions, V=validate the person's experience, and E=encourage treatment and expedite getting help) developed for and used by Department of Veterans Affairs Staff. This is a very quick twenty-four minute training that can be found online through PsychArmor and is a good introduction to the principles of gatekeeper suicide prevention.
QPR
Another effective gatekeeper training found in many communities is QPR (Question, Persuade, Refer). This training helps individuals understand how they can be effectively intervene when someone is considering suicide. Like many gatekeeper trainings, it helps identify the warnings signs and dispels some of the myths around suicide. While not veteran specific, it is effective in helping those who work with veterans be more comfortable in addressing suicide. It is longer than Operation S.A.V.E., presented as a 1-2 hour workshop.
ASIST
Another example of an effective gatekeeper training is ASIST (Applied Suicide Intervention Skills Training). Beyond the introductory training provided by Operation S.A.V.E. and the two-hour workshop provided by QPR, ASIST is a two-day workshop that helps those who work with veterans get an even deeper understanding about how to effectively intervene. Workshops combine instruction with breakout sessions in which participants practice the skills presented.
Education is Only as Effective When Applied
One thing that veterans know from their time in the military: learning is only as effective as the measure that it is applied. We can learn stuff in a classroom all day, but if we don't put it to use once we're in a tactical situation, then the training is wasted. Education and awareness around suicide will not be effective if it's only presented as a class once or twice a year. What if asking about psychological health was as common as talking about the weather? What if the stigma that surrounds the topic of suicide is broken down in a real and honest way by a trusted individual who understands how to effectively intervene? That's when we might make a difference.
---
Do you want to help offset some of the costs of the Head Space and Timing Blog and Podcast? Want to show your appreciation and support? You can put some paper in the tip jar by going here or clicking the button below
Want to keep up with all of the Head Space and Timing content? Subscribe Here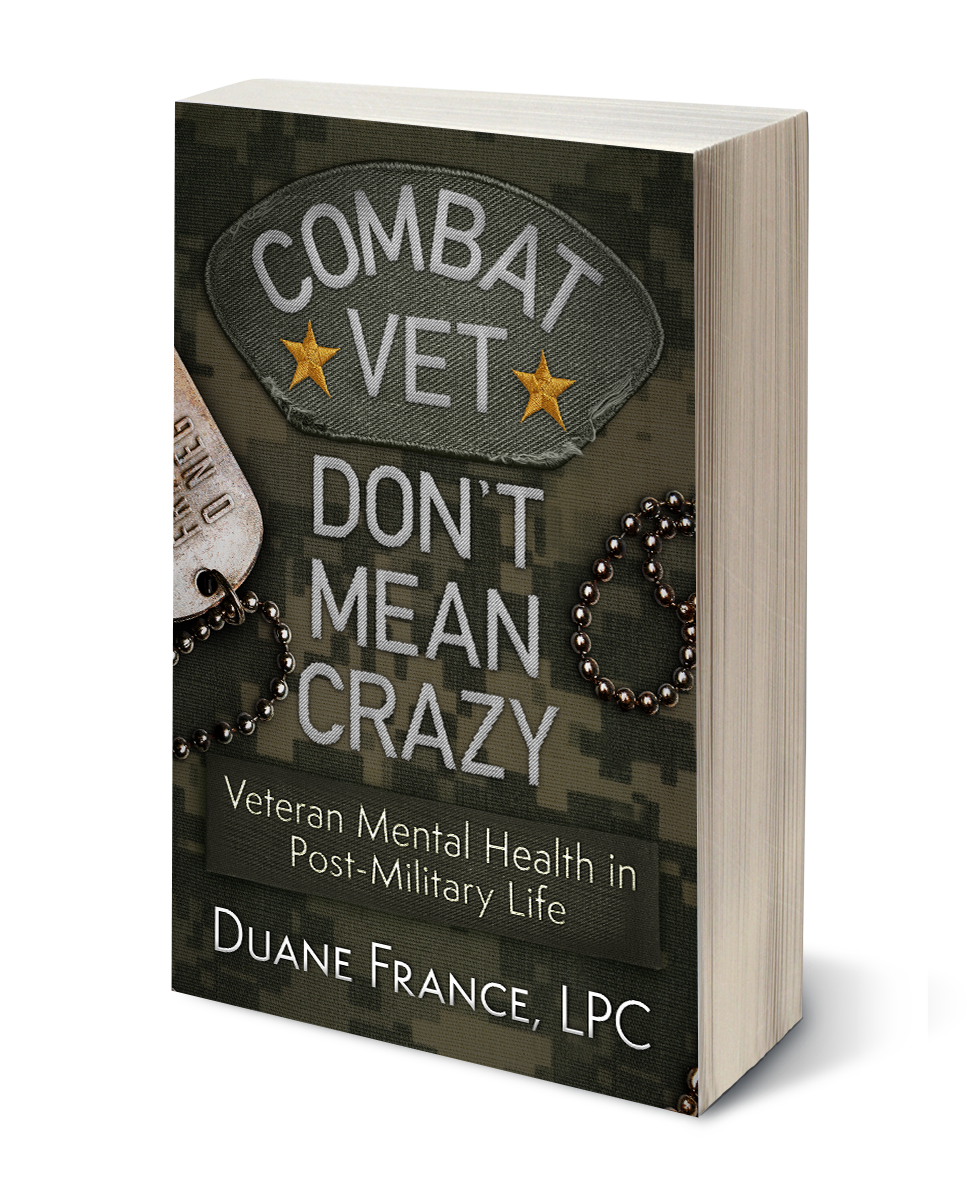 Want to learn more about veteran mental health? Check out the latest Head Space and Timing book


Check out what people are saying about it:
Overall 'Combat Vet Don't Mean Crazy' is a very well written, thought-provoking book. As usual, SFC France did a fantastic job! Being a combat veteran myself who has served in both Iraq and Afghanistan, I feel there's a lot of powerful information and tools in this book that you can put to use immediately – even as you're reading this book. Definitely an excellent read on those days of rest and/or distress. – J.C.