The epidemic of Veteran suicide is pervasive and insidious. As we celebrate those who serve our nation through military service, it would be well if we could take the time to have an honest conversation about the impact of veteran suicide.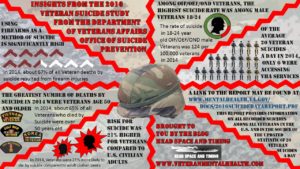 CLICK HERE TO VEW A LARGER VERSION OF THIS INFOGRAPHIC
The source of information for this infographic is the 2016 study from the Department of Veterans Affairs titled, Suicide Among Veterans and Other Americans 2001-2014. If you are a veteran, family member, or community member that cares about the health and wellness of our nation's service members, it would be beneficial to review this report.
As a veteran myself, I often hear, "Thank You For Your Service," especially approaching Veterans Day. If you're reading this, and you're a veteran, you can thank me for my service by keeping yourself safe, by reaching out to those who care for you for assistance. If you support a veteran as a spouse, family member, or community partner, you can thank me for my service by sharing this infographic with as many people as possible.
Share this Image On Your Site
Did you enjoy this post? Please comment below and share with your network in order to join the conversation regarding veteran mental health. You can sign up for updates from Head Space and Timing and follow Duane, a combat veteran and mental health counselor, on Facebook, Twitter and LinkedIn. Keep the conversation about #veteranmentalhealth going.