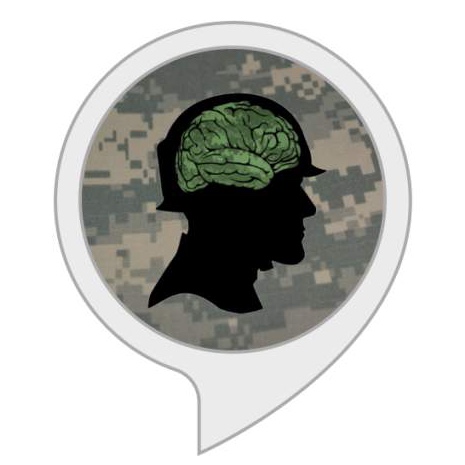 Over 47 million households in the U.S. have installed a smart speaker in their homes. And it's very likely that the smart speaker installed in the home is the Amazon Echo, the Alexa-voiced device that responds to your command. Jetsons, anyone? Yes, of course, there is the recent controversy over Alexa recording your conversation and sending it to strangers, which is problematic, but I tend to pay attention when something I say wakes up the device. Then, yes, there is the creepy laugh thing. This is very early days, however, and imagine what it was like when other new technology came on the scene. Cars? "No thank you, I'll stick with Molly, my ol' horse." Cell phones? "Why bother, we have a phone right here on the wall."
So, if you fall into one of the categories of Alexa users that don't use it and don't want to use it, this probably isn't the post for you. I appreciate you taking the time to read, and tune in tomorrow to check out some more articles about veteran mental health, or check out some of the most recent posts on the right side of the page. You won't be disappointed, and more likely will find something that is right up your alley.
If you are an early adopter of Alexa tech, however, I have an interesting trick for you.
I know you're interested in learning more about veteran mental health and changing the way we think about it, or you wouldn't be on this website. If you want another way to get information about veteran mental health, and own an Echo device, you might want to check out one of the latest skills, the Veteran Mental Health Minute.
If, like me, you're new to this whole smart speaker thing, here's a quick overview. Instead of apps, like our smart phones, Alexa has two types of developer-created content: Skills and Flash Briefings. Skills are stand-alone interactions, like Jeopardy or the Question of the Day. Flash briefings, however, are short segments of information that can be strung together to create our own daily update. Imagine the start to your day: good morning, here's the weather, here's the traffic on your commute. Here's the latest news in your area, here's the info on your favorite sports team…and here's a short nugget of information about veteran mental health. Easy, quick, consumable.
Before we go much further, let's give you an example of what the Veteran Mental Health Minute sounds like:
Neat? I think so, but maybe I'm a geek for this kind of stuff. For me, though, it's just another way to get veteran mental health out from behind the curtain of stigma and into the daily conversation. The Veteran Mental Health Minute is a short awareness-generating update that helps start the day, and gives you a place to go for more information.
So How Does It Work?
If you have an Echo device, you can go into the Amazon Alexa app on the account that's connected to your smart speaker, and click "enable skill." You can also get there by going here: www.veteranmentalhealth.com/alexa.  It's as easy as that.  Once you have enabled the skill, all you have to do is say, "Alexa, What's My Flash Briefing" or "Alexa, What's In The News" and you'll get the latest Veteran Mental Health Minute.
I'm going to be updating the briefing every day, seven days a week. I don't think I'll run out of things to say, and you'll get a brief daily update about veteran mental health.
So what now?
There are a couple of things I'd like to ask. First, I'm really looking for feedback. This is a new way for you to get information, and a new way for me to provide it; what do you think? Let me know. I'd really appreciate if you would enable, listen, and give some feedback on how I can improve it. Comment below, send me your feedback on the contact page, send a carrier pigeon if you have to. I'll give this the ol' college try for a while to see if it takes off, and your feedback will help me know if it's something worth doing.
Second, if you enable it and do like it, consider leaving a review on the briefing page on Amazon. The more stars it gets, the more visibility Amazon gives to it. Your honest review can really help others find out more about veteran mental health.
Finally, share it with others you think may find it interesting. Share it on social media, and tag it with #VeteranMentalHealthMinute so I can find it and share it as well.
Individually, we can make a difference in the life of a veteran or service member. Together, we can move the world.