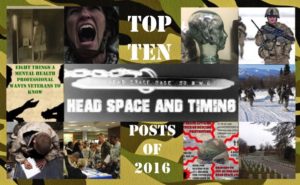 So here we are at the tail end of 2016. Whether it was life changing or not, it's in the history books. I don't know if this year was more impactful than any previous year, but I know that this is the year that I started to write in order to raise the awareness of the impact of #veteranmentalhealth.
I thought I'd take this opportunity to provide everyone with another top ten list, if you're not tired of them already. These posts are the ten most viewed posts on the Head Space and Timing blog; maybe your favorite is here. Maybe not. But here goes:
#10: We Lost Another Veteran Today
This post was written in response to the seemingly unceasing news about veterans taking their own life, but also in response to a personally experienced incident in which a veteran reached out for help before it was too late. We each have the ability to save a veteran's life, we just need to take that opportunity. It's a difficult conversation that we all need to have.
#9: Let's Talk About Veterans For A Minute
An introduction post that gives an overview of what we're trying to accomplish on the blog through discussion of veteran mental health, and a collection of other posts that many find helpful. Many of these top posts here are linked from this post, and it shows how we are trying to support veterans, their families, and their community regarding mental health.
The band Metallica has a history of highlighting the unique experiences of veterans after returning from Combat. Their classic song, One, has been a staple of veterans and Metallica fans for decades; their recent album, Hardwired…To Self Destruct gives an artistic look at what it may be like for some veterans to integrate into their pre-military lives.
#7 Veteran Suicide Infographic
Veteran suicide is insidious and pervasive. As we approached Veteran's Day 2016, I developed an infographic that highlights the pertinent facts from one of the most comprehensive studies on veteran suicide, released in August of 2016. Conducted by the Department of Veterans Affairs and the Centers for Disease Control, it is the most accurate and comprehensive study of veteran suicide to date.
#6 Eight Things a Mental Health Professional Wants a Veteran to Know
The second in a two-part series looking at the therapeutic relationship between a veteran and their mental health professional, this is a post from the point of view of the counselor to try to overcome some of the stigma and misconceptions that veterans have about therapy and mental health treatment.
#5 Four Lessons Learned from a Latrine Stall in Iraq
It's amazing what you can learn from a latrine stall while deployed to combat. This post recounts a favorite story of mine that happened in my deployment to Iraq in '06-'07, and the life lessons I took away from it. It shows how we can take those weird lessons from our past to improve our future.
As I mention in the post, Tim O'Brien's book, The Things They Carried, was a favorite of mine before I joined the Army in the mid-'90s, but I looked at it with a totally different point of view after deploying to combat. This post looks at some things that veterans of today carry now.
#3 Perceived Versus Actual Capacity for Enduring Hardship
There's no doubt that anyone who has served in the military has had the limits of their capacity for enduring hardship tested. This post looks at the tendency of veterans to either underestimate or overestimate our ability to bear with hardship, and what can be done about it.
#2 Eight Things a Veteran Wants Their Mental Health Counselor to Know
The companion post to #6 on this list, this is a piece that looks at what veterans want their mental health professionals to know. There are many veterans looking to improve their mental health and wellness, but a challenge that many have is the idea of going to a therapist that "doesn't get it." This is a way to help a therapist "get it."
#1 An Open Letter To America, From One of Your Veterans
In June of 2016, I was struggling with how to express to those of my neighbors and connections who are not veterans with a simple and clear understand of what a veteran wants. This post is the result, and is my favorite post of the year. It has been viewed and shared thousands of times here on LinkedIn, Facebook, and the Head Space and Timing blog. Not viral, of course, and probably not breaking the Internet any time soon, but I've been told that it's impactful and meaningful. Hopefully you enjoy it as well.
There you have it: the ten most popular posts on the Head Space and Timing Blog. Over the next few days, I'll be sending out more on each of these posts over social media. Make sure to follow me on Facebook, Twitter and LinkedIn so you don't miss the discussion. Thanks to all of my connections for their interaction and support in 2016, and I'm looking forward to future collaboration and discussion about the topic of veteran mental health in 2017.