About Today's Guest: 
Dr. Bridget Matarazzo is a Clinical Research Psychologist and the Director of Clinical Services at VA's Rocky Mountain MIRECC for Suicide Prevention and an Associate Professor in the Department of Psychiatry at the University of Colorado School of Medicine. She completed her Pre-Doctoral Internship at the Denver VA Medical Center and obtained a PsyD in Clinical Psychology from the University of Denver in 2010. She is a licensed clinical psychologist in the state of Colorado.
Dr. Matarazzo is passionate about applying implementation science research to promote the dissemination and implementation of evidence-based suicide prevention strategies to enhance care for Veterans. She partners closely with colleagues in the VA Office of Mental Health and Suicide Prevention to develop and implement national suicide programs and initiatives. Her team uses evidence-based implementation strategies to provide technical assistance, training and quality assurance/improvement to support these programs. One such project is VA's Suicide Risk Identification Strategy (Risk ID), which is the nation's largest population-based screening and evaluation initiative. Another is VA's REACH VET program, which utilizes predictive analytics to identify and support Veterans at increased risk for suicide.
Additionally, Dr. Matarazzo is deeply committed to supporting providers who deliver suicide prevention care to Veterans. She is Co-Director of VA's Suicide Risk Management Consultation Program, which supports VA and community providers serving Veterans at risk for suicide. Her team provides consultation, resources and training to support those doing such incredibly important work. #NeverWorryAlone
Dr. Matarazzo's clinical interests are in suicide risk assessment and management for Veterans at high risk for suicide and PTSD treatment as a certified Cognitive Processing Therapy provider. She is also a member of the Rocky Mountain MIRECC Training Committee and provides supervision to Post-Doctoral Fellows and Psychology Interns.
 Links Mentioned in this Episode:
VA's Suicide Risk Management Consultation Program
Join our Facebook Group:
---
Shauna's latest book: Warrior: How to Support Those Who Protect Us
Duane's latest book: Military in the Rear View Mirror: Mental Health and Wellness in Post-Military Life
---
How to Leave a Podcast Review
Leaving a podcast review at iTunes isn't intuitive. But positive ratings are hugely important: they help the podcast get discovered by new people. Please spend 5 minutes of your time to leave a review using one of the methods below.
How to leave a podcast review using Apple's Podcast app
1. Navigate to Seeking the Military Suicide Solution on Apple Podcasts on your iPhone or iPad.
2. Click "Listen on Apple Podcasts"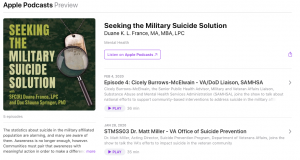 3. Scroll down and click or tap "Write a Review." Enter your iTunes password to login.

4. Rate the podcast using 1 to 5 stars.
5. Submit a brief honest review.
Bonus: get a thank-you note
Your feedback is greatly appreciated. When you leave a review, drop us a line at info@veteranmentalhealth.com and you'll get a message with the warmest appreciation, and a bonus gift!
For Android users, Google Podcasts does not allow for ratings or reviews, but you can certainly let us know how you think we're doing on Spotify, Stitcher, or iHeartRadio
Many thanks,
Duane and Shauna