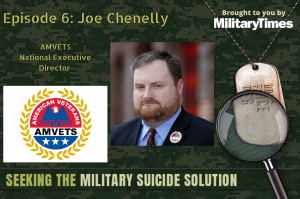 About Today's Guest:
Joseph R. Chenelly was appointed national executive director of the nation's fourth largest veterans service organization in May 2016. In this capacity, he administers the policies of AMVETS, supervises its national headquarters operations and provides direction, as needed, to state and local components. Joe previously served as AMVETS' national communications director.
Joe Chenelly is the first veteran of combat operations in Afghanistan and Iraq to lead one of the nation's four largest veterans service organizations' staffs.
A native of Rochester, N.Y., Joe enlisted in the U.S. Marine Corps in 1998, serving with the 1st Marine Division, and was honorably discharged as a Staff Sergeant in April 2006. He is a combat veteran of Operation Enduring Freedom and Operation Iraqi Freedom, having served in Afghanistan, Pakistan, Iraq, Kuwait, East Timor and the Horn of Africa.
Joe became a veterans advocate, a journalist, and a political adviser after his time in uniform. He covered military and veterans matters on staff with Leatherneck magazine, the Military Times newspapers, USA TODAYand Gannet News, reporting on operations in the Middle East, Southwest Asia, Africa, as well as disaster relief in the United States.
Joe was named one of the 100 "most influential journalists covering armed violence" by Action on Armed Violence in 2013. He was the first U.S. Marine combat correspondent to step into enemy territory after September 11, 2001, as a military reporter in Pakistan and Afghanistan. He also reported from the front-lines with American and allied forces in Kuwait and Iraq as that war began. He was on the ground for the start of both Operation Enduring Freedom and Operation Iraqi Freedom.
Joe served as AMVETS' national communications director in 2005-2007, and for eight years as assistant national director for communications for the Disabled American Veterans (DAV) in Washington, D.C., leading grassroots efforts through social networking and new media.
He has also served as president of Social Communications, LLC, and as a public affairs officer director for the Department of Navy. Joe is an alumni of Syracuse University and Central Texas College. He resides in Fairport, N.Y., with his wife Dawn, a service-connected disabled Air Force veteran, and their five children.
Links Mentioned in this Episode:
Episode Sponsor:
---
Shauna's latest book: Beyond the Military: A Leader's Handbook for Warrior Reintegration
Duane's latest book: Military in the Rear View Mirror: Mental Health and Wellness in Post-Military Life
---
How to Leave a Podcast Review
Leaving a podcast review at iTunes isn't intuitive. But positive ratings are hugely important: they help the podcast get discovered by new people. Please spend 5 minutes of your time to leave a review using one of the methods below.
How to leave a podcast review using Apple's Podcast app
1. Navigate to Seeking the Military Suicide Solution on Apple Podcasts on your iPhone or iPad.
2. Click "Listen on Apple Podcasts"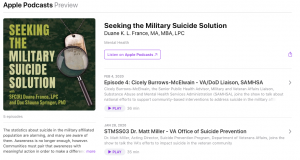 3. Scroll down and click or tap "Write a Review." Enter your iTunes password to login.

4. Rate the podcast using 1 to 5 stars.
5. Submit a brief honest review.
Bonus: get a thank-you note
Your feedback is greatly appreciated. When you leave a review, drop us a line at info@veteranmentalhealth.com and you'll get a message with the warmest appreciation, and a bonus gift!
For Android users, Google Podcasts does not allow for ratings or reviews, but you can certainly let us know how you think we're doing on Spotify, Stitcher, or iHeartRadio
Many thanks,
Duane and Shauna 
---
Episode Transcript:
Duane France (00:00):
Welcome to episode six of the Seeking the Military Suicide Solution podcast brought to you by the military times. I'm Duane France.
Shauna Springer (00:07):
And I'm Doc Shauna Springer.
Duane France (00:09):
And we'd like to thank you for taking the time to learn more about suicide in the military affiliated population.I'd like to thank our sponsors, milMedia Group. milMedia Group is a proven web design and digital media agency specializing in supporting organizations focusing on the military population. Find more about them at www.milmediagroup.com.
Duane France (00:35):
Thanks again to everybody for joining us to listen to an honest conversation about service member veteran and military family suicide and thank you for the response to the show. We're getting a lot of great feedback. If you want to give us more feedback rate and review the show on your podcast player of choice, we'd also like you to join us on our Facebook group, moderated by fellow combat veteran Dee James. You can find the group on the show notes or searching seeking the military suicide solution on Facebook. I'm excited to bring today's guest on the show because I think it demonstrates the importance of this issue at the highest national level. Shauna, what can you tell us about today's guest?
Shauna Springer (01:10):
So Joe Chenelly, he is the executive director at AMVETS national headquarters, but behind his public role is a man who is a servant leader. Our first conversation could have gone on for hours. Joe is a Marine who served as a combat correspondent with several back to back deployments and Joe knows the pain of suicide loss all too well. He sustained multiple losses including eight Marines that he served with in Iraq and Afghanistan and his mother who died by suicide 10 years ago as well as many others in the vast network of veterans He serves his role at AMVETS. Joe and his team have taken the late night calls from veterans in crisis. They're doing in the trenches work to keep their brothers and sisters in the fight. Joe has a perspective that's uniquely valuable and it's such an honor post him on the podcast today.
Duane France (01:55):
Yeah, I agree. Joe is definitely outspoken about the need for this. And it's really great, and AMVETS is not the only one of the big six that is doing this. Hopefully to have more conversations to come. But glad to be able to have a different voice, a unique voice on the show. So we're going to get into the conversation and come back afterwards to pull out some of the key points.
Duane France (02:27):
I really appreciate the role that AMVETS is playing in the, the veterans service organization space to address. the suicide epidemic, not just in veterans but their families and things like that. So I'm interested to hear from your point of view, what you see is actually working when it comes to preventing suicide in our population.
Joe Chenelly (02:49):
Duane, I really appreciate you having me on for a conversation, suicide prevention, addressing the mental health crisis, not just among veterans, but you know, really generally in at this point Is our top priority. And we think one of the biggest needs are off the bat is having a national conversation about this. You know, a chance to get on here with you and talk about this is really important. You know, the VA does have quality mental health care. And we do see, you know, pretty good results with what they're providing. But we know they can't do it alone. What is working out there that we see is a lot of this alternative therapy, but we're seeing what happens at the local levels is what's most effective in whether it's yoga at AMVETS or one of the other veterans posts or at the hospitals or just at someone's yoga clinic. And I'm just using yoga as one example of many. And we see these warrior retreats showing tremendous promise.
Joe Chenelly (03:48):
Unfortunately, they're not getting enough opportunity yet to be able to prove themselves. You know, everything has to be evidence-based. And we agree that things need to be able to be proven, but they have to be given the opportunity to prove themselves. And you know, a lot of times that requires funding. It requires observation by, you know, the so called experts out there, things like that. You know, there's great warrior retreats out there like Save a Warrior and Boulder Crest and Camp Hope. And you know, I mentioned Camp Hope which started in Missouri. You know, that's a very different take on the way some of the other therapies are out there. It's all peer-to-peer and we believe peer-to-peer is probably the most effective way to address this. And so we've launched a training program that we built and it's on our website and we have a pretty aggressive goal of hitting 10,000 of our members in the next few months trained on this program.
Joe Chenelly (04:46):
This is really how to identify what's happening, how to mitigate the risks and identify when triggers are happening and how to connect their fellow veterans with the resources that they need. The story is pretty commonly told to us about veteran who is suicidal or in serious crisis and they stop into a post. Sometimes it's supposed to be their one last stop is "I'm going to go in and have, I have a couple beers and then go home and kill myself." And they go in there and they end up talking to their fellow veterans. Find something that they didn't realize that they're not alone. That there are other people out there who care about them, that there is help. Unfortunately, far too many don't get that. And sometimes we know when people do exactly that they go into a post or somewhere else, so some other type of community space and they don't find what they need or those that they're in there interacting with don't recognize what's happening and they do end up killing themselves.
Duane France (05:49):
And that's…absolutely. I as a mental health professional, but I'm sort of a super peer, right? I was a vet and then I became a clinical mental health counselor. There's not enough of us in the field provide that clinical sort of connection. And, and I agree there is a gap between the clinicians and then, you know, maybe what's working on the ground. But you're talking about the HEAL training, right? That was clinically informed. I mean like, you know, clinicians paired with AMVETS to put that together.
Joe Chenelly (06:18):
That's correct. And we do have we clinicians on staff here with AMVETS now at our national headquarters and they work with a lot of other agencies out there and built this training program. It's an online training module. It takes about 20 minutes. It's actually pretty difficult. When we first launched it, you know, obviously this has been a big part of my life for a long time.
Joe Chenelly (06:41):
So I decided I wanted to test the test and I decided to cruise through it, kind of just skip through the different periods of instruction and just go right to the individual quizzes and the final test and I failed it. Which I thought was a good sign that this program really brings something new to the table. And we're also going out and we are doing training now. We'll be launching a nationwide training effort next year where we're doing in person training throughout the country, wherever veterans go. We're going to start with our largest posts. But we'll be filling…There's other other VSOs just come in and conduct that training as well. We don't care who it is or where, who's getting credit for anything like that. As long as they're saving lives. Those people that, you know, our staff is training.
Duane France (07:28):
And that's great. You know, and this is one of those things, I actually was having a conversation with somebody the other day and we're doing some community based work here in El Paso County and Colorado Springs. And the discussion was about, you know, who has the mandate, does this organization have the mandate to take this forward? And my point is, well it's laying on the ground so somebody has got to pick up the ball and run with it. Right. And I think that's one thing and I've noticed over the last several years that AMVETS has really tried to do is that this ball has been surprisingly, it's been sitting on the ground for so long that you picked it up and run with it. And like you said, this is something that you have been dealing with for quite a while. So that's what works. The peer support is what works. But what are you seeing that isn't working? That maybe some of the things that people think what I'm doing is effective, but it doesn't seem to be working.
Joe Chenelly (08:07):
Shure. We, we could start with with dollar signs, right? We have $9 billion has been spent by the VA year after year. And in the last 10 years we've lost more veterans to suicide than we lost in all of Vietnam. We're trying to do the same thing over and over again. And you know, again, back to that at the beginning of our conversation here, there are things that are working in the VA, but it's hard to have that have any impact if you have a large number of veterans who are, some of the veterans were in most need of treatment of counseling, things like that. They're not going to the VA. There's different reasons.
Joe Chenelly (08:53):
Although it's hard for us to decipher for sure. Because the VA says they don't have certain data, like they don't know how many of we know we'll use this 20 a day number of the 20 veterans who die. Statistically speaking per day, 16 of them are not currently receiving treatment from the VA. We don't know how many of those 16 went to the VA, didn't like what they experienced, didn't go back or how many just don't have access to it. Because of either their local VA is very busy or because their local VA's isn't all that local. You know, a lot of veterans who are experiencing mental health issues, they are unable to leave their house or maybe they don't feel comfortable to drive things like that. We don't really know why they're not going to VA. But we know they're not getting there or tthey don't trust the VA.
Joe Chenelly (09:43):
Maybe they don't trust the government. You know, there's been a lot of reasons out there, well publicized reasons of why people don't trust the VA. So the bottom line is expecting the VA to be the catchall and the one lone entity responsible for saving these veterans, for providing these veterans where they need is unrealistic and it's simply not working. So we spend billions and billions of dollars a year and the suicide rate is going up, not down spending is going up. Suicide. The suicide rate is not going down. We're not getting a return for our investment as tax payers. You know, it's not my job to try to look out for the taxpayer here, but you know, that's the reality here is that we're not getting what we need from that. You know, that's why we're very supportive of efforts in Congress to be able allow the VA to provide resources to local entities, whether that's the alternative therapy whether it's peer to peer support, whether it's local, clinical help, whatever it is, we want to push that locally.
Joe Chenelly (10:47):
The VA needs community partners. We all do. We realize that we also don't think with the Department of Defense doing is working. Really about the problem starts way back in the Department of Defense. And I mean in the very beginning, I don't think they're doing the appropriate or enough scanned enough screening when people are coming into the military, provide the type of transition assistance that they need. And we've addressed a ton…back during the Obama administration, they poured a ton of money to improve the transition from the military back into civilian life or into veterans life. And you know, there's a ton of resources out there when in reality, veterans or service members are still sprinting through that process to get out. The Department of Defense needs to own this issue. And now we know there's a lot of active duty military who are killing themselves. So clearly they're failing, the Department of Defense is failing. You know, our men and women in uniform in that way. And when they get out, it becomes VA's problem instantly. And you know, that's I don't care what's fair or not. Life's not fair, but it's right. And It's not going to, it's not going to address this, this crisis
Duane France (11:54):
After the break, Joe and I talk about the importance of collaboration between government agencies, the medical and mental health community and organizations like AMVETS supporting the military population nationally.
milMedia Group. (12:18):
Hi, I'm Alyssa Mosher. I'm a local army spouse, daughter, sister and a proud team member of milMedia. I'm here at our headquarters at the great Fort Hood, Texas. MilMedia is a military affiliated team that wants to serve you the way that you served our country. With mostly military retirees, veterans and families as our staff, we understand the military mindset. milMedia is the one place that prioritizes your goals above all else, which you will see from our incredible customer service. With over 25 years of experience, we work with everyone from startups, small businesses, entrepreneurs and nonprofits. milMedia group is the digital division of Top Sarge Business Solutions that specializes as a web design and digital marketing platform. So visit our website today for a free website analysis so that you can sit back, relax, and let us give you the perfect online presence to hear more about what milMedia is doing and will continue to do, call me today at (254) 554-0974 or visit our website. That's milMediagroup.com So call me whenever you're ready.
Duane France (13:26):
This is a conversation I've had with people that, in the community, you know, and obviously maybe this was much more on social media, but you know, it's either the DOD's problem or it's the VA's problem, right? They need to fix it. And that third stool, like you said, community partners, people in the community don't even think that it's their responsibility. Right? You know, that's…I don't put out fires. That's a fire department's job. Well, I do what I can to prevent fires so that I don't have to call the fire department, but people don't consider that. Whenever we talk about suicide, it's the DOD problem or the VA's problem.
Joe Chenelly (14:10):
It's America's problem. It's everybody. Everybody needs to chip in on this thing. It's the only way we're going to come close to solving it.
Duane France (14:10):
So that's the classic definition of insanity, right? Keep trying the same thing over and over again expecting different results. And I often say I as a mental health provider, we…this community, the mental health community doesn't have the solution because if we did, the problem would be solved. And so that's one of the issues is what's not working. I'm not saying any more than you're saying is that clinical interventions don't work. They do for the people they work with. And then these other things. But what gaps are there? I mean, you're, you're having this conversation at the national level. We started talking a little bit before about the, the drum beat that AMVETS is trying to hit, but what else is needed? What gaps are there that we need to fill?
Joe Chenelly (14:52):
Yeah, I think we need broader collaboration within the government and from the government, within the medical community and with the nonprofit community or the nongovernmental agencies. President Trump last year signed an executive order called PREVENTS that directs all of his cabinet members to work together on this. Very supportive of that concept, we need to get the brightest minds in this country working on this issue. And if you look at maybe the department of energy, not an entity that we've engaged with in the past for this crisis, who can really analyze what things are happening and we think they can figure out some new solutions. You know, this is all about thinking outside the box and looking at new ways to address this. We can go to the department of commverce. The Department of Commerce has more data than anybody else in the United States. We're all always talking about the lack of data to be able to use as we plan.
Joe Chenelly (15:50):
Things like that. You know, clearly HUD and HHS you know, they have a ton of informaiton, a ton of resources ,expertise at their fingertips and you know, to bring them all together in one way. I think it can be very important. But with the health industry, with the non governmental agencies you know, they're engaged in silos right now and the basic, what can you do? It's always about what can you do? It's how can we work together. And I think we're gonna get there. But that's, that's a big part of our message here of what we're missing right now. That there's a lot of resources that are stronger if they're used together.
Duane France (16:32):
You know, that's interesting when you talk about that. Obviously we all talk about these silos and turf battles and stuff like that. But it wasn't like that we were in the military, right? I was in logistics for 22 years. Right. So I definitely know that the behind the scenes stuff didn't get the bullets in the guns to the guys in front. Right. So, you know, you didn't just rely as an infantry men or as a combat medic, you didn't just rely on other combat medics or other infantry men. You built a team. I mean ultimately that's what the special forces is built around is this finding people who are very skilled in one particular area and putting them together, but it doesn't seem to…that doesn't seem to translate to post-military life for veterans organizations.
Joe Chenelly (17:14):
That's a great example of what we need to learn from. I haven't thought about that way before. But you're right, that's a hopefully breaking it down in a way that your listeners, but you know, just as importantly, our government officials can understand. That's great.
Duane France (17:28):
You know, so in, in those or I see the same gaps, right? How, why are we not in the same room talking about the same thing. Everybody doing connectivity. Let's get in the room and, and again, this analogy that listeners are hearing this over and over again, but we're all digging holes, but nobody is telling us where to dig or how to dig or at what depth or what direction, right? So this coordination piece, we're trying all of this stuff. What kind of actions, cause this is a thing, right? You know, the 20th day, 22 a day, 17 a day, pushups. You know, we're beyond the awareness point. We know about the problem. How do we move beyond awareness to actually taking action? What can listeners actually do when it comes to suicide prevention?
Joe Chenelly (17:50):
Depends on their, their level of of desire to participate. You know, we're encouraging everyone to take the training that we have offered out there or if there's others who are offering the training, but to be able to find out what you individually can do first and foremost, figure out how you can identify things. And it's not as simple as these little business cards that the VA passes out of, you know, if people are giving away their things or if they're talking about suicide.
Joe Chenelly (18:38):
So a lot of people who don't have those really outward highly visible things but then it's not just knowing that as well, it's learning how to help them mitigate the risks. Firearms. A big deal. You know, when we look at the means by which most veterans are taking their lives, it's firearms. We are not advocating for taking away anyone's firearms. We know if a veteran feels that he or she may lose their firearms because they went and self-identified that they needed some help, they're probably not going to do that. You know, so to understand that issue and understand the right way to talk with people about that, how do ensure that they really know that you're there for them or that there are others who are there for them. I think the other thing here is to continue to push your lawmakers into understanding.
Joe Chenelly (19:25):
We can't keep doing the same thing over and over again and expect different outcomes. And to pressure them to make sure they know that you expect them to engage with those who are trying to find outside the box ideas here. Try to leverage best practices that maybe have worked in other things. We talk a few times now about these community partners, building these community partners. That's how our government addressed veterans homelessness with a lot of success in the last presidential administration. They put grants out to the local levels and we saw homeless numbers drop dramatically. It worked. And we think that kind of engagement, the local levels so that that's stuff that we want. We need everybody to be pushing their lawmakers on, whether it's informing them or just encouraging them,. You know, it's risky. And we have a lot of lawmakers who are afraid of taking that risk of, you know, putting several billion dollars into a program that might not work. And we acknowledge it might not work. But we also can acknowledge that what we're doing now isn't working.
Duane France (20:30):
You know, I often use the veteran homelessness example as well. We have, I have a partner here in my community who is one of the SSVF grant recipients. And again, it's one of those things of, as veterans go. So Gord nation, if we can figure out how to solve veteran homelessness in this very identifiable small group and what interventions will get them off the streets, we can then apply that to the national issue or the community based issue. Same thing with suicide is if we can figure out how to engage this particular demographic, which is representative across socioeconomic factors and geographic factors. But if we can figure out how to address suicide in this population, we can then take those same techniques and apply it to the nation at large.
Joe Chenelly (21:20):
You're absolutely right. And that was a conversation I had with the White House staff just yesterday. Of course, they're responsible for the entire country, not just the veterans population. We know the veterans population is suffering a particularly high suicide rate, but really the entire country is facing the suicide epidemic. And when you're not breaking down veterans or non veterans, we're talking about a suicide in the United States every 15 minutes. I mean, a huge number. Veterans, you know, have been leading from the front forever and finding ways to help the rest of the country. And that's what we can all do here by helping address this at the veterans level.
Duane France (21:58):
No, I absolutely agree. I'm definitely gonna make sure that the, the HEAL training, your website and you have a great instructional video that I see here. I'm gonna make sure that that's in the show notes and and I really appreciate you coming on the show today.
Joe Chenelly (22:12):
Yeah, thank you Duane, this has been great. Appreciate it. Appreciate everything you're doing. You're outreach, especially out there on Twitter. Now we hear through your podcast and your blogs really making difference. We're very grateful for you.
Duane France (22:34):
You know, I really enjoyed that conversation with Joe. I think he had a lot of good points
Shauna Springer (22:38):
I did too. He made the comment that a number of programs and retreats that are highly impactful may not get the support they deserve because we're so focused on evidence based treatments. As a psychologist who has been a researcher. It's a balance, I suppose. On the one hand we need to guard against, you know, wildly irresponsible, damaging interventions or things that are a waste of time and money. But sometimes I wonder if we've gone too far in terms of resourcing only the things that have research backing. Specifically, I'm thinking about being in a number of sacred circles of warriors. Reunions that they've pulled together with little to no outside funding. And during these weekends I've honestly witnessed more transformative change than in most of the other settings I've worked with. I had a one particular reunion with about two dozen Marines and I asked for emergency funding from a large foundation that gives money out for veterans and they said, Nope, it doesn't have the research backing.
Shauna Springer (23:36):
So no funding for this. And we did it anyway. And I wanted to read some feedback that I got from one of the Marines after that weekend because it makes the point rather than me just saying it, I wanted to read some excerpts from the letter he sent. Hello ladies. I wouldn't admit it in front of those other goofballs, but I needed that. That reunion could not have come at a better time. The therapy you provided was far more successful than any of the other methods I've experienced. Couldn't believe how not forced that felt it was not in an office or any other setting that feels not therapeutic and sterile. There's something to be said for how beneficial it is to place your subjects in a safe environment they're comfortable with. I think counseling and grief programs should be conducted for units, groups that already know each other.
Shauna Springer (24:23):
There's an unbreakable bond. We can skip the hours and days of breaking down individual barriers to establish a working comfort level. The location was perfect. Woodsy, quiet, hard to find secure. To close. I was completely blown away by how well coordinated organic and therapeutic this was. The model of therapy that you are utilizing should be given a hard look by other organizations with the same goal. I can't express how much I needed that in my life from the bottom of my heart. Thank you. And we didn't ask for that letter it was probably twice that long. I thought it was super insightful and really funny actually. But it makes the point that some of the most impactful things that we're doing are precisely the things that are so sacred that we're just not going to be able to bring, you know, questionnaires and surveys into them. And so I just wanted to get your thoughts on that as well, Duane, because I think Joe makes such an important point here.
Duane France (25:18):
No, I agree, and definitely the funding is around PTSD and TBI. Right? You know, that's where the money is. And so that's where we design the research around, right? We have the medical model of mental health when it comes to, we have evidence base for depression and substance abuse of course, and TBI and PTSD. But what about that lack of purpose and meaning? That's much more existential. Moral injury is now emerging in developing some evidence, but that's exactly right. And I think this is one of the challenges that we've had is separating the medical community or the mental health community that needs to be quantifiable and measurable to when the apple falls from the tree, I can tell it's gravity,
Shauna Springer (26:00):
Right? And when enough Marines or warriors or soldiers or airman say this was profoundly impactful, more than anything I've ever done, then the foundations should be listening to them. They ought to have a vote and a voice. I think in terms of what gets funded. But it is a balance. You know, we don't want to do something that's wildly irresponsible. So there needs to be some oversight and some structure. But I just think sometimes we've erred on the side of reifying research and evidence based practice. The other thing that Joe commented on was the perception that firearms will be taken away as a barrier to starting treatment. And this is an obstacle to care for so many veterans. So a few years ago I was talking with a Marine named Brian Vargas and I asked him this question, what do you think veterans really think when clinicians like me who have not served in the military ask veterans about their firearms?
Shauna Springer (26:56):
And he said, well, I know what I think and I can find out what other veterans think if you want. So at the time, Brian was working toward a degree in social work at Berkeley and he was using tools like survey monkey. So he pulled together a poll and sent it out to the veteran community. And about a week later he returned with the results. It was responses from about 70 veterans enrolled at three different local colleges out here in California. It was one veteran asking other veterans to share what they really think. So here's what we learned. When Brian asked them if they would tell a new clinician the truth about owning firearms over half said probably not or definitely not. Moreover, over half said that they would probably drop out of treatment if a clinician, they did not know well were to ask them if they own a firearm.
Shauna Springer (27:42):
So I wonder if this sounds familiar to any of the veterans or clinicians who are listening to this podcast today. You know, despite our good intentions, what if asking questions about firearm ownership, what if the questions we're asking about firearm ownership or actually backfiring? Leading veterans to avoid seeking help in the first place? What if our questions in our approach are a major barrier to many veterans who would otherwise engage in care? These are the thoughts that have led me to develop trainings and talks about the psychology of approaching this conversation in a respectful strategic way. In the show notes for this episode, we'll post a link to a free to access television program that I did, which hosted a refreshingly honest conversation about firearms.
Duane France (28:26):
You know, I always say that a veteran doesn't need much reason to avoid therapy. So any reason is a good reason…
Shauna Springer (28:33):
Yeah, they're scanning for a reason to never come back
Duane France (28:37):
And not to make light of this, but this is a very accurate reason to avoid getting care. This is a…I describe it as a fear of being taken something taken away, not just the guns, but here at, at Fort Carson and Peterson Air Force, Base of fear of their security clearance being taken away. But it's this fear of something being taken away from me and not exploring that fear, not verifying whether that's true or not can keep somebody from getting the help they need.
Shauna Springer (29:05):
Yeah. It's a loaded conversation and it requires a thoughtful strategic approach rather than just diving into, you know, are you a risk for suicide and do you own firearms? We really need to have a strategic, humble approach to how we ask these questions in the first place.
Duane France (29:22):
No, I agree. I think that having…learning how to have the conversations, we're able to sit with uncomfortable conversations in other spaces, but when it comes to these very maybe politically charged or maybe emotionally charged situations, it's hard to do that.
Shauna Springer (29:37):
Right, right. Yep. This is, yeah, it brings in a lot of emotional and so it's really just very tricky, but there are ways to have the conversation. So that's why I wanted to post that show because there's a couple of specific examples I give in the last segment about how we can talk about this respectfully.
Duane France (29:55):
Yeah, I, I absolutely agree. And as we've been saying, this is a conversation we're going to have to have. We can't talk about suicide in the military affiliated population without talking about firearms. It's simply cannot happen simply because of the number of deaths by suicide.
New Speaker (30:13):
And I appreciate everybody for taking the time to check out the show. You can find the show notes for this show veteranmentalhealth.com/stmss06. You can get the links to everything that we talked about on this episode. And you can also find the show notes on military times.com. I'd like to thank our sponsors, milMedia Group. They're a web design and digital media agency with over 25 years of experience in supporting service members, veterans and their families. They specialize in working with startups, small businesses, entrepreneurs, nonprofits and city, state and local governments. As a veteran owned business, they're uniquely qualified to work with those that want to reach an audience in the military and veteran space. Do you have a dream or a vision they can help you bring it to life and get it in front of your audience? You can contact them at (254) 554-0974 or find them online at www.milmediagroup.com
Shauna Springer (31:14):
Just a reminder that the guests and reflections on this show are for informational purposes only and should not be considered professional advice. While Duane and I are mental health professionals, we are not your mental health professionals. We always recommend that you discuss these things with a licensed clinician
Duane France (31:32):
You can find out more about the work that Shauna's doing by checking out her latest book, Beyond the Military, a Leader's Handbook for Warrior Reintegration, and the work that I'm doing with my latest book, Military in the Rear View Mirror. Both are available on Amazon and we'll have links to those in the show notes. and always remember, you can connect with the veteran crisis line by calling (800) 273-8255 and pressing one, chat online with them at veterancrisisline.net or texting, 838255. Thanks again for joining us to talk about Seeking the Military Suicide Solution and make sure to follow Military Times on social media to keep up with the latest shows. Join us next time for another great episode and until then, remember, you're not alone. Ever.