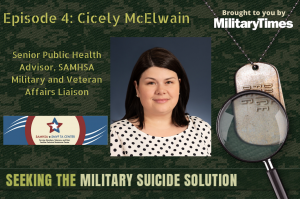 About Today's Guest:
Cicely Burrows-McElwain is the Senior Public Health Advisor, Military and Veteran Affairs Liaison, National Policy Liaison Branch, Division of Regional and National Policy/ Office of Policy, Planning, and Innovation (OPPI), Substance Abuse and Mental Health Services Administration (SAMHSA). Cicely currently works to advance veteran outcomes through government department collaboration to address the mental health and substance use needs of military members and veterans and their families.
She has over 18 years of experience working in rural behavioral health systems in local, state and federal programs. Now prior to joining the team at SAMHSA, she served as a clinical social worker for the VA in veterans integrated service network five in the VA Maryland healthcare system. Cecily is an adjunct lecture for Salisbury university social work department where she teaches courses on rural social work and disaster mental health.
Links Mentioned in this Episode:
List of Mayor's and Governor's Challenge Partners
Suicide Prevention Resource Center
CDC Resource: Preventing Suicide: A Technical Package of Policy, Programs, and Practices
Episode Sponsor:
---
Shauna's latest book: Beyond the Military: A Leader's Handbook for Warrior Reintegration
Duane's latest book: Military in the Rear View Mirror: Mental Health and Wellness in Post-Military Life
---
How to Leave a Podcast Review
Leaving a podcast review at iTunes isn't intuitive. But positive ratings are hugely important: they help the podcast get discovered by new people. Please spend 5 minutes of your time to leave a review using one of the methods below.
How to leave a podcast review using Apple's Podcast app
1. Navigate to Seeking the Military Suicide Solution on Apple Podcasts on your iPhone or iPad.
2. Click "Listen on Apple Podcasts"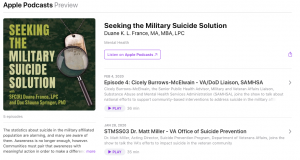 3. Scroll down and click or tap "Write a Review." Enter your iTunes password to login.

4. Rate the podcast using 1 to 5 stars.
5. Submit a brief honest review.
Bonus: get a thank-you note
Your feedback is greatly appreciated. When you leave a review, drop us a line at info@veteranmentalhealth.com and you'll get a message with the warmest appreciation, and a bonus gift!
For Android users, Google Podcasts does not allow for ratings or reviews, but you can certainly let us know how you think we're doing on Spotify, Stitcher, or iHeartRadio
Many thanks,
Duane and Shauna 
---
Episode Transcript:
Duane France: (00:00) Welcome to episode four of the Seeking The Military Suicide Solution Podcast brought to you by the Military Times. I'm Duane France.
Shauna Springer: (00:07) And I'm doc Shauna Springer.
Duane France: (00:09) And we'd like to thank you for taking the time to learn more about suicide in the military affiliated population. I'd like to thank our sponsors, milMedia Group. milMedia Group is a proven web design and digital media agency specializing in supporting organizations focusing on the military population. Find more about them at www.milmediagroup.com
Duane France: (00:35) Hey everybody. Welcome back to the show. Once again and as always, really appreciate you joining us to listen to an honest conversation about service member veteran and military family suicide. Our guest today is Cicely Burrows-McElwain. Shauna?
Shauna Springer: (00:49) So Cecily Burrows-McElwain serves as a military and veterans affairs liaison for SAMHSA where she focuses efforts on strengthening cross agency collaboration between organizations like the VA, the department of health and human services, and the department of defense in meeting the behavioral health needs of service members, veterans, and their families. She has over 18 years of experience working in rural behavioral health systems in local, state and federal programs. Now prior to joining the team at SAMHSA, she served as a clinical social worker for the VA in veterans integrated service network five in the VA Maryland healthcare system. Cecily is an adjunct lecture for Salisbury university social work department where she teaches courses on rural social work and disaster mental health.
Shauna Springer: (01:39) In speaking with Cecily, it's quickly evident that her work is not just a job. One sign of her dedication is that she engages in volunteer efforts that serve our nation's defenders, Cecily volunteers, for example, as a First Lieutenant in the Maryland military department's defense force as a clinical social worker with the 10th Medical Regiment. As we'll see in her interview, she's passionate about advancing collaborations that results in positive community level outcomes. It's a pleasure to have her join us as we kick off the initial episodes of seeking the military suicide solution.
Duane France: (02:15) It absolutely is. A Cicely as a friend, is a colleague, and I'm really excited to be able to bring this interview to the listeners. We'll get into the conversation and then we'll come back afterwards to pull out a few key points.
Duane France: (02:38) You're the VA/DOD liaison for SAMHSA. So you have a very sort of high level strategic view of suicide prevention. It's not the only part of your job, but, but that's a big part of it.
Cicely McElwain: (02:51) Yeah, you're absolutely right. What I get to do is really play a coordination role between the work that we do here at SAMHSA, the work that, kind of the larger partnership within all of the department of health and human services does around suicide prevention and bringing those resources, subject matter experts, et cetera to our partners at DOD and VA. And it's really a great kind of macro level viewpoint as you mentioned, but it allows for a perspective that really, for me, being a public servant, really reinforces my meaning as being in this kind of a role because we're able to kind of identify how these federal departments, these large organizations can really make a difference for communities. And so it's been a real honor to do this job.
Duane France: (03:40) I mean it's hard to balance sometimes because it is such a very personal and even local issue. The things that are gonna work in Colorado Springs aren't going to work in San Antonio and they're not going to work…Heck, even the things that work in Baltimore not going to work in DC. And so a, , talking about what works, what is working from your point of view, how do you balance that sort of macro level with the need for community involvement?
Cicely McElwain: (04:07) That's a great question Duane. And I think it's one thing that actually my agency at SAMHSA has done very well on a number of issues related to behavioral health. But in particular when it comes to suicides, there was this understanding that, because this is such a personal issue that touches so many lives, because we have a recognition that there's no community that's not impacted by this. The recognition has been the best way to go about getting action on this huge issue is to get communities involved at the grassroots level up. And so SAMHSA has done, for years now, policy academies to try to work with communities and identifying the issues that are facing them and in particular identifying the needs of our military and veteran families.
Cicely McElwain: (04:53) And we've done this with , all of the States and territories over the last decade or so, but in particular, the last two years we've partnered with the VA and their office of suicide prevention to do something called the mayors and governors challenge, which I know you've been a part of and I think a lot of your listeners may have at some point, but if they haven't, hopefully they will be soon. So the answer is really, what works is it's taking this responsibility to act and care for one another to the local community. And we're doing that through taking what we call a public health approach to suicide prevention.
Duane France: (05:28) And so the Mayor's Challenge, and like you said, we in Colorado, we're part of the Governor's Challenge, but there's correct me if I'm wrong, but I think it's what, 14 or, or maybe 18 cities or communities that are involved with the Mayor's Challenge. And so this is support from the federal level providing, like you said, technical assistance and sort of how to come together and how to build a coalition at the community level and diverse communities like Mecklenburg, North Carolina,Houston, even, Montana, certain cities in Montana, so a wide range of not just city communities, right. , Baltimore and DC and Colorado Springs, but rural communities which is a total nother issue.
Cicely McElwain: (06:17) Yeah, it was a great program that really kind of was VA's effort to kind of build off of their success with their homeless challenge. And we went with a Mayor's Challenge effort to start to really see what it would be like to engage local communities. Actually, we hit 24 different sites with what we called the Mayor's Challenge, but it ended up for a few communities being more of a community County level effort that got underway. And we had a great mix of both urban and rural areas that were able to take this challenge on. As you mentioned, some of the cities out in Montana folks here in the East coast, Virginia a number of different communities that came together and really were able to, with the support of their mayors or their County executives to put together a team.
Cicely McElwain: (07:05) And the unique components to this is, , while we may say there's key leadership positions that are required to come to the table, local communities can also identify the core champions within their local communities that are going to be able to go back and take these plans and put them into action. And so really what as the federal support system to this we do is bring together subject matter expertise, a good model of strategic framing around action planning and coalition building. And then communities take that to their local communities to really start to hone in on where their goals are. What are those action steps look like? How do we get the right people to the table? And really through kind of a collective impact model can, can grow their own unique brand of action for the community that meets their needs the best.
Duane France: (07:57) See, and I think that…and, we've heard the criticism of, it can't be this top down force fed model that everybody does the same thing because, as we're talking about not all of the communities are the same. The resources in, , Charlotte, North Carolina may not be as robust or maybe more robust than in another community. And so it's one of these things where I'm not having this prescribed, "these are the steps that you take with suicide prevention" because as you said, each community is unique.
Cicely McElwain: (08:32) You're absolutely right. What we've found really if we're talking about kind of an area that we could bolster, if we had kind of our magic wand, it would really be that infrastructure around suicide prevention for all of our States and communities. So while a number of our public health issues, and suicide really is a public health issue for our nation, have some infrastructure built into the way that we kind of address those issues at the local level through health departments and through state department level organizations that get funding and kind of filters out. Suicide prevention has been one of those areas that while everyone agrees it's a very impactful and serious issue, the funding has not necessarily kind of been uniformed in any way or, or done in a way that allows for communities to really do good planning with kind of a full time dedicated person to coordinate this effort.
Cicely McElwain: (09:26) It doesn't mean they don't exist. They absolutely do. And they do some amazing work on the community side. But the infrastructure is really, I think, one area where we could kind of as a nation, take a look at that. And and say, Hey, how could we do that a little bit better to make sure that communities have someone to really help roll this work out. We've had major success in getting communities to address the issues of their military and veteran families. I think everyone recognizes what a value an asset our military and veteran families are. And so when we were starting to hear numbers from the VA, startling numbers around rates that were eclipsing their civilian counterparts by one, one and a half, 2%, we were able to get folks to take notice and say, Hey, what's that about?
Cicely McElwain: (10:12) What can I do? How can I make a difference? We have a amazing toolkit that I would encourage communities and folks that are interested in taking a look at that came out of the CDC, but it was really a federal and subject matter expert designed tool called the preventing suicide technical package that really describes how communities can take a public health approach to suicide prevention. And what's so unique about this is if you take a look at some of these strategies, everyone has a role to play in at least one of these strategies, and it doesn't matter if it's the youngest child in your family that wants to maybe give back and kind of recognize some of the service that people have provided to their nation or if it's the clinician that's thinking about how they can kind of give back to their community through their clinical expertise.
Cicely McElwain: (10:58) There's a number of strategies that are out there that can really make communities recognize that each kind of unique gift that you have to give back is something that's going to be valuable in creating a healthy system for individuals that are at risk. So those strategies in particular kind of take a look at strengthening economic support, looking at accessing delivery of suicide care. So that's more on the clinical level. Looking at protective environments, promoting that connectedness piece, which if all of the strategies when we talk about our veteran population, I think looking at how we promote connectedness for veterans and their families is one of the things that's a real secret to supporting them through these tough times when they may be most at risk. And then teaching coping skills, identifying support for those individuals who are at risk and then making sure that we lessen harms and prevent future risks.
Cicely McElwain: (11:47) So all of those, while maybe kind of abstract and their thoughts right now come down to community action, which are really tangible steps. Like how do we make sure folks know how to access the benefits that they earned through their service?, Different resources within communities, local chambers of commerce that may have specialized programs and training all the way to looking at how we make sure that veterans and community members know where they can go to seek services for mental health care. So there's a lot that can be done. And I think what we're seeing is if we can kind of empower communities to take a role in whatever area that they feel comfortable and then train them if they're willing to be trained, in some of the great steps that we know have been proven to work, the we can achieve success together.
milMedia Group: (12:42) Hi, I'm Alyssa Mosher. I'm a local army spouse, daughter, sister and a proud team member of milMedia. I'm here at our headquarters at the great Fort Hood, Texas. MilMedia is a military affiliated team that wants to serve you the way that you served our country. With mostly military retirees, veterans and families as our staff, we understand the military mindset. milMedia is the one place that prioritizes your goals above all else, which you will see from our incredible customer service. With over 25 years of experience, we work with everyone from startups, small businesses, entrepreneurs and nonprofits. milMedia group is the digital division of Top Sarge Business Solutions that specializes as a web design and digital marketing platform. So visit our website today for a free website analysis so that you can sit back, relax, and let us give you the perfect online presence to hear more about what milMedia is doing and will continue to do, call me today at (254) 554-0974 or visit our website. That's milMediagroup.com So call me whenever you're ready.
Duane France: (13:51) In my experience, this is one of the gaps. As you mentioned, there's things that we know work, the technical package, we'll have a link to that in the show notes, but that's a tool, right? That is something that is based in research. It's based in clinical and community based experience. But that tool isn't effective unless there's somebody in the local community who can pick up and use that tool effectively. Right? And that's what you're talking about is not having the infrastructure in the communities. [I'll toot Colorado's horn here for a little bit. In that we have had a dedicated state office of suicide prevention paid full time for a number of years, 15, I think. But not every community has that. And so that's what you're talking about is we have the knowledge, we know what works based on the research and what we can do to stop suicide in our population. But we don't have people on ground to actually implement that.
Cicely McElwain: (14:50) Right. Absolutely. So as you shared, you come from a state that's very rich in these resources. A lot of this has been state infrastructure that's been built up. It's been folks like yourself that are champions within the local community saying, Hey, how do we start this? , and, and maybe sometimes it's rubbing two sticks together to make things, kind of gain some momentum. But if we could try to identify, through some evaluation of the work that's being done in those communities where they've really made strides, like Colorado and others, what we're able to do then is to make suggestions. And we're in a situation right now, as some of your listeners probably have already heard, about the unique opportunity through executive order 13861, the PREVENTS initiative, which is known as the President's Roadmap to Empower Veterans and End the National Tragedy of Suicide. Through PREVENTS, these departments, my own and others included, are really looking at what are those gaps that we could potentially identify and support at the federal level to ensure that communities are able to provide this kind of care for citizens nationwide.
Cicely McElwain: (16:01) And so we're learning from communities that are doing a great job, that have been innovative, that have adopted some of these strategies. We're learning from the Mayors and Governors Challenge communities on how they've been able to take some of these strategies and make them work. Hearing from community members, hearing from veterans and family members about how the connectivity piece through veteran service organizations has really changed their life. It's opening up this idea that maybe in the past has been kind of a closed off paradigm thinking that suicide really is an issue for folks living with severe mental illness or living with other issues. This is talking about going upstream and looking at what are the other components so that we can kind of ensure that individuals hopefully don't get to that point or if they do that the system is not excluding them from actually getting where they need to be.
Cicely McElwain: (16:52) And what we found is that communities need and want assistance in identifying where those barriers are because they want to fix it. There's no one that goes out in the morning and says, I want to keep people from getting well. Right? The goal and kind of the beauty of, of what our nation is about is really kind of helping people be independent, helping individuals find their own path and be successful in that. And so when a community can see the role that they can play in saving lives, this collective impact of all of us working in whatever sector that we are, whether it's the employer that has a huge role to play in creating a safe work environment, whether it's the family member that individuals are coming home to, being there and knowing the right questions to ask and how to approach someone that they're concerned about. All of those things kind of take some time and education, but they're not out of the reach of individuals. Once that education, training, technical can be shared, it really does empower us to make a difference for not only the veterans in our lives, but for all of our community members.
Duane France: (17:57) And I think that's the, like you said, the magic, that happens is, everyone is doing their individual effort. The employment folks are helping folks get jobs and those are things that are…that's suicide prevention. I do, if I'm a homeless veteran or homeless military family advocate, I do homelessness prevention and prevent suicide or I help people get jobs and prevent suicide. And so there needs to be that clinician at the table and the folks that take people on fishing trips because sort of that "a burden shared is a burden lessened." And the growth is exponential rather than just the incremental efforts that we might get just from from our individual efforts. So, and I'm definitely going to, as I mentioned, I'm going to have the the preventing suicide technical package in the show notes. I'm going to include a list. I think there's a map of Mayor's Challenge cities so that if listeners are in a Mayor's Challenge community that they can reach out and connect. I'm actually going to have some of the Mayor's Challenge community leaders on the show. But what are some actions steps that listeners can take to actually get involved or do something at their community level?
Cicely McElwain: (19:14) That's a great question and thanks for encouraging folks to learn a little bit more about those challenges. One thing I can share officially is that this year in particular, VA and SAMHSA are going to be launching a Governor's Challenges through 28 more States. So we have that first initial seven that you have been a part of through the state of Colorado. But we've identified the fact that the state level infrastructure is such that it allows for really amazing opportunities of collaboration to get underway. And so we have just yesterday sent out, and I don't know when folks are listening to this, so it'll be a little dated. But we have just sent out our first round of invitations to 14 States to get them to the table and really help get the local government feel to look at how they can play a role in helping save lives.
Cicely McElwain: (20:09) We know that and let's just, for the one time use the numbers out there, that 14 of the veterans that we know die by suicide are not connected to the VA. And so this is why it's so critical that we turn to our community members, and say "you have a role to play."This for me is personal. It starts at home. If people are sitting there and they're thinking, Oh, I have to download a link or I have to think about this. Really it's beyond that. It's, do you know the veterans to the right and left of your home? Who are the veterans within your own family? Who are the family members that support those veterans that may need a touch base? Start by looking at the folks that you touch within your local community, your faith based communities the, the workplace and identify if there's anyone that you can make that personal connection with.
Cicely McElwain: (20:55) We know that personal connections, we know that caring contacts in the general sense versus the sense of just an aftercare model really do make a difference. And so I encourage folks to start thinking from that perspective, from the individual out, and then start drawing those larger circles of what your organization can do. What your , your own kind of profession can do. You, yourself being a counselor. , how critical it's been to kind of make sure that people that carry this licensure and have this important role have some cultural competency in serving your fellow veterans. And so one of the things that I like to say is kinda just take some time. Think about what your own individual strengths are. If you match those up to some of the strategies that we know are out there that are successful see where there's maybe an area of resources.
Cicely McElwain: (21:45) There's lots of free resources and trainings in this space. SAMHSA has the suicide prevention resource center or sprc.org with loads of information and training that are at your fingertips. Also our service member veterans and their families technical assistance center that does all of the coordination through the interagency agreement we have with VA on the Governors and Mayors challenges. The samhsa.gov website has a link for our service members, veterans and their families TA center. And we want folks to go there and know that that resource is there for them to pull down information. So I guess start with yourself. No, you don't have to pay for this information. It's out there. The federal systems and departments have some amazing resources in particular within DOD. The Real Warriors campaign is one that I suggest folks take a look at on the VA side. We have some amazing resources through their office, suicide prevention. There's great trainings available through partners like PsychArmor with their S.A.V.E. Course that VA provided to them. I just think there's so much out there that if you can find the one area around suicide prevention that even sparks an interest for you, there's an amazing opportunity that awaits and in the way of being able to kind of learn more and take it to that next level.
Duane France: (22:59) That's really great. I, I appreciate that. What I used to say was, I'm not going to be able to change the. Army, but I can definitely impact my corner of it. I can take care of my soldiers and so on, so I can influence what's immediately around me. And if everybody starts to influence something that's immediately around them, then that's going to sort of spread like the inkblot on the page. And eventually we'll turn the corner.
Cicely McElwain: (23:25) You got it. It's pretty amazing. It's not a situation where we oftentimes think about this unless our lives are touched by it. It's just kind of how it is. We tend to kind of turn away from the things that are uncomfortable for us, but when it comes to suicide prevention, when you think about the alternatives of helping individuals to live full lives, that really kind of ensure that communities have a role to play, that people feel connected in a way that allows them to thrive. That's what is possible when we take a public health approach on an issue like this. And I think if people can walk away knowing that they have a role to play, if they're willing to do so, it's an amazing way for them to continue their service and to really support those who have served.
Duane France: (24:07) Oh, that's great. I really appreciate….like, of course, I appreciate you and the work that you're doing, but I appreciate you coming on the show today.
Cicely McElwain: (24:14) Thank you. It's been an honor to be with you.
Duane France: (24:23) Like I said before, it was great to be able to talk to Cecily. Cecily and I talk somewhat often. But definitely in her role as the liaison between SAMHSA and the VA/DOD. She's doing a lot of great work. I'm interested to hear what you thought about some of the things she had to say in the interview.
Cicely McElwain: (24:43) Yeah, I thought it was a great interview and one of the things that was clear to me is how Cecily and Dr. Craig Bryan really picked up on a common theme of shifting towards a more public health approach. Both Dr. Bryan and Cecily, certainly as providers who have practiced and worked with veterans believe that behavioral health is critical and that treatment works. But at the same time, Cicely and her team are part of the movement to shift the paradigm away from this solely mental health approach. As she put it. I think, , we all have a role to play. She gave an example of a child who honors military service members and also talked about clinicians who serve on the front lines of care as the range of people that have a role to play. What did you think, Duane?
Duane France: (25:28) No, I think exactly the same thing. Just the, the uniqueness of, and for listeners, we didn't plan this right?. So, Cicely and Craig and none of our guests have spoken to the other guests, and Shauna and I really believe that there's going to be these kinds of themes that are going to emerge over and over and over again, which is really, I think going to hit that counterpoint. And this is one of those examples of we're going to hear a lot about shifting from just the pure mental health model or the sole community model and creating something that's conjoined. So, yeah, I think that was a great point.
Cicely McElwain: (26:05) Yeah, right. I mean, another thing that really stuck out for me is thinking about what technical assistance means. So in her role, Cecily provides technical assistance to communities at the community mental health level and other community organizations. What does that actually mean though? I think that's one of those terms that could help us to get some specific examples in mind of what that means. And I mean, you know as well as I do what some of those specific examples are. I think of it as being kind of the connective tissue between the government and other agencies that partner with the government as well as skill sets that maybe relate to helping communities understand how data can inform their efforts. For example, where the gaps in service may exist and there are other technical assistance pieces that that also are included in that. Can you think of another few specific examples?
Duane France: (27:01) Yeah. I have been as part of the community work that we're doing here. We have been a recipient of some of that technical assistance. Through the state of Colorado. And one of the things is, like you said, connecting but connecting to resources that communities might not be available. For example we conducted a two day policy Academy, so how do we develop policies in our state and our communities? And they brought in subject matter experts on different aspects of a suicide prevention. So being able to connect us with people like Dr. Richard Stone was there from the VA and a number of different people who are doing things that communities don't necessarily have readily available access to, but yet could very much benefit from.
Duane France: (27:54) And then they actually had brought a team out here to Colorado Springs and helped me conduct sort of a brainstorming session with a number of, wide range. I think I had 45 or 50 different agencies there from across the spectrum in all of these different areas. And so their technical assistance center came in and helped me organize sort of this conversation that really pushed our community based suicide prevention conversation forward. So you're, you're exactly right. And I didn't even think about it because technical assistance is sort of the name. Like we know what it means, right? But then I, I take a step back and people like, well, I called tech support if my computer's not working, so what is it? And so I think it's a great point. A little jargony, but we don't even recognize that it's jargony because we're there every day.
Shauna Springer: (28:45) Well, that's it. I mean, I call the computer support tech assistance and usually they say, ma'am, is your computer plugged in? And , most of the time it is. But , that's kind of where I put it in that bucket of my mind. But the efforts that Cicely and her team are doing are successful and they're expanding to so many more States. And so they basically come in and they provide expertise and organizational capacity and connection to experts and systems that can help States really launch their efforts. So yeah. The other thing I noticed about the interview was just really wanting to highlight what she said about every population has different needs. And you said this too, Duane, you said that this is not a prescribed approach, which I totally agree is critical. That one size fits all does not work for suicide prevention. Part of our work is really seeing what the unique needs are of each subpopulation that we're serving and then addressing those in culturally appropriate ways. And so I thought maybe it'd be fun, I know that you did a lot with the Mayor's Challenge or the Governor's Challenge in the state of Colorado and I did a lot this past year with the state of Montana. So I thought it would be fun to kind of talk about different efforts in those two States as examples of how there are unique plans of action depending on who we're serving.
Duane France: (30:09) Yeah, sure. So this past year as you said, Colorado was selected as one of seven Governor's Challenge state. So many listeners may be familiar with the Mayor's Challenge, started out with the Mayor's Challenge to prevent veteran homelessness, then it became the Mayor's Challenge to prevent veteran suicide. So partnering with a number of different communities, as Cecily and I talked about. But then the Governor's Challenge is the first time that they're trying to raise it to the state level. And one of the things that we're doing in my community, so El Paso County, it's Fort Carson is here at Peterson Air Force base, the Air Force Academy a large, large population of service members and veterans and also a large number of resources. So one of the things that we're doing is we're setting up a suicide prevention task force here in El Paso County, which the County, just to the South of us is Pueblo County.
Duane France: (31:01) They're trying to do the same thing, but it's almost night and day. And we're 45 minutes away from each other, whereas Pueblo County does not have the level of infrastructure that they necessarily have. So they have to build up a lot of infrastructure on suicide prevention based on this public health model. Whereas here in El Paso County, we've got tons of resources, but it's not really organized in a certain way. And so even between two communities that are that close to each other. But even thinking about within communities in larger cities. I grew up in St Louis and addressing suicide prevention in the Central West End in St. Louis would be different than South County. Right? I mean, just there's, there's neighborhoods and communities and different, just different messages for different groups of people. The basics would all be the same, but really it has to be almost a tailored approach to population and community.
Shauna Springer: (31:55) Exactly. Exactly. And my team at Tragedy Assistance Program for Survivors, we were the subject matter experts for part of the Mayor's Challenge in Montana. And so it started with a phone call with their leadership and their point of contact folks that are excellent partners. And we said, what do you need? And so we ended up doing a couple of web-based trainings. And then we flew out. We did a grand tour of Montana. It was really beautiful. We flew into Billings and we did a half day, four hour training. It was at the Army National Guard facility and we had VA treatment providers and community health providers in the same training. So it was really that public health approach of having all of the different cross sections of providers who interact with the population be part of that same training.
Cicely McElwain: (32:46) And then we also had people connected remotely. So there were people in Helena that connected to that training in Billings. And then we drove four hours across the state, saw some bison, which was beautiful and beautiful countryside. And then in Helena the day after that we did another four hour training on best practice peer support after presenting the first day on the postvention model that TAPS has developed. So that was all really great. And then the last training we did was December 12th, we did a training on how to support clinicians who have lost a patient to suicide. Because in Montana there aren't very many clinicians for the population and everybody's really spread out. And so we really wanted to shore up the clinicians who are serving on the front lines of care in Montana. Suicide rates are high, , and the occupational hazard of losing a patient to suicide has nothing to do with one's skill in the vast majority of cases, but it can cause people to really change their whole career trajectory and maybe leave the field of professional therapy. So we're losing good people if they're not really well supported. And so that was an example of trainings that we scoped out for the Mayor's Challenge, really in response to the unique needs in that state. So I'm definitely a full supporter of kind of this non-prescriptive approach. A responsive approach is what I think we really need.
Duane France: (34:13) No, I agree. I've got a colleague who who often and repeatedly says that it is a national problem with a local solution, but the folks at the national level, the research shows what works. We just need to be able to have a smorgasbord of options so that communities can take one from column a and one from column b that works in their community rather than this, everything for everyone works all the time, which we know for the last 10 years hasn't worked.
Cicely McElwain: (34:41) Right. Exactly. Couldn't have said it better.
Speaker 7: (34:44) So everybody makes sure to continue to stay tuned to listen to more episodes about Seeking The Military Suicide Solution. Make sure to check the show notes at www.veteranmentalhealth.com as well as finding the show notes on military times.com. While you're at it, check out our sponsors milMedia group. They're a web design and digital media agency with over 25 years of experience in supporting service members, veterans and their families. They specialize in working with startups, small businesses, entrepreneurs, nonprofits and city, state and local governments. As a veteran owned business, they're uniquely qualified to work with those that want to reach an audience in the military and veteran space. Do you have a dream or a vision they can help you bring it to life and get it in front of your audience? You can contact them at (254) 554-0974 or find them online at www.milmediagroup.com
Shauna Springer: (34:56) Just a reminder that the guests and reflections on this show are for informational purposes only and should not be considered professional advice. While Duane and I are mental health professionals, we are not your mental health professionals. We always recommend that you discuss these things with a licensed clinician.
Duane France: (35:12) You can find out more about the work that Shauna's doing by checking out her latest book, Beyond the Military, a Leader's Handbook for Warrior Reintegration, and the work that I'm doing with my latest book, Military in the Rear View Mirror. Both are available on Amazon and we'll have links to those in the show notes.
Duane France: (35:27) and always remember, you can connect with the veteran crisis line by calling (800) 273-8255 and pressing one, chat online with them at veterancrisisline.net or texting, 838255. Thanks again for joining us to talk about Seeking the Military Suicide Solution and make sure to follow Military Times on social media to keep up with the latest shows. Join us next time for another great episode and until then, remember, you're not alone. Ever.