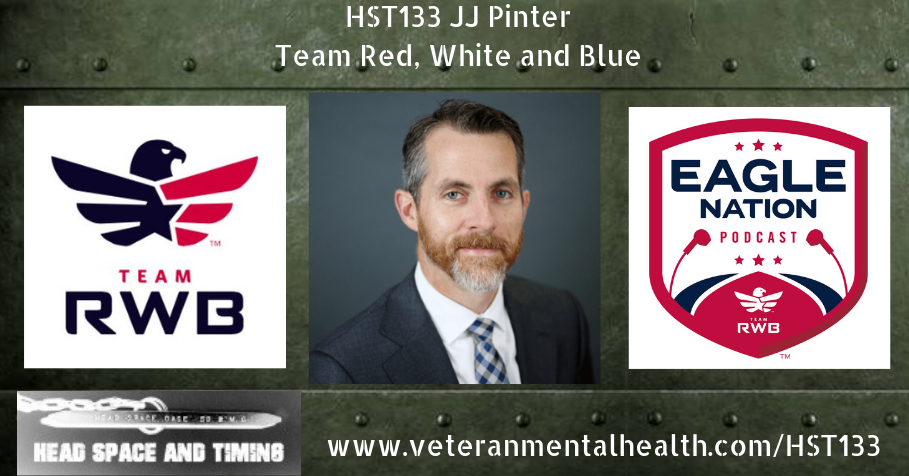 About Today's Guest:
JJ Pinter is the Executive Director of Team Red, White, and Blue. As Team RWB's 2nd employee, he has played a key role the development, growth, and operation of the organization. JJ works closely with board members, staff, and volunteer leaders to ensure the delivery of excellent programs that deliver impact. He provides strategic guidance in addition to building and managing critical partnerships.
JJ is a West Point graduate and combat veteran, serving as a Field Artillery officer. After his military service, he held both leadership and analytical positions in the construction, defense and medical industries. He currently resides outside Louisville, KY with his wife and 3 kids, where he loves to coach youth sports and be outdoors with his family.
In this Episode, you will learn:
JJ's background and experience
Shifting from corporate culture to the veteran support space
Beginning of Team RWB
Team RWB Programs
Impact of RWB's core mission on mental health
Quantifying the value of wellness
A benefits-centric transition mindset compared to a well-being centric mindset
Keys to successful transition:

Fitness
Friendship
Community Activities

Transactional transition versus Transformation transition
Self-agency in transition
Giving veterans what they want rather than what organizations think they need
Resisting the idea that military service is something that needs to be recovered from
Journal Article: Team Red, White & Blue: a community-based model for harnessing positive social networks to enhance enrichment outcomes in military veterans reintegrating to civilian life
RWB as an outcomes-based organization
Integrating mental health into transition
Eagle Nation Podcast
Soling problems at the lowest level with the least resources required
Using data to back up results
Links Mentioned in this Episode:
Team RWB on Social Media:
JJ Pinter on Social Media:
---
Do you want to help offset some of the costs of the Head Space and Timing Blog and Podcast? Want to show your appreciation and support? You can put some paper in the tip jar by going here or clicking the button below
Want to keep up with the latest Head Space and Timing content? Sign up on Facebook Messenger
You can be sure to find future episodes of Head Space and Timing by subscribing through your Podcast player of choice, like iTunes. Make sure to leave a review…see how hereUsing an app makes subscribing and listening to podcasts (both ours and others) so much simpler. Just subscribe to Head Space and Timing within your app and it will automatically update every time a new episode is released. You can also find all of the podcast players here.Do you want to check out Duane's latest book, Combat Vet Don't Mean Crazy: Veteran Mental Health in Post-Military Life
? Check it out!
Would you like to be a guest on Head Space and Timing? Follow This Link.