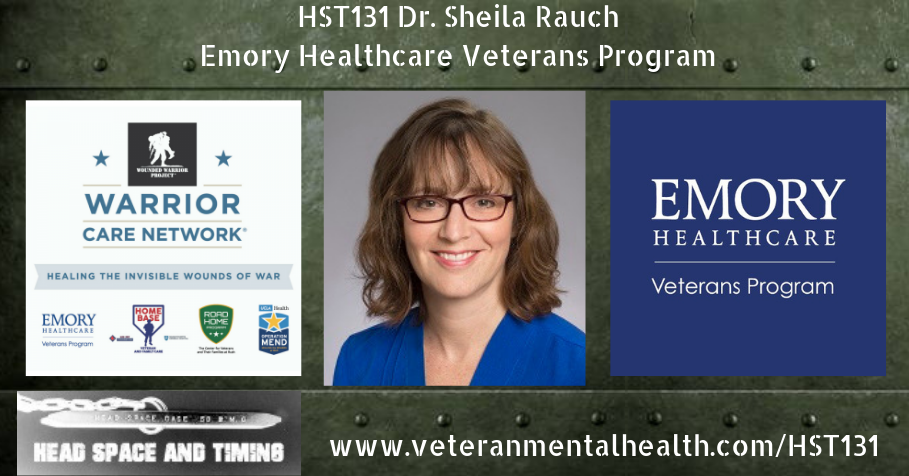 About Today's Guest:
Sheila A.M. Rauch, Ph.D., ABPP, is Associate Professor in Psychiatry at in the Department of Psychiatry and Behavioral Sciences at the Emory University School of Medicine. She serves as Clinical Director of the Emory University Veterans Program and Director of Mental Health Research and Program Evaluation at the Atlanta VA Medical Center. Dr. Rauch has been conducting research and providing PTSD and Anxiety Disorders treatment for over 20 years. Her research focuses on examination of mechanisms involved in the development and treatment of PTSD and improving access to effective interventions.
She is currently Principal Investigator of two PTSD treatment outcome and mechanisms trials including a DOD funded, multi-site PTSD treatment trial comparing prolonged exposure and sertraline and a VA/DOD collaboratively funded trial examining biomarkers in veterans and active duty military service members.  She has been training providers in PTSD treatment since 2000 and has served as a VHA Prolonged Exposure Therapy Roll Out Trainer since the start of the program.  She has published scholarly articles and book chapters in the areas of anxiety disorders and posttraumatic stress disorder (PTSD) focusing on neurobiology and factors involved in the development, maintenance, and treatment of anxiety disorders, psychosocial factors in medical settings, and the relation between physical health and anxiety.
Dr. Rauch has been involved in the modification and adaptation of proven psychotherapeutic interventions for anxiety disorders for various populations and settings, including primary care. Her role in VHA continues to focus on growing VA Program Evaluation and Research and establishing new and effective treatment programs for our Veterans.  She holds a diplomate in Cognitive and Behavioral Psychology. She is a fellow of the Association of Behavioral and Cognitive Therapy (ABCT) and a member of the Board of Directors and Scientific Council of the Anxiety and Depression Association of America.  In 2017, she was awarded the Outstanding Mentor Award from the Emory University School of Medicine.  She served on the VA/DOD PTSD Clinical Practice Guideline Committee in 2010 and 2015.
In this Episode, you will learn:
Sheila's background and experience
Working at the Department of Veterans Affairs in the early stages of the Global War on Terror
Early treatment of Posttraumatic Stress Disorder
Emory Healthcare Veterans Program
The benefits of shorter but more intense PTSD treatment
Treating co-occuring disorders, such as depression and substance abuse
Partnerships with the Wounded Warrior Project and the VA
Bringing back purpose and meaning after removing symptoms of PTSD
Non-VA clients of the Emory Healthcare Veterans Program
MST Survivors and the Warrior Care Network
Structure of the Emory Healthcare Veterans Program
PTSD as a memory issue
Neurological changes as a result of PTSD and treatment
Removing barriers to treatment
Links Mentioned in this Episode:
Emory Healthcare Veterans Program Web Site
Warrior Wellness Alliance Web Site
HST054 The Warrior Wellness Alliance with Kacie Kelly
Episode 92 Rush University Road Home Program with Dr. Michael Brennan
---
Do you want to help offset some of the costs of the Head Space and Timing Blog and Podcast? Want to show your appreciation and support? You can put some paper in the tip jar by going here or clicking the button below
Want to keep up with the latest Head Space and Timing content? Sign up on Facebook Messenger
You can be sure to find future episodes of Head Space and Timing by subscribing through your Podcast player of choice, like iTunes. Make sure to leave a review…see how hereUsing an app makes subscribing and listening to podcasts (both ours and others) so much simpler. Just subscribe to Head Space and Timing within your app and it will automatically update every time a new episode is released. You can also find all of the podcast players here.Do you want to check out Duane's latest book, Combat Vet Don't Mean Crazy: Veteran Mental Health in Post-Military Life
? Check it out!
Would you like to be a guest on Head Space and Timing? Follow This Link.