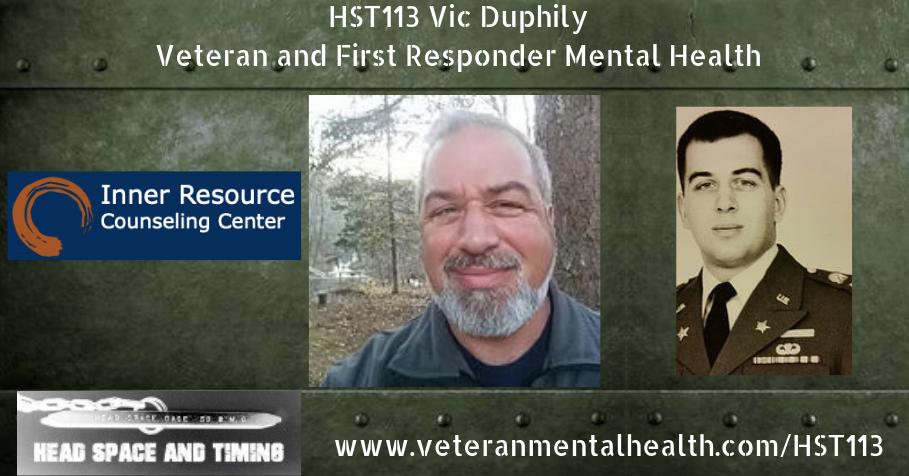 Summary:
Victor J.R. Duphily III is a Retired Police Sergeant, Former U.S. Army Infantry and Intel Officer, and Cold War Veteran​
He is a National Certified Counselor with a Master of Science degree in Clinical Mental Health Counseling from Southern CT State University.  He is focused on serving Military, Veteran, and First Responder populations along with their families and is currently working under the direct supervision of Amy Otzel, LPC.  He served his internship with the U.S Department of Veterans' Affairs at the New Haven Vet Center and has worked previously with Wheeler Clinic's Mobile 2nd Shift Crisis Team for the 14 cities and towns surrounding Plainville.
Victor also has earned a Master of Science degree in Criminal Justice from the University of New Haven.  In his previous career with the Guilford CT Police Department, he served as a patrolman with additional duties as a firearms instructor, armorer, D.A.R.E. officer and Crisis Team member where he performed Observer/Sniper, Entry team, Hostage Negotiator and Specialty Weapon instruction. He retired from GPD as a patrol sergeant after 21 years of service.
Vic's military career began as both an Infantryman and Artillery Officer with the 26th ID in the Massachusetts Army National Guard.  Following, he entered into the Active Duty U.S. Army as a Mechanized Infantry Officer (Bradley) in Germany with the 3rd ID and as an Intelligence Officer assigned to the G2 section of the 10th Mountain Division.  He completed his military service with 6 years in the IRR.
His accomplishments have been complimented by the valued relationship he shares with is wife, Denise.
In this Episode, you will learn:
Vic's Background and Experience
Cold War Leadership with Vietnam Veteran Influence
Transition to Police Force
Similarities between First Responder Mental Health and Veteran Mental Health
Helping and problem solving as a Soldier, Police Officer, and Therapist
Resetting a baseline after trauma
Veterans seeing the world with a

Global Perspective
Different social perspective
Historical perspective

A counselor as translator and facilitator
Toxic Leadership
Legacy of negative thoughts
Links Mentioned in this Episode:
Vic on Social Media:
Inner Resource Counseling Twitter
---
Do you want to help offset some of the costs of the Head Space and Timing Blog and Podcast? Want to show your appreciation and support? You can put some paper in the tip jar by going here or clicking the button below
Want to keep up with the latest Head Space and Timing content? Sign up on Facebook Messenger
You can be sure to find future episodes of Head Space and Timing by subscribing through your Podcast player of choice, like iTunes. Make sure to leave a review…see how hereUsing an app makes subscribing and listening to podcasts (both ours and others) so much simpler. Just subscribe to Head Space and Timing within your app and it will automatically update every time a new episode is released. You can also find all of the podcast players here.Do you want to check out Duane's latest book, Combat Vet Don't Mean Crazy: Veteran Mental Health in Post-Military Life
? Check it out!
Would you like to be a guest on Head Space and Timing? Follow This Link.