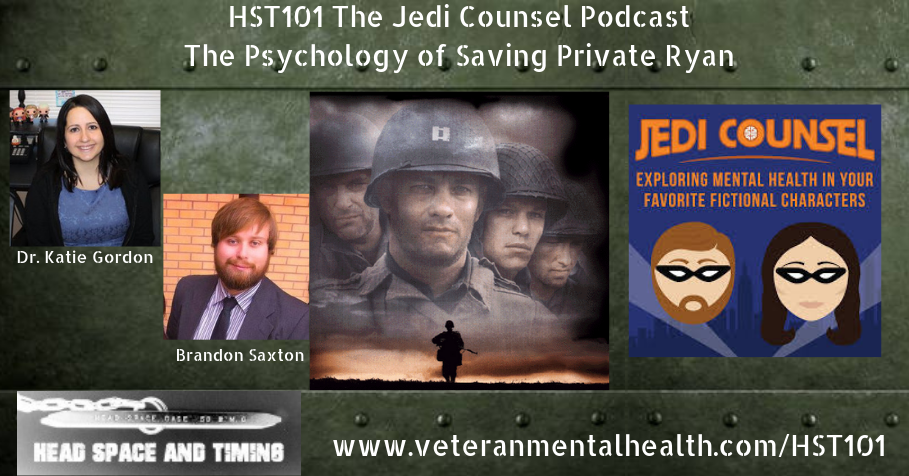 Summary:
Katie Gordon
 has a Ph.D. in clinical psychology. She hopes that the Jedi Counsel Podcast is a fun and interesting way to discuss mental health issues. Her favorite fictional character is Wonder Woman.
Brandon Saxton is a graduate student working towards his Ph.D. in clinical psychology. He hopes that the Jedi Counsel Podcast will serve as a means to get people thinking about mental health and the way that it can influence anyone either directly or indirectly. His favorite fictional character is Bruce Wayne, aka Batman.
Using their backgrounds in clinical psychology, they explore mental health in your favorite fictional characters through blog posts & podcast discussions!
In this Episode, you will learn:
Katie and Brandon's Backgrounds
Their initial reaction to the movie looking at it from a clinical mental health background
Moral Injury in Saving Private Ryan

The Dog Tag scene
Upham's changing attitudes towards German prisoners
The Glider Crash

The bonds of brotherhood
The Two Ryans
PTSD and Captain Miller's shaking hand
The burden of command
Emotional suppression
Seeing purpose in hardship
Differing attitudes towards service members after different wars
Using the movie to tell the story of combat
Links Mentioned In This Episode:
Jedi Counsel Podcast on:
---
Do you want to help offset some of the costs of the Head Space and Timing Blog and Podcast? Want to show your appreciation and support? You can put some paper in the tip jar by going here or clicking the button below

Want to keep up with the latest Head Space and Timing content? Sign up on Facebook Messenger
You can be sure to find future episodes of Head Space and Timing by subscribing through your Podcast player of choice, like iTunes. Make sure to leave a review…see how here
Using an app makes subscribing and listening to podcasts (both ours and others) so much simpler. Just subscribe to Head Space and Timing within your app and it will automatically update every time a new episode is released. You can also find all of the podcast players here.
Do you want to check out Duane's latest book, Combat Vet Don't Mean Crazy: Veteran Mental Health in Post-Military Life
? Check it out!
Would you like to be a guest on Head Space and Timing? Follow This Link.