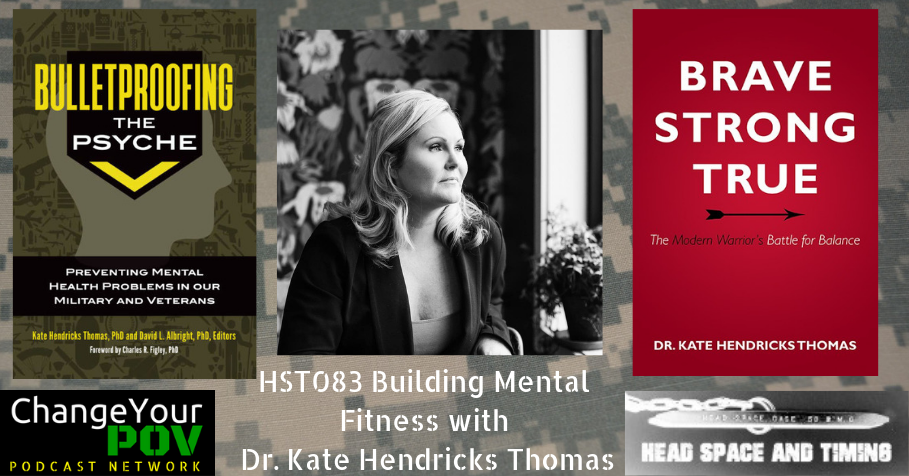 Summary:
Kate Hendricks Thomas, PhD is a behavioral medicine researcher and Master Certified Health Education Specialist. She studies evidence-based mental fitness and peak performance and is the author of two books – Brave, Strong, True: The Modern Warrior's Battle for Balance and Bulletproofing the Psyche.
Her TEDx speeches provide a glimpse into Dr. Kate's unique ability to make science accessible and actionable for everyday audiences.
Dr. Kate's background as an academic researcher, storyteller, and U.S. Marine Corps veteran positions her to communicate credibly to a variety of audiences.
Her behavioral health research, published in journals like Best Practices in Mental Health, the Journal of Environmental Psychology, and Military Behavioral Health, has been praised as "masterful" and "constructive."
In this Episode, you will learn:
Kate's background and experience
Serving in a military family
Buying into the warrior culture
Women In The Military and how the "part represents the whole"
Expressing shared experiences
Building and Evaluating resilience
Links Mentioned In This Episode:
Kate's Article on Task and Purpose: I Kept My Abusive Marriage a Secret Because Marines Are Supposed to be Tough
Want to keep up with all of the Head Space and Timing content? Subscribe Here 
You can be sure to find future episodes of Head Space and Timing by subscribing through your Podcast player of choice, like iTunes. Make sure to leave a review…see how here
Using an app makes subscribing and listening to podcasts (both ours and others) so much simpler. Just subscribe to Head Space and Timing within your app and it will automatically update every time a new episode is released. You can also find all of the podcast players here.
Do you want to check out Duane's latest book, Combat Vet Don't Mean Crazy? Check it out by finding it on Amazon.
Would you like to be a guest on Head Space and Timing? Follow This Link.