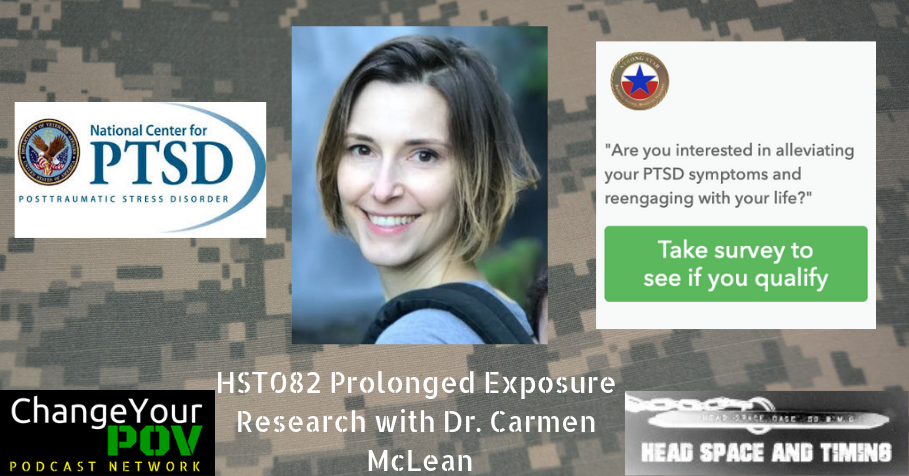 Summary:
Dr. Carmen McLean is a Clinical Psychologist with the Dissemination and Training Division of the National Center for PTSD and an Adjunct Assistant Professor of Psychology in Psychiatry at the University of Pennsylvania
Education:
Exchange (Psychology)
Lancaster University, 2001.
B.A. (Psychology)
University of British Columbia, 2002.
M.A. (Psychology)
University of Nebraska – Lincoln, 2005.
Ph.D. (Psychology)
University of Nebraska – Lincoln, 2008.

Post-Graduate Training
Psychology Intern (predoctoral training), Department of Psychiatry, University of Chicago Medical Center, Chicago , 2007-2008.

Clinical Research Fellow, National Center for PTSD, VA Boston Healthcare System, Boston , 2008-2010.

Teaching Fellow, Division of Psychiatry, Boston University School of Medicine, Boston , 2008-2010.

Instructor B, Center for the Treatment and Study of Anxiety, University of Pennsylvania School of Medicine , 2010-2011.
In This Particular Episode You Will Learn:
Carmen's background and expereince
Research in Prolonged Exposure Therapy
Avoiding therapy to protect the clinicina
Veterans seeking resources in the middle of the night
Training for providers
Finding the right clients for Prolonged Exposure
Preparing a veteran to recall experiences
Informing clients about treatment
Links Mentioned in This Episode:
The Strong Star Training Initiative
Carmen's email: Carmen.McLean4@va.gov
HST061 The Strong Star Training Initiative with Brooke Fina
HST048 Military Culture for Mental Health Professionals with Dr. Ted Bonar
Head Space and Timing Voice First Skills
Want to keep up with all of the Head Space and Timing content? Subscribe Here 
You can be sure to find future episodes of Head Space and Timing by subscribing through your Podcast player of choice, like iTunes. Make sure to leave a review…see how here
Using an app makes subscribing and listening to podcasts (both ours and others) so much simpler. Just subscribe to Head Space and Timing within your app and it will automatically update every time a new episode is released. You can also find all of the podcast players here.
Do you want to check out Duane's latest book, Combat Vet Don't Mean Crazy? Check it out by finding it on Amazon.
Would you like to be a guest on Head Space and Timing? Follow This Link.