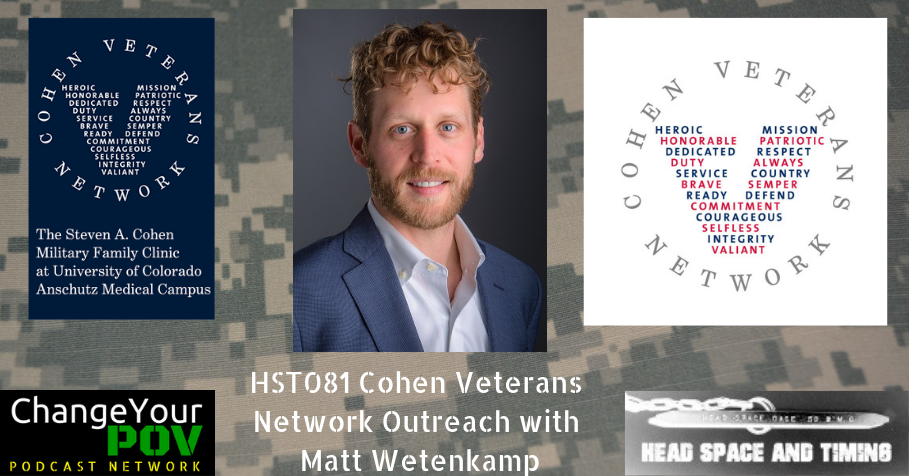 Summary:
Matthew Wetenkamp is the outreach manager and leads the Outreach and Communications team at the Cohen Military Family Clinic. In this role, he ensures the Cohen Clinic maintains strong partnerships and connections to and within the Denver veteran community, including veteran service organizations (VSO's), military installations, veterans and their families.  He believes that collaboration must override the drive for competition among Veteran Service Organizations in order for the veteran population to thrive. Matthew is also a U.S. Marine Corps combat veteran, and has worked in veteran services since 2012.
In This Particular Episode You Will Learn:
Matt's background and experience
Disengaging and Reengaging with veterans after leaving the service
Identifying the need for veteran mental health
The need to have a good connection with a mental health provider for therapy to be effective
Recognizing the benefit of good mental health
Translating between the veteran and the mental health profession
All veteran support services are in the veteran mental health business
Links Mentioned in This Episode:
Cohen Veterans Network Denver Clinic
HST008 The Cohen Veterans Network with Anthony Hassan
HST039 Peer Support with Bennett Tanton
Want to keep up with all of the Head Space and Timing content? Subscribe Here 
You can be sure to find future episodes of Head Space and Timing by subscribing through your Podcast player of choice, like iTunes. Make sure to leave a review…see how here
Using an app makes subscribing and listening to podcasts (both ours and others) so much simpler. Just subscribe to Head Space and Timing within your app and it will automatically update every time a new episode is released. You can also find all of the podcast players here.
Do you want to check out Duane's latest book, Combat Vet Don't Mean Crazy? Check it out by finding it on Amazon.
Would you like to be a guest on Head Space and Timing? Follow This Link.