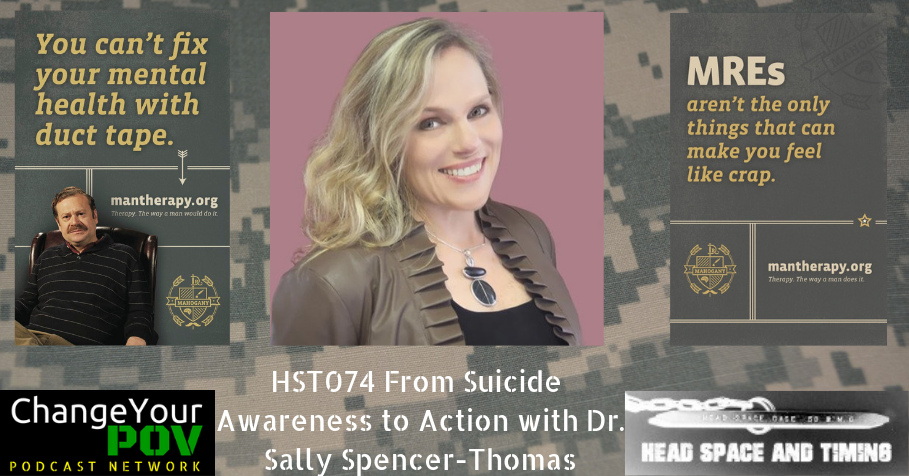 Summary:
Dr. Sally Spencer-Thomas sees issues of suicide prevention and mental health promotion from a host of perspectives. Clinical psychologist. Mental health advocate. Faculty member. Researcher. And suicide loss survivor.
She has earned an international reputation as an entrepreneur and innovator in social change. Along the way, she's helped establish many large-scale, gap-filling mental health efforts, including Man Therapy (www.ManTherapy.org) and National Action Alliance for Suicide Prevention.
She has held leadership roles with the International Association of Suicide Prevention, the American Association of Suicidology, the National Suicide Prevention Lifeline, United Suicide Survivors International, and the Carson J Spencer Foundation. In 2016, she was invited to speak at the White House on men's mental health.
She has won multiple awards for her advocacy including the 2015 Farberow Award from the International Association of Suicide Prevention, the 2014 Survivor of the Year from the American Association of Suicidology, the 2014 Invisible Disabilities Association Impact Honors Award, and the 2012 Alumni Master Scholar from the University of Denver.
She received her undergraduate degree in psychology and studio art from Bowdoin College, her Masters in Nonprofit Management from Regis University and her Doctorate in Clinical Psychology from the University of Denver.
In This Particular Episode You Will Learn:
Sally's background and experience
"Beyond the drum of death data" in discussing suicide
Mantherapy.org
Moving from Awareness to Action
Individual and Relationship Action Steps:

Develop Resilience
Develop a Support Network
Plan for Coping
Get Trained in Awareness and Prevention

Systems Action Steps

Have Leaders Step Out Front
Screen for Mental Health Needs
Develop a prepared Mental Health community

Cultural Action Steps

Accurate Messaging
Develop Peer Support
Develop Animal Assisted Resources
Integrate Spirituality and Faith
Links Mentioned in This Episode:
Want to keep up with all of the Head Space and Timing content? Subscribe Here 
You can be sure to find future episodes of Head Space and Timing by subscribing through your Podcast player of choice, like iTunes. Make sure to leave a review…see how here
Using an app makes subscribing and listening to podcasts (both ours and others) so much simpler. Just subscribe to Head Space and Timing within your app and it will automatically update every time a new episode is released. You can also find all of the podcast players here.
Do you want to check out Duane's latest book, Combat Vet Don't Mean Crazy? Check it out by finding it on Amazon.
Would you like to be a guest on Head Space and Timing? Follow This Link.