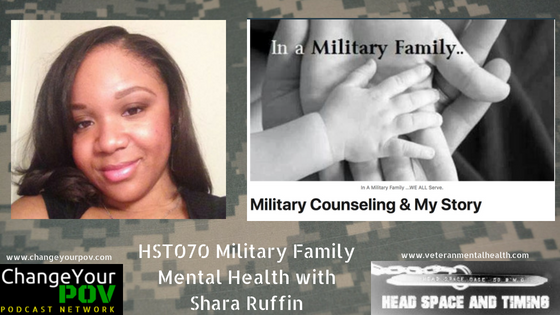 Summary:
Shara is a licensed psychotherapist that provides therapeutic support to enhance the lives of others with specializations in grief and loss, veteran behavioral health, mindfulness, and trauma counseling. As a Navy brat and a former military spouse, she understands the issues that arise from deployments and family separation.
In This Particular Episode You Will Learn:
Shara's background and experience
Being the child of a military service member
Abandonment and detachment as a military child
Transition out of the military through the eyes of a child
Experience as a military spouse
Cultural Competence in mental health counseling
Military spouse clinicians supporting military spouses
Military service compounding challenges in the family
Posttraumatic Growth
Links Mentioned in This Episode:
Want to keep up with all of the Head Space and Timing content? Subscribe Here 
You can be sure to find future episodes of Head Space and Timing by subscribing through your Podcast player of choice, like iTunes. Make sure to leave a review…see how here
Using an app makes subscribing and listening to podcasts (both ours and others) so much simpler. Just subscribe to Head Space and Timing within your app and it will automatically update every time a new episode is released. You can also find all of the podcast players here.
Do you want to check out Duane's latest book, Combat Vet Don't Mean Crazy? Check it out by finding it on Amazon.
Would you like to be a guest on Head Space and Timing? Follow This Link.