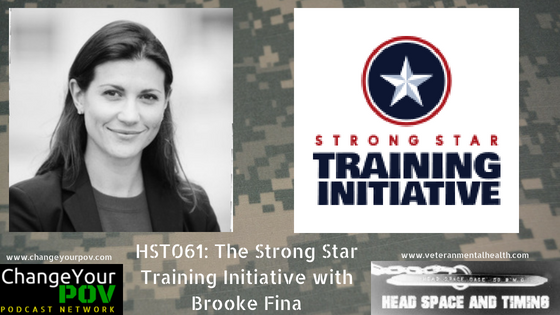 Summary:
Brooke A. Fina, LCSW, BCD is an Associate Professor and a Licensed Clinical Social Worker. Ms. Fina is Board Certified in Clinical Social Work by the American Board of Examiners in Clinical Social Work. She serves as the Suicide Risk Advisor for the STRONG STAR Consortium and Consortium to Alleviate PTSD. She specializes in Prolonged Exposure (PE) for combat-related PTSD, and is a Master Clinician and Clinical Supervisor in PE.
In This Particular Episode You Will Learn:
Brooke's background and clinical experience
Approaching miltiary and veteran mental health as a non-military provider
Strong Star's beginning
Combat PTSD versus Non-Combat PTSD
What is Prolonged Exposure and how it can help
The Strong Star Research Consortium
Learning Communities
Links Mentioned in This Episode:
The Strong Star Training Initiative
Strong Star Training Initiative on Facebook
June book donation recipient: Inner Resource Psychotherapy
The Veteran Mental Health Minute on Amazon Alexa
Want to keep up with all of the Head Space and Timing content? Subscribe Here 
You can be sure to find future episodes of Head Space and Timing by subscribing through your Podcast player of choice, like iTunes. Make sure to leave a review…see how here
Using an app makes subscribing and listening to podcasts (both ours and others) so much simpler. Just subscribe to Head Space and Timing within your app and it will automatically update every time a new episode is released. You can also find all of the podcast players here.
Do you want to check out Duane's latest book, Combat Vet Don't Mean Crazy? Check it out by finding it on Amazon.
Would you like to be a guest on Head Space and Timing? Follow This Link.