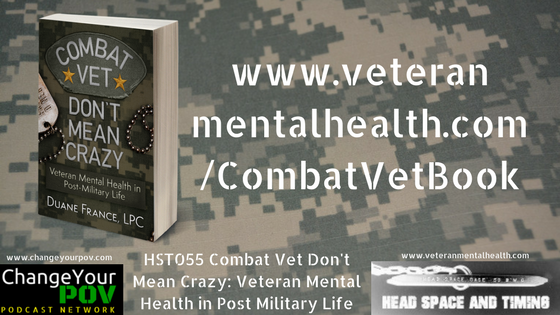 Summary:
This episode is a short overview of the book, Combat Vet Don't Mean Crazy: Veteran Mental Health in Post-Military Life
In This Particular Episode You Will Learn:
What is Combat Vet Don't Mean Crazy about?
Raising Awareness about the Psychological Impact of Military Service
Developing Personal Awareness of the Need for Veteran Mental Health
Developing Resilience to Recover
Developing Skills to Apply to Our Post-Military Life
Personal Satisfaction in our Post-Military Life
The Importance of Remembrance Post-Military Life
Applying Lessons Learned to Post-Military Life
Veteran Mental Health as Mental Wellness instead of Mental Illness
How You Can Support
How You Can Support:
Purchase one or more copies on Amazon
Write a review on Amazon. An honest one, of course!
Think of at least three people who would benefit from this book and let them know about it.
Share news about the book via your social media networks. Tag me on Twitter, LinkedIn, and Facebook so I can help spread your appreciation, and show you mine!
Introduce me to people you know who could book me as a speaker. Anyone who is interested in learning about and talking about veteran mental health is right up my alley!
You can be sure to find future episodes of Head Space and Timing, and all of the CYPOV Podcast Network Shows, by subscribing through your Podcast player of choice, like iTunes.
Using an app makes subscribing and listening to podcasts (both ours and others) so much simpler. Just subscribe to Change Your POV Podcast within your app and it will automatically update every time a new episode is released.
Do you want to check out Duane's latest book, Combat Vet Don't Mean Crazy? Check it out by finding it on Amazon or finding more about it here:
Please Leave a Review on iTunes – Learn How Here.
Would you like to be a guest on Head Space and Timing? Follow This Link.