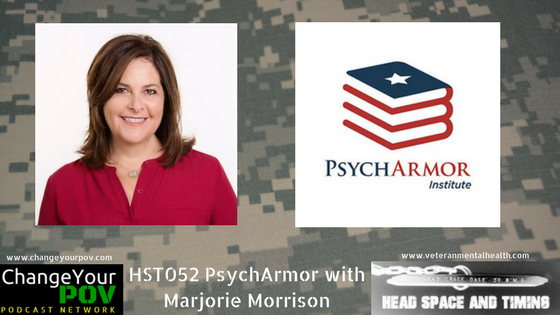 Summary:
Marjorie Morrison, LMFT, LPCC, is the CEO of the PsychArmor Institute, a 501(c)3 non-profit organization she founded in 2014, which is committed to bridging the military-civilian divide by creating, promoting, and distributing free online courses covering a wide range of topics important to those who support the military community. She is the author of the book, The Inside Battle: Our Military Mental Health Crisis, and has written numerous editorials on the field of military mental health featured in TIME, Newsweek, The Daily Beast, Huffington Post, and several others. As a licensed psychotherapist who also practiced on several military bases, Marjorie created PsychArmor armed with the firsthand knowledge of the challenges faced by the 90% of Americans who haven't served, but live with, work with, and care for members of the military. Her passion for supporting caregivers, employers, educators, volunteers, health providers, and family members of those who serve or have served drives her work, and has influenced the development of PsychArmor from just an idea, to an organization with 35 fulltime staff members, and more than 165 courses covering eight separate topic areas. Marjorie's vision for PsychArmor has led to numerous awards and recognition from organizations like the VA, DoD, SAMHSA, and others.
In This Particular Episode You Will Learn:
Marjorie's background and experience
Developing mental health awareness in the Marine Corps
Marjorie's thoughts on stigma against seeking mental health support
Teaching cultural competence to mental health providers
Psycharmor's origins, goal, and purpose
Informing communities about military culture
PsychArmor's Partnership program
Objective Zero App and the use of PsychArmor for Peer Support training
Developing awareness about veteran mental health
Networking with other nonprofits
Partnering with government and the Department of Veterans Affairs
Links Mentioned in This Episode:
PsychHub for mental health professionals
15 Things Veterans Want You To Know
Want to keep up with all of the Head Space and Timing content? Subscribe Here 
You can be sure to find future episodes of Head Space and Timing by subscribing through your Podcast player of choice, like iTunes. Make sure to leave a review…see how here
Using an app makes subscribing and listening to podcasts (both ours and others) so much simpler. Just subscribe to Head Space and Timing within your app and it will automatically update every time a new episode is released. You can also find all of the podcast players here.
Do you want to check out Duane's latest book, Combat Vet Don't Mean Crazy? Check it out by finding it on Amazon.
Would you like to be a guest on Head Space and Timing? Follow This Link.