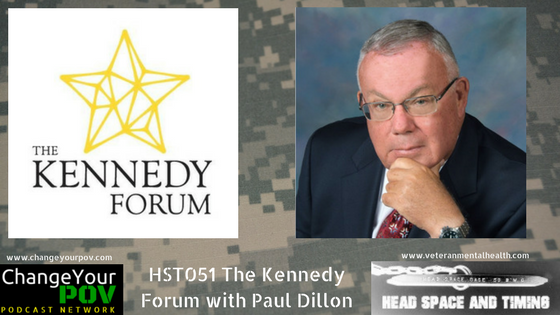 Summary:
Paul A. Dillon is a Certified Management Consultant with more than 42 years of experience in the professional services industry. He is the president and CEO of Dillon Consulting Services LLC, a U. S. Department of Veterans Affairs certified Service Disabled Veteran-Owned Small Business, based in Durham, NC and Chicago, IL, which provides services to veterans who want to start their own businesses. Paul is the creator of the concept for a veteran startup incubator in Chicago, called Bunker Labs, as well as the creator of the concept for a veteran entrepreneur support organization in North Carolina, called VetStart, which was recently rebranded as Bunker RDU.
Paul represents the nation's veteran community on the Kennedy Forum on Mental Health, and is a member of the Leadership Council of the Kennedy Forum Illinois.
His articles and quotes on veterans' issues have appeared in Forbes, Crain's Chicago Business, the National Federation of Independent Businesses newsletter, eLearners.com, We Are The Mighty and USAA Magazine. He is a sought after commentator on national veteran matters on numerous radio programs and podcasts.
In This Particular Episode You Will Learn:
Paul's background and experience
Transitioning from Vietnam to the U.S.
The beginnings of PTSD as a diagnosis
Paul's involvement in veteran mental health
The Kennedy Forum
Stigma against seeking help
Combining physical and mental health
Mental Health Parity Act
Links Mentioned in This Episode:
Paul's Interview on the Success Vets Podcast with Byron Chen
Kennedy Forum interview with Michael Phelps:
Paul's email address: paul@dillonconsult.com
Want to keep up with all of the Head Space and Timing content? Subscribe Here 
You can be sure to find future episodes of Head Space and Timing by subscribing through your Podcast player of choice, like iTunes. Make sure to leave a review…see how here
Using an app makes subscribing and listening to podcasts (both ours and others) so much simpler. Just subscribe to Head Space and Timing within your app and it will automatically update every time a new episode is released. You can also find all of the podcast players here.
Do you want to check out Duane's latest book, Combat Vet Don't Mean Crazy? Check it out by finding it on Amazon.
Would you like to be a guest on Head Space and Timing? Follow This Link.