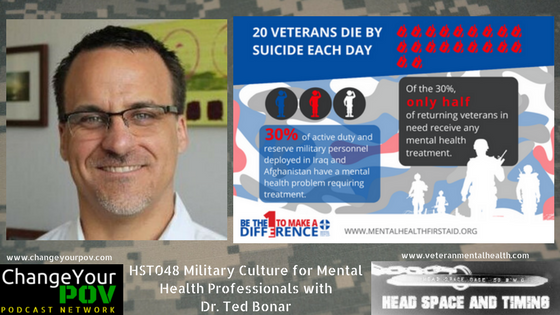 Summary:
Ted C. Bonar, Psy.D. is a clinical psychologist and a nationally recognized professional mental healthcare trainer and speaker at conferences and universities. He is the Executive Director of the Campus Readiness Project, a National Trainer at Mental Health First Aid USA, a Featured Trainer for the Ohio State University Counseling and Consultation Services, and he runs a successful private practice and psychological services consulting organization in Columbus, OH. He was previously the Chief of Continuing Education Programs at the Center for Deployment Psychology, where he oversaw and implemented training programs focused on common military-related behavioral healthcare curriculum including evidence-based treatment of PTSD, suicide risk and prevention, depression, substance abuse, reintegration concerns, and multicultural elements related to military and veterans.
Dr. Bonar has held clinical positions at the Jesse Brown VA Medical Center in Chicago, the University of Illinois at Urbana-Champaign Counseling Center, and private practice in both Bethesda, MD and Columbus, OH. Dr. Bonar is a highly regarded subject matter expert in working with military and veterans on university campuses, and has spoken at over 100 universities and national conferences as a featured presenter. He is a specialist and consultant in providing short-term, evidence-based treatment of PTSD in university counseling centers and private practice, and regularly provides national instructor trainings and classes for Mental Health First Aid. A frequent keynote presenter at various conferences and workshops, Dr. Bonar was awarded the 2013 Distinguished Alum award by Argosy University/Chicago.
In This Particular Episode You Will Learn:
Ted's background and professional experience
Approaching veteran mental health from a non-veteran perspective
Differences between Veteran Mental Health and other populations
Learning how to hear shocking things
Community and providers jumping to the conclusion that all veterans have PTSD
Developing cultural competence with military populations without a military background
The Center for Deployment Psychology
Teaching military culture to non-military populations
Shifting between types of therapy
Links and Resources Mentioned in This Episode:
The Center for Deployment Psychology
Want to keep up with all of the Head Space and Timing content? Subscribe Here 
You can be sure to find future episodes of Head Space and Timing by subscribing through your Podcast player of choice, like iTunes. Make sure to leave a review…see how here
Using an app makes subscribing and listening to podcasts (both ours and others) so much simpler. Just subscribe to Head Space and Timing within your app and it will automatically update every time a new episode is released. You can also find all of the podcast players here.
Do you want to check out Duane's latest book, Combat Vet Don't Mean Crazy? Check it out by finding it on Amazon.
Would you like to be a guest on Head Space and Timing? Follow This Link.