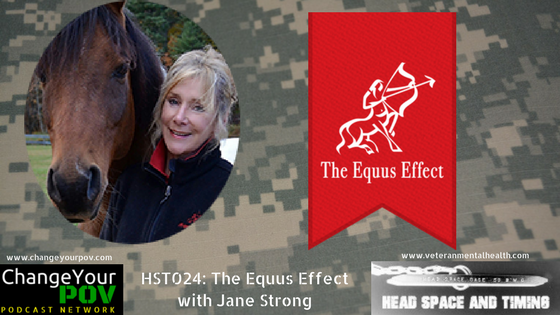 Summary:
Jane Strong began her lifelong love of horses as a competitive rider. When she left the world of traditional horsemanship behind, she had no idea that horses would ever become an integral part of her life again. It was not until she began to study the principles and practices of natural horsemanship that she came to understand what horses had to teach us about how we come across to others, about being in the moment and how to bring out the best in ourselves.
Prior to returning to a life centered around working with horses, she was a professional coach and facilitator who has taught leaders and individuals how to 'take back the reins' in their own lives. She's coached young people and adults through transitions from home to school, recovery to sobriety and changes in their careers.
Beginning in 2009, in learning about the rising suicide rate among veterans, Jane and her her partner David decided to focus their attention on this group of men and women who were sometimes resistant to talk therapy and whose symptoms were often only masked by medication. They based their program on what they had learned at Eponaquest Program. General Patraeus (Ret.) recognized this program for its soundness and sensitivity to these men and women who have served their country in this way. They have also studied the work of Dr. Peter Levine at the Somatic Experiencing Training Institute and both completed this program in 2015.
IN THIS PARTICULAR EPISODE YOU WILL LEARN:
Jane's journey of working with horses
Other-centered mindset and orientation of military service members…and horses
Commonalities between horses and veterans
How horses live in the present, rather than the past and the future, and how veterans can learn from it
How working with horses can complement traditional forms of therapy for veterans
LINKS AND RESOURCES MENTIONED IN THIS EPISODE:
Want to keep up with all of the Head Space and Timing content? Subscribe Here 
You can be sure to find future episodes of Head Space and Timing by subscribing through your Podcast player of choice, like iTunes. Make sure to leave a review…see how here
Using an app makes subscribing and listening to podcasts (both ours and others) so much simpler. Just subscribe to Head Space and Timing within your app and it will automatically update every time a new episode is released. You can also find all of the podcast players here.
Do you want to check out Duane's latest book, Combat Vet Don't Mean Crazy? Check it out by finding it on Amazon.
Would you like to be a guest on Head Space and Timing? Follow This Link.