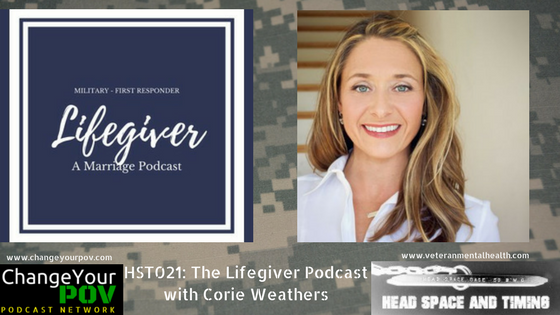 Summary:
Corie Weathers, licensed professional counselor (LPC), is a sought-after speaker, consultant and author of Sacred Spaces: My Journey to the Heart of Military Marriage. Corie has focused her career for the last 15 years as a counselor specializing in marriage, divorce, women's issues, PTSD, and substance abuse.
In 2015, Corie was named the 2015 Armed Forces Insurance Military Spouse of the Year® where she advocated for mental health issues and served as a media correspondent writing online and print publications, consulting for command teams, and speaking to groups on issues like PTSD, grief, and marriage.  She traveled to Turkey, Iraq, Afghanistan, and the Persian Gulf with Secretary of Defense Ash Carter to visit troops and see deployment conditions.  She has also traveled across the globe teaching individuals and couples how to live, lead, find purpose, and build relationships using thier natural talents.
Today, Corie continues to encourage others through her inspirational blog and podcast available on the free Lifegiver App- With Corie Weathers.  She currently serves as an Ambassador for the Chris Kyle Frog Foundation serving military and first responder families and volunteers with the Red Cross training mental health professionals to be more culturally competent in their work with military and first responders.
IN THIS PARTICULAR EPISODE YOU WILL LEARN:
Corie's Background
The reason why mental health professionals don't communicate much
How therapists can learn how to develop competence in working with veterans
The need for a veteran to be patient when looking for a mental health professional
The need for natural curiosity on the part of the counselor AND client
The counseling session as a safe place to understand difficult things
The difference between being broken and being changed
The need for greater awareness around first responder mental health
LINKS AND RESOURCES MENTIONED IN THIS EPISODE:
Want to keep up with all of the Head Space and Timing content? Subscribe Here 
You can be sure to find future episodes of Head Space and Timing by subscribing through your Podcast player of choice, like iTunes. Make sure to leave a review…see how here
Using an app makes subscribing and listening to podcasts (both ours and others) so much simpler. Just subscribe to Head Space and Timing within your app and it will automatically update every time a new episode is released. You can also find all of the podcast players here.
Do you want to check out Duane's latest book, Combat Vet Don't Mean Crazy? Check it out by finding it on Amazon.
Would you like to be a guest on Head Space and Timing? Follow This Link.