Dealing with challenges in mental health after military service can be like being stuck in a tunnel, not knowing where to turn or how to get out. For many veterans, there are a lot of barriers against seeking mental health treatment for challenges related to their military service. Some of those barriers include not wanting to talk about what's been happening, but others include access. Many veterans don't know what resources are available, or the "9 to 5" nature of in-person services are hard when we're trying to hold down a job.
A colleague from the National Center for PTSD, Dr. Carmen McLean, recently reached out to find veterans who may be interested in participating in an online treatment study. From Dr. McLean:
---
Veterans with PTSD don't always feel comfortable seeking in-person therapy. Others may have difficulty fitting in-person therapy sessions into their busy schedules. This study provides evidence-based therapy online so that sessions can be completed on your own, at home, with an expert PTSD therapist to help support you by phone. If you are have deployed after 9/11 and are dealing with posttraumatic stress, you may qualify for this web-based treatment study.
---
According to a study by the National Academies of Sciences, Engineering, and Medicine, "the use of the Internet or the phone to receive mental health care is acceptable to nearly half of OEF/OIF/OND veterans. Younger veterans tended to be more open to obtaining mental health care using the Internet." We do a lot of stuff online…why not this? Participating in this study could not only benefit veterans themselves, but also be able to help our brothers and sisters by finding out what works and having a say in our own recovery.
If you're interested, you can find the study by following this link or clicking on the picture below.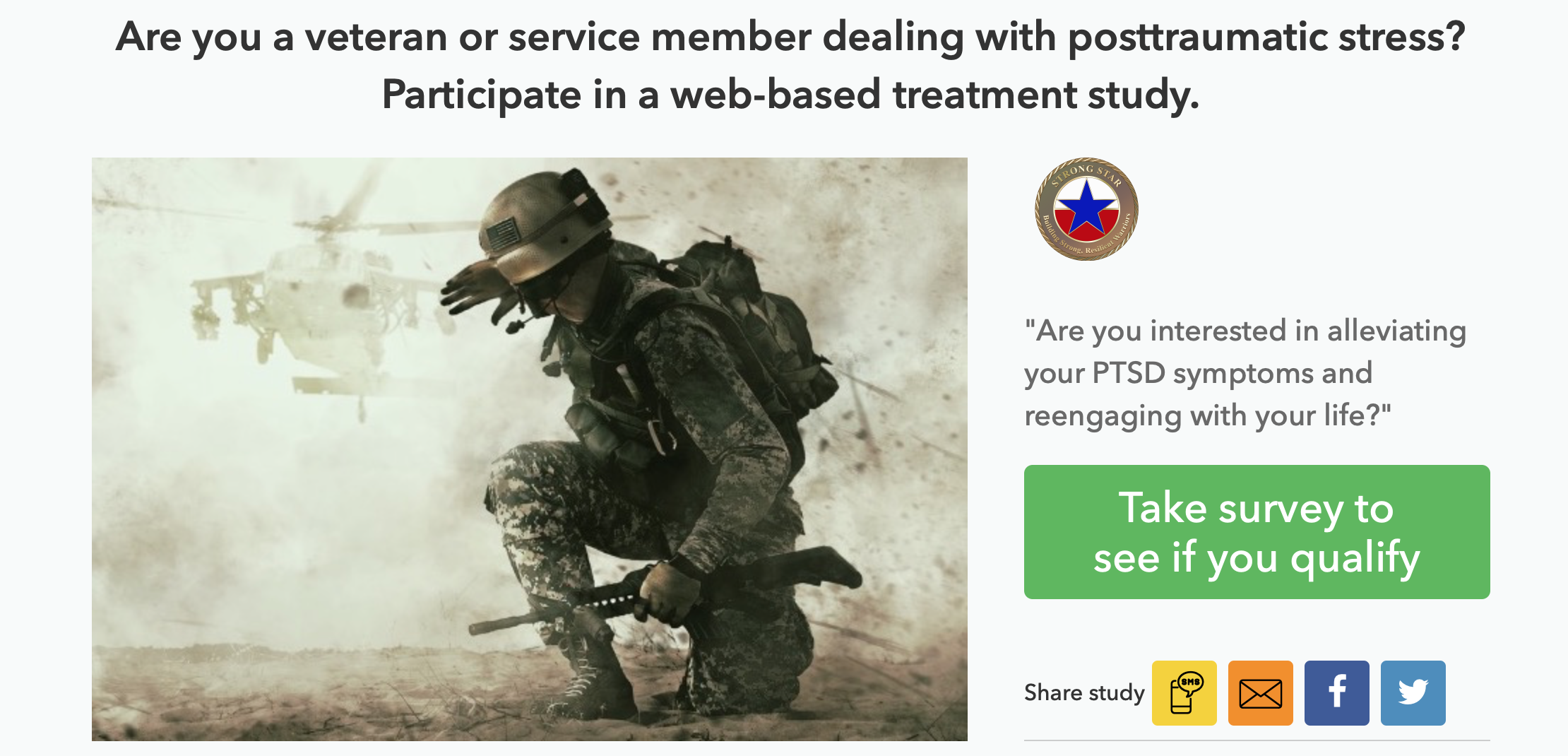 If you know of a veteran who could benefit from this, please forward this to them. Post on social media, share with your networks, and let others know. Together, we can help our veterans live the post-military life they desire and deserve.