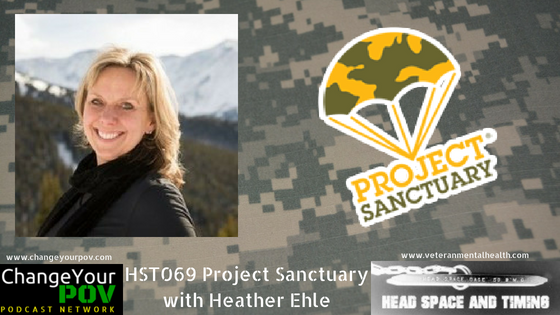 Summary:
Heather Ehle, founder, and chief executive officer of Project Sanctuary, is a Registered Nurse (RN) with more than 25 years of experience in the health care industry as a nurse, manager, volunteer and entrepreneur. She has extensive experience in the nonprofit health care system.
A proud single mother of three, Heather adopted a sibling pair through foster care.  She is driven by a strong desire to give back and do more. After reading that the rates of child abuse and neglect triple when a parent is deployed, Heather was moved to do something and founded Project Sanctuary in 2007. Being a civilian without direct ties to military families, she reached out to the community for support and education. Led by veterans and her board, she carefully listened to what the military families needed and then structured Project Sanctuary's programs to meet those needs, pulling from her background as an RN to establish an evidence-based program that encompasses physical and emotional healing.
In 2010, Heather was a finalist for People Magazine's All Stars Among Us.  In 2012, Project Sanctuary was honored at the White House as one of only five 2012 "Joining Forces Community Challenge Winners," chosen out of over 300 nominees in recognition of its work with military families. In 2017 Heather was chosen and successfully completed Stanford University's nonprofit, executive leadership training.
In This Particular Episode You Will Learn:
Heather's background and experience
Impact of the Gulf War
Project Sanctuary and it's programs
Long term support and impact
veteran mental health as weakness versus inllness
Types of therapeutic retreats
Family member support
Comprehensive support for veteran mental health
Number of clients Project Sanctuary has served
Length of time that it takes for veterans to reach out
Success stories
Planting seeds of wellness
Links Mentioned in This Episode:
Project Sanctuary Fact Sheet
2017 Annual Report
Project Sanctuary Testimonials
Project Sanctuary Awards & Press
Project Sanctuary Social media:
Want to keep up with all of the Head Space and Timing content? Subscribe Here 
You can be sure to find future episodes of Head Space and Timing by subscribing through your Podcast player of choice, like iTunes. Make sure to leave a review…see how here
Using an app makes subscribing and listening to podcasts (both ours and others) so much simpler. Just subscribe to Head Space and Timing within your app and it will automatically update every time a new episode is released. You can also find all of the podcast players here.
Do you want to check out Duane's latest book, Combat Vet Don't Mean Crazy? Check it out by finding it on Amazon.
Would you like to be a guest on Head Space and Timing? Follow This Link.
---
Duane France
Duane K. L. France is a combat veteran of both Iraq and Afghanistan, as well as a mental health counselor practicing in the state of Colorado. Do you want to join the conversation regarding veteran mental health? Share, like, and comment. Read Duane's previous posts and follow him on Twitter and LinkedIn. Keep the conversation about #veteranmentalhealth going.