What does it mean for a service member to have a "good" transition out of the military? Generally most would agree that the service member is successful in their transition if they are able to obtain employment, maintain quality relationships, and enjoy physical and psychological health. One where the service member can capitalize on the strengths that they developed in the military while minimizing the impact of any negative experiences. As far as that goes, it's a pretty good concept. "I served in the military, a lot was great, some was not so great, but I'm thriving in my post military life" is an optimal statement that I want to hear from those who served. For a large number of veterans, that's the case. If they're not thriving, necessarily, they're at least doing all right. 
That is a wellness-based transformational change, from a service member, regardless of branch, to this combination of service member and civilian called a "veteran." Strengths focused and measured by the quality of the individual's life after the change. Leaving the military caused me to make a mindset shift, but I was unable to fully leave the military behind. Twice during a dinner with friends just last night, I used military analogies to make a point. I have to…it was my frame of reference for nearly quarter of a century. If I spent twenty-two years as a teacher, or a plumber, I would probably have used examples from those professions to make my point. The fact is, though, that to be truly successful in post-military life, individuals must experience an internal psychological change. 
Why, then, are a significant measure of support provided to service members based on a transactional model of change? 
Transformational Approach versus Transactional Approach
Service members, and many others, are familiar with transactional and transformational leadership. Transactional leadership is based on a system of rewards and punishments. Perform the required and desired task, and you will receive a reward. Fail to perform that task, and you will receive a punishment. This approach is easily applied, quick to modify behavior, and effective…for a period of time. The longer this method of leadership is used, however, the less effective it becomes. The desired behavior will continue only as long as the rewards are seen as valuable, and the punishments are felt as aversive. 
Transformational leadership, on the other hand, is an internal change, where someone performs the required and desired task because the want to, rather than because they have to. Everyone has had that particular boss who they do what they say because they have to, but the truly inspirational leader is the one that you will follow through hell because you want to. A transformational change is internal, a shift in mindset, one where the individual's thoughts and beliefs are changed. 
Benefits-Centric Transactional Approach
On a recent episode of the Head Space and Timing Podcast, JJ Pinter, the Executive Director of the national veteran service organization Team Red, White and Blue, said,
There is a perpetuated opinion…that the quality of your transition is directly proportional to the amount of benefits that you are able to use or get your hands on. We have a very benefits-centric mindset to transition 
This is looking at military transition in a transactional way. Much like when we were in the military, the way we know that something has been done is if the right things changed hands in the right way. Immunizations, rations, supplies, evaluation reports, physical fitness. There is a standard of give and receive, obtain and return, and once that standard has been met, then the mission has been accomplished. I understand that the Transition Assistance Program is changing, but when I went through, it was focused on creating a resume, providing a budget on an excel spreadsheet, dressing for success, interview tips and tricks. All behaviors to be executed. JJ, taking it a step further, is talking about the amount of benefits that one is able to obtain. 
To be clear, there isn't anything wrong with using the benefits that we earned as a result of our military service. What I believe JJ is arguing is that this can't be and shouldn't be the sole measure of a successful transition. After all transactional leadership, described above, is effective and appropriately useful at times. Relying too much on a transactional benefits-centric approach is not balanced. 
Wellness-Centric Transformational Approach
Instead of looking at transition in a transactional way, service members (and those who support them) should look at transition in a transformational way. One in which true internal long-lasting change is made. The benefits that one obtains after the military then becomes a way to get to the goal of wellness, not the goal itself. If a veteran receives service-connected disability, then that gives them a measure of economic stability that allows them to do other things. A personal example: if it were not for my VA disability and military retirement, I would not be able to do what I am doing in my post-military life. Mental health counselors don't make a ton of money, if you didn't know. Bloggers and podcasters make even less. Because of the benefits of my military service…educational, financial, medical, and all the rest…I am able to focus on developing and maintaining a focus on wellness. 
So rather than having a benefits-centric focus on transition, in which the question is "how much can I get," we need to focus on maximizing our strengths while minimizing our weaknesses, like we did when we were in the military. The question then becomes, "how good can I be." Not in an arrogant way, or a hyper-competitive way, but in a personal way. 
Veterans served in the military and deserve to reap the fruits of their labor. That's only part of the equation, however; the other part is what we do with the fruits once we have them. 
---
Do you want to help offset some of the costs of the Head Space and Timing Blog and Podcast? Want to show your appreciation and support? You can put some paper in the tip jar by going here or clicking the button below
---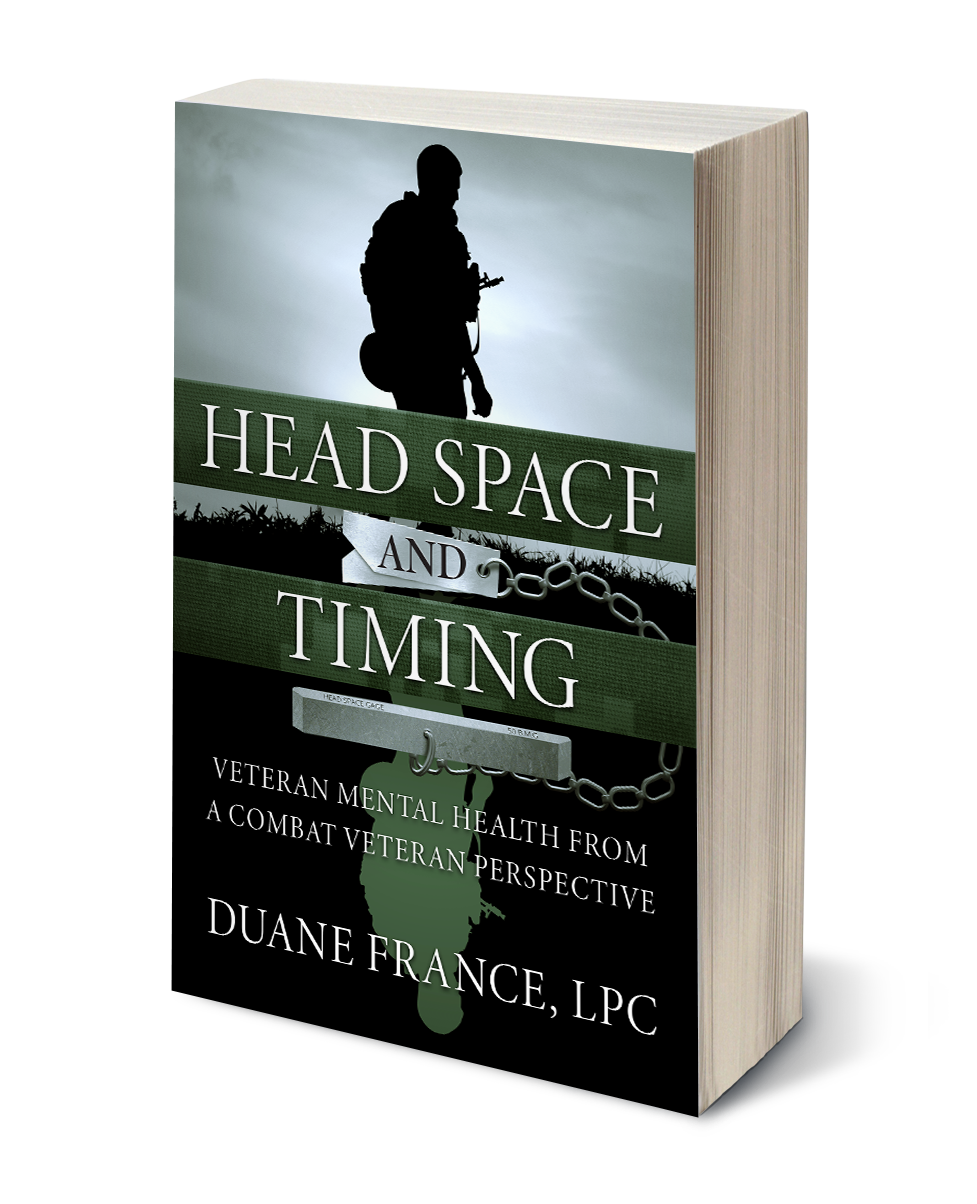 Want to learn more about veteran mental health? The first HS&T Book has recently been released in paperback. Click on the image to the left or this link to purchase the book. See what people are saying about it: This compilation of Duane's work is key and essential to anyone working with Soldiers and Veterans. Duane provides a senior NCO's perspective with unmeasurable experience and knowledge on top of his natural gift for seeing numerous levels of humanality and the challenges faced by those who have served our country. I highly recommend it! – A.C.