May of 1992. I was a month away from graduating High School, and had no idea what I was going to do. I had applied to a single college; got a partial scholarship, too. The only problem was, it was an out-of-state private Catholic school…the cost remaining per semester was still greater than the local community college. Of course, that was just Senior High Senior High, going to school with the same folks I had just been in school with for years. So what to do? Guess I'll join the military.
Yep, I was one of those. I joined the Army to get money for college. Sure, service to country was there; I watched the Gulf War on TV like the rest of the guys and gals in my class, but military service wasn't always on the radar. As a matter of fact, it was OFF the radar for much of my life; my dad and three of my uncles had been Vietnam Veterans, and my old man actively discouraged me joining the military. But at that time, for this guy, I was tired of working at a pizza joint and sleeping in my dad's basement, so off I went.
What I didn't realize was that I had an underlying desire for excitement, adventure, and really wild things. What I didn't realize was that I would be put into a situation in which I had to rely on other people, and they had to rely on me. That the Army values were my values, and one of the key ones for many service members became mine: Selfless Service. Sacrifice. As I look back on my military career, and on the work that I and my fellow veterans are doing in our post-military lives, this is a value that we have internalized and use to serve our community.
Selfless Service Defined
According to the Army Values website, Selfless Service is described in this way:
Put the welfare of the nation, the Army and your subordinates before your own. Selfless service is larger than just one person. In serving your country, you are doing your duty loyally without thought of recognition or gain. The basic building block of selfless service is the commitment of each team member to go a little further, endure a little longer, and look a little closer to see how he or she can add to the effort.
Someone who never served in the military may think this is some brainwashed automaton crap, a flag-waving "no questions asked" attitude that they drill into our little robot heads. It may seem that way…until you are out on a freezing cold drop zone at 2am with your team. Or lined up at a gate of a Forward Operation Base in Iraq, getting ready to patrol on a route that has had an improvised explosive device on it the last five times you've traveled it. It really is that way. You rely on your brother or sister, and they rely on you. If you can't hack it, get out of the way and let someone who can hack it take your place…we have a mission to accomplish.
Selfless Service Demonstrated
Anyone who has served likely has thousands of examples of self-sacrifice, large and small. We don't talk about it, we just do it. Long hours away from family. Moving away from family to begin with; my very large extended family still lives in close proximity to each other, but I spent twenty-two years away from them. Staying up late, waking up early, pulling an extra shift because you know (or hope) that your buddy is going to do the same for you. Doing hard work for a long time with no end in sight, because people are counting on you, just like you are counting on them. And, of course, there is the ultimate sacrifice, that of a service member's life, which was always a possibility and much too often a reality.
Our families sacrifice as well. It's so common that it's almost cliche…my wife and I lived in nine different places in four duty stations during the first ten years of our marriage. My kids went to four different elementary schools. There wasn't a year between 2006 and 2013 that I wasn't gone part of a year or, more often, the entire year. And just as I left my family, this Soldier drove into town and drove off with my wife before her family could wrap their minds around what was happening. Military life is a sacrificial life, one that is done willingly and even eagerly.
Selfless Service Continued
Like many of the other positive values that service members learn from their time in the military, Selfless Service is one that continues to be applied after we leave the military. I recently spent a number of days in Dallas with the George W. Bush Institute Military Services Initiative, in which I had the opportunity to spend some time with some amazing veterans, family members, and community members doing great things for the veteran community. The amazing warriors of Team 43, using golf and cycling as part of their physical and psychological rehabilitation process…and who are doing amazing things to support their brothers and sisters after the service. My fellow scholars of the first cohort of the Stand-To Veteran Leadership Program, and the second cohort. These amazing scholars are doing strong work in higher education, the corporate sector, mental health, homelessness, and dozens of other areas that impact service members, veterans, and their families.
Veterans continue to support their community through sacrifice and service. It's one of the ways that veterans continue to contribute after leaving the military, and a key way to find purpose and meaning in post-military life. This level of selflessness and sacrifice is often misunderstood by those who haven't served, and unable to be explained by someone who has. It is also a critical component of military service, and a legacy of which benefits not only the veteran's community, but the nation as a whole.
---
Do you want to help offset some of the costs of the Head Space and Timing Blog and Podcast? Want to show your appreciation and support? You can put some paper in the tip jar by going here or clicking the button below
---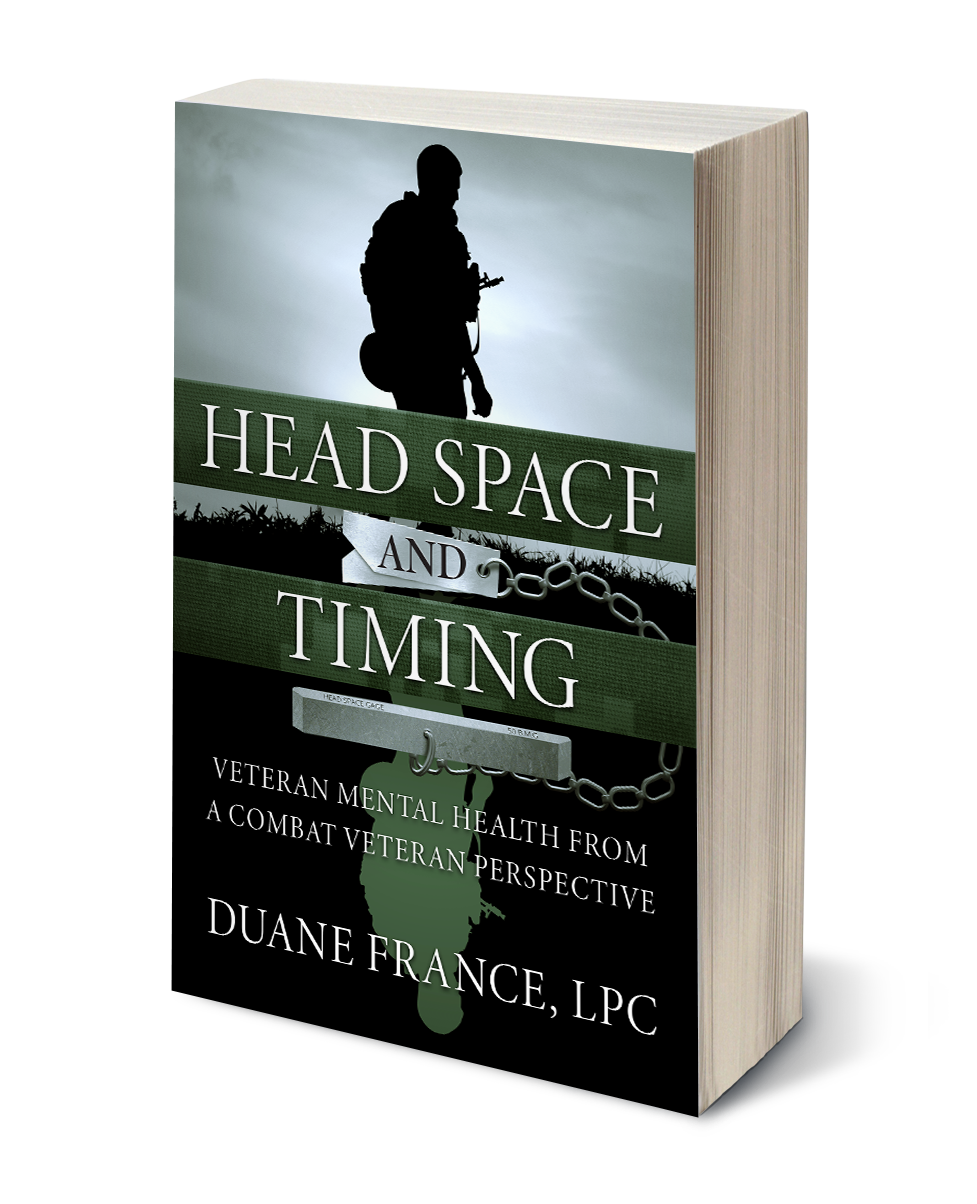 Want to learn more about veteran mental health? The first HS&T Book has recently been released in paperback. Click on the image to the left or this link to purchase the book. See what people are saying about it: This compilation of Duane's work is key and essential to anyone working with Soldiers and Veterans. Duane provides a senior NCO's perspective with unmeasurable experience and knowledge on top of his natural gift for seeing numerous levels of humanality and the challenges faced by those who have served our country. I highly recommend it! – A.C.