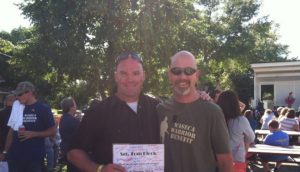 This post is an original article written by Aaron Skogen . Aaron is a senior operations professional employed by The Toro Company. He writes to share ideas and generate a conversation. Most often you will find him writing personal stories exploring the correlation between our personal and professional lives.The original post can be found here and is republished by permission.
In March of 2014, a colleague asked me to participate on our Toro Cycling Team to Support MS Society by riding the MS150. This is the largest event in the upper Midwest dedicated to eradicating MS. I hadn't ridden, seriously ridden, a bicycle since my kids were born. As a child bicycles were a necessity. I grew up in rural Minnesota and for many years as a child, my bicycle was my ticket to freedom. Whether it was a ride to a friend's house or to my grandparents, it was my primary means of transportation over gravel country roads. But I had hardly ridden, even recreationally, in the last 13 years. Needless to say, I was apprehensive at the thought of riding 150 miles. Further contributing to my apprehension was the fact that I had been in a motorcycle vs. deer accident in 1999, landing me at a trauma center in critical condition. Only by the grace of God did I survive my run-in with a whitetail on that early spring morning in 1999. I sustained many injuries that all healed in time, but I had lived, up until last year, with nagging hip pain. I used that hip pain as a crutch and excuse for not being more physically active.
At the suggestion and subsequent push of my colleague, I decided to accept the challenge of riding 150 miles in support of people who suffer daily from the debilitating effects of MS. I purchased a road bike, geared up and started riding. The first few weeks, like any fitness regimen, were tough. At the start I struggled to maintain a cadence of 60rpm in low gears. But after a few months, I was spinning a regular cadence in the 90 rpm range in the higher range of my gears. I also found, that although I had undergone months of physically therapy, deep tissue massage and other treatments after my accident, the cycling had eradicated my hip pain.
The MS150 Ride came in early June. I had enlisted a dear friend to ride with our team. We lined up at the start on a cold, rainy morning and began the 150 mile trek. I cannot express the sense of teamwork, camaraderie and the overwhelming desire of riders to end MS that I observed on last year's ride. Even with weather conditions at their worst for early June, the ride began with cheers, words of encouragement and an unvarnished sense of purpose. To see thousands of riders, wave after wave, leaving the starting gates, all peddling for a common cause was simply, spectacular.
I had a few minor mishaps along the way, straining my achillies about 40 miles into the ride, and at mile 148 I caught a crack in the road and lost my balance resulting in bounce against the curb followed by a high speed skid across someone's front lawn. Regardless, we finished. And we did so, in a time that surprised us both. Although this event is surely not a race, we were determined to maintain a steady cadence and speed. We average 17.3mph over the 150 miles. Not horrible for a couple of rookies.
That finish brought the miles we had logged to a whole new level. It was even more motivating than the cheering at the start and we were overwhelmed with a feeling of accomplishment. That sense of accomplishment was in part personal, and in part knowing we brought someone closer to a cure. Seeing first-hand how MS affects our family and friends is very powerful. Even more powerful was seeing our impact on those with MS as we rode through cities and towns along the way.
I found some motivation.
I kept riding. On weekends, at lunch, or whenever I could squeeze in 10, 15 miles in the saddle. I found each time I rode, I was once again motivated to stretch myself, to live better. An ancillary benefit to this motivation was finding that my increased fitness level had a very positive impact on my life, my family and my work. I simply feel better after a ride. My mind is clear and my body is re-energized.
About 3 months before the MS150 a young Marine from my hometown came home with a full military escort to be buried. Thousands of residents of our small town lined the streets; the fire department hoisted a flag atop the ladder truck, school children painted flags and welcome home signs in the snow banks all along the route from the airport he was received at to the funeral home; 17 miles of respect for a fallen soldier coming home to rest.
If that wasn't enough, more motivation came in the later that summer.
The Gold Star mother of that young Marine had a small group of local Moms who together organized a benefit 5K in his memory. My bride was a member of that small group. She had taken up running the year before and had signed our family up to participate. The doubt crept back in. What was I to do..? I hadn't run since high school. I asked, "Could I bike it?", but that, frankly, was silly. Then I received news that another local, a Ranger, Stg. Tom Block, was coming home and a benefit for him had been scheduled on the same day as the run. Sgt. Block had been severely wounded by an IED in Afghanistan October of 2013. His mental toughness and desire to lead and motivate others resulted in a miraculous recovery and to being named Army Times Soldier of the Year in 2014. Tom had posted on Facebook, although he had not yet been cleared to run, that he was planning to run the 5K in honor of his fallen brother. Motivation.
The 5K came. Tom was cleared to run that morning. Following a memorial in honor of LCpl. Erickson, he hoisted our nations flag in his hand, and began running the 5K in the early morning hours. Regardless of being subject to severe injuries, Tom, in true Ranger style, led the runners at a 6 minute per mile pace. After all, "Rangers Lead the Way"!
Once again, I was humbled. Frankly, I felt a surge of shame. Embarrassed that I had questioned my ability to run 3.1 miles as I watched a man who, not a year before, was told by surgeons it may take years before he would simply walk again. Motivation.
It took me about 26 minutes to run the 5K while pushing my youngest son in a jogging stroller, a considerably slower pace than the Ranger who led us off. Despite the fact that I had, by that time, logged nearly 1,500 miles on my bike, I was not accustom to running. I was winded and admittedly tired. As I rounded the last corner, there Tom stood at the finish, our flag still held in his hand, hoisted high in the air. I dug in and sprinted toward him and that flag. Tom greeted me with a hug and a thank you. He said to me "that's how a Ranger finishes!" He stood there until the very last participant crossed the line, thanking each of them for honoring a fallen brother.
Ultimately, I am sharing my story of recent events, as they have re-shaped a future for me I had not anticipated a little over year ago. Through these two events and in the span of just a few months, I learned valuable lessons in motivation, compassion, and leadership. One simple push from a colleague has changed my life and forever impacted how I see the world and my role in it.
So I ask you to find those things that will motivate you to be better. I guarantee you it's not wealth. It is something deep inside of you. Get a push, take a risk, and check something off that bucket list. You may doubt yourself, you may hurt, but you'll never look back.
Find some motivation!
I'd love to hear from you on the motivating factors in your life.
Did you enjoy this post? Please comment below and share with your network in order to join the conversation regarding veteran mental health. You can sign up for updates from Head Space and Timing and follow Aaron on Twitter and LinkedIn.