This post is an original article written by the Campaign to Change Direction.
This is part of the Week to Change Direction from 9 June to 15 June 2015. 
We are at a crossroads when it comes to how we address mental health and emotional well-being. Globally 450 million individuals have a diagnosable mental health condition. One in five of our citizens of Americans experience some kind of mental health challenge, and more Americans are expected to die in the coming year by suicide than in car accidents. In addition, 1.7 million Americans sustain a traumatic brain injury each year which may affect their cognitive and emotional functioning. Also, drug use is on the rise with 23.5 million individuals now addicted to alcohol and/or drugs. While many of us are comfortable publicly acknowledging our physical suffering, for which we almost always seek help, many more of us privately experience emotional suffering, for which we almost never reach out.
Purpose
The Change Direction initiative is a collection of concerned citizens, nonprofit leaders, and leaders from the public and private sectors who have come together to change the culture about mental health, mental illness, and emotional well-being. This initiative was inspired by the discussion at the White House National Conference on Mental Health in 2013. By bringing together this unprecedented and diverse group of leaders we plan to spark a movement that:
frees us to see our emotional health as having equal value to our physical health
creates a common language which allows us to recognize the signs of emotional suffering in ourselves and others
encourages us to care for our emotional well-being and the emotional well-being of others
Upcoming Events Where YOU Can Help Change Direction
A Week to Change Direction: June 9-15, 2019
This is a week of action, advocacy, culture change and fundraising for organizations, corporations, universities, communities, and individuals! Our aim is to increase knowledge, raise awareness and increase support for efforts that are working to change the culture of mental health globally so that all in need receive the care and support they deserve. Register an event today!
Global Conversation on Mental Health Culture Change: October 10-11, 2019
Join the online global collaborative conversation and let your voice be heard. Sign up hereto be informed about our exciting line up of thought leaders and special guests and when registration opens!
Global Summit on Mental Health Culture Change: November 4-5, 2019
The 2019 Summit will be hosted in Toronto and will gather key government officials, stakeholders, policymakers & change agents to focus on addressing culture as a primary barrier to changing the way we think and talk about emotional well-being and mental health. Sign up here to be informed when registration opens.
Visit changedirection.org to learn more.
Five Signs of Emotional Suffering
Often our friends, neighbors, co-workers, and even family members are suffering emotionally and don't recognize the symptoms or won't ask for help.
Here are five signs that may mean someone is in emotional pain and might need help: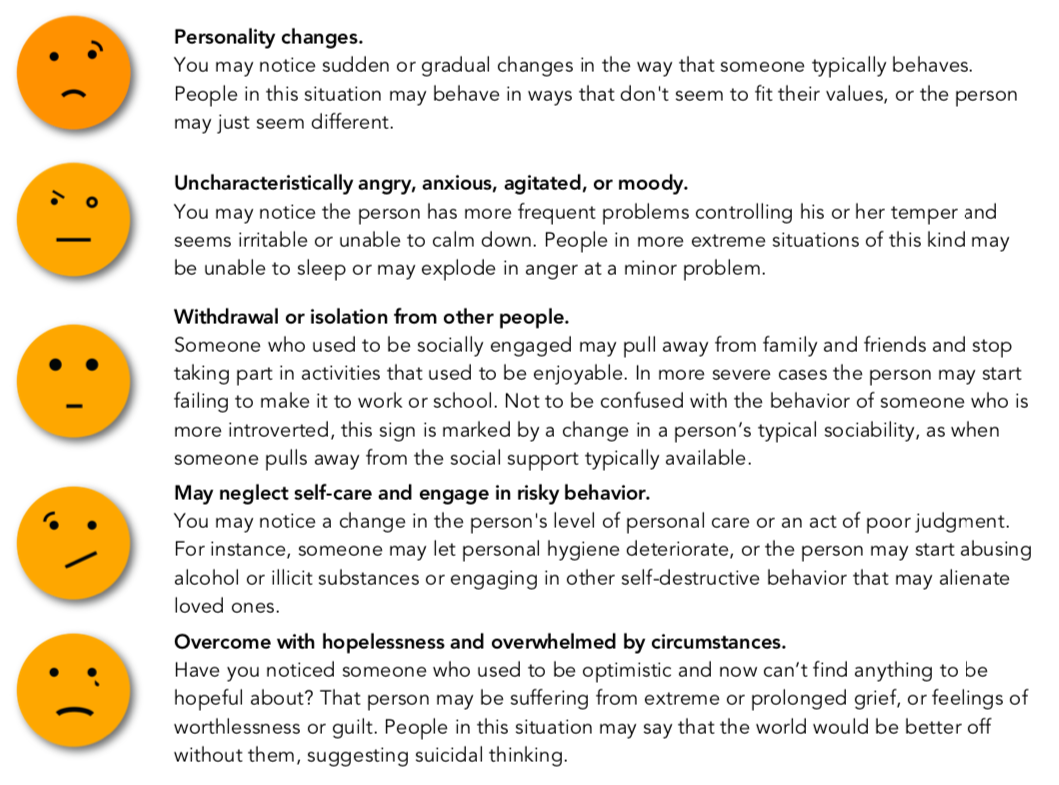 Healthy Habits of Emotional Well-being
 It is important to recognize when someone is in emotional pain. It is equally important to learn basic habits that keep us emotionally healthy.
What are the Healthy Habits of Emotional Well-being? They are habits that everyone can learn – habits that allow each of us to identify and practice what works for us.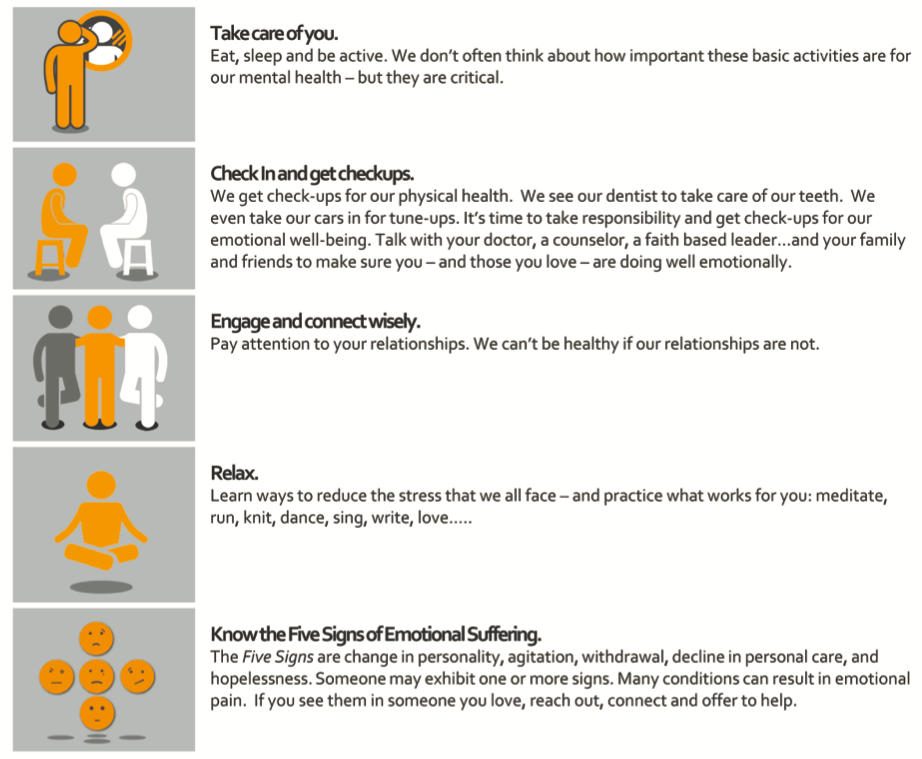 If everyone is more open and honest about mental health, we can prevent pain and suffering, and those in need will get the help they deserve.
To learn more about the Campaign to Change Direction, including the five signs of emotional suffering and the five healthy habits of emotional well-being, Episode 123 of the Head Space and Timing Podcast is a conversation with Dr. Barbara Van Dahlen, Founder and President of Give An Hour. 
HST123 – Dr. Barbara Van Dahlen – The Week to Change Direction