Memorial Day 2017 is rapidly approaching, and our social media feeds are once again going to be inundated with reminders of what the day is supposed to be about, as opposed to what it seems to be about. Friends and neighbors everywhere are going to be getting ready for summer, going to the beach (if that's your thing), or firing up the BBQ. Guess what? Memorial Day is usually the weekend in which I take the top off the Jeep for the summer, if the Colorado weather will let me. An end to winter, time with family, all of that's there.
And then there's the actual reason that we have Memorial Day, to remember the sacrifice of the fallen.
I don't begrudge anyone their enjoyment of the day, but there's one thing that veterans and the families of veterans know, and that's the fact that Memorial Day is not just once a year. Those who have served, and those who have lost loved ones who've served, have Memorial Day throughout the year. And while we gather to remember together as a nation, we often forget the individual meaning of sacrifice on Memorial Day.
This year, I was honored to join a group of guys in putting together some of our thoughts on Memorial Day, in an effort to change people's point of view of the day. Maybe, if you have friends who haven't served and who complain about the "remember the day" messages, it would be helpful for them to check this out.
This is an AHABook, an online platform that consists of 140 AHAMessages that you can share across your social platforms. The team at the Change Your POV Podcast got together and put some of our thoughts down about what the day means to us.  Here are some examples:
Stars, stripes, taps, food, tears, laughter. A day & time of mixed emotion when you are on our minds. #MemorialDay @eddie_lazzari #AHAthat
We're not upset that people enjoy the day. We love the fact that our friends and neighbors enjoy the freedom that they have. In a very real sense, we don't even want everyone to know the full measure of the sacrifice that we feel, because we understand the cost.
They're haunted by your loss. They want forgiveness & feel unworthy. I can only hope they find peace. #MemorialDay @ThCounselingVet #AHAthat
While I often acknowledge that Memorial Day is not just one single day for a veteran or their family, it is often a day that brings together many memories from throughout the year. For many veterans I work with, they describe it as "hard." Perhaps they've not gotten to a place of peace in their life with the loss that they've endured. Perhaps they don't want to.
I'd split rock w/ my bare hands if I could & take the burden of death from you & put it on my weary shoulders! #MemorialDay @JeffAdamec
We certainly don't want to preach at anyone, or wave a flag in their face and kick over the picnic basket. We simply wanted to be able to provide our thoughts on the day, what it means to us and how we think about it.
We should celebrate on #MemorialDay, but we should also know why we are celebrating. Their #Sacrifice was a #Gift. @BennettTanton #AHAthat
It's not about ruining someone's day by being morbid or depressing. Celebrate the lives of those who have gone before us, because for the brothers and sisters I've lost, that's certainly how they would want to be remembered. Enjoy the day, because of their sacrifice, not in spite of their sacrifice.
There should be a better way to acknowledge #MemorialDay for what it IS versus what it's perceived to be. @NeophyteITW #
So if you're interested in checking it out, take a look at the AHABook here, or click on the image below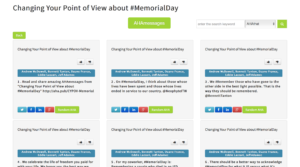 Thanks to the team over at CYPOV, Eddie Lazzari, Bennett Tanton, Andrew McDowell, Jeff Adamec, and Kevin Fairbanks, who joined us a little to late to get in on this project.  Take some time to look through the messages, check out the videos to see what AHAThat is all about, and reflect on what Memorial Day means to you and those around you. You won't regret it.
The Head Space and Timing Blog is supported by the Colorado Veterans Health and Wellness Agency, a 501(c)3 Nonprofit in Colorado Springs, Colorado. The goal of the CVHWA is to provide military culturally competent mental health counseling to veterans and their spouses, regardless of characterization of discharge, time of service, or era of service. Our vision is to assist veterans to identify and remove barriers to their mental, physical, emotional, and behavioral wellness. For questions or inquiries, contact us!