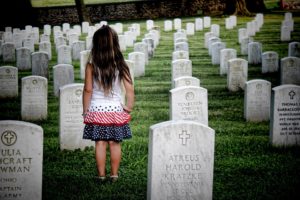 Never before in American history has there been a chance for child not born at the beginning of a war that would potentially be able to fight in the same war as their parent. That day is rapidly approaching.
I've been having some conversations recently, about the impact that combat deployments have on families. For the last fifty years, military service has very much been a family affair. My father served in Vietnam, as did two of his brothers and a brother-in-law. My younger brother enlisted; he joined the Army as I was leaving Baghdad in 2007, and was assigned to the unit that replaced us. Six or eight months after he joined, he was stationed in the exact same region I just left. On my second Afghanistan tour, his first, we were in country together. You hear of these stories; brothers and sisters serving together, fathers and children. It's especially true for Reserve and Guard units; our engineers in Afghanistan in '09-'10 were out of Indiana. The crew we went out with the most were literally cousins, and said that they were related in some way to almost a third of their unit.
Maybe it's always been this way, but we are on the verge of something new: a toddler on 9/11 could potentially join the military and serve in the same combat zone as their military parent. My daughter was born 18 months before 9/11, my Son was born just over a month before. Neither of them remember the event, but are intimately familiar with it's impact on my life, and our lives. With permission from my wife and I, my daughter could join the military today. My son could join as soon as he turns 17. Regardless of whether they will or won't, the potential is there. If they do enlist, or decide to commission or whatever, the fact is that they could serve in Kabul or Jalalabad or Baghdad, just as I did.
Never before has there been the potential for this to happen.
Any veteran I know has stories of families serving together. When I was in Rustamiyah, a soldier from another company was requested to be at the helicopter landing pad at a specific time. No one knew what it was all about…until the scheduled helicopter came in, and the soldier's father, who happened to be the regional Command Sergeant Major, walked up and gave him a hug. I heard stories from my father's time in Vietnam, when his brother and brother-in-law overlapped some time; my uncle showed up on my father's base with a jeep that had been…acquired…and the two of them drove to Saigon to meet my other uncle when he came in country. I had a similar, but less potentially illegal, experience with my own brother. He was stationed at a camp south of Kabul, and I was able to get permission from my chain of command to catch a ride on the Ring Route, a set schedule of helicopters that would travel from one base to another, to pay him a visit. We spent the morning together, having breakfast and catching up…before I got back on my chopper and my own base in Kabul.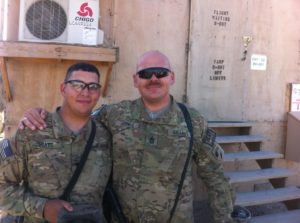 The stories of families serving in the same theater of war are often more tragic than these. In his book, War, and the documentary, Restrepo, Sebastian Junger details one of the most heartbreaking stories of a family of service experiencing the ultimate sacrifice. PFC Timothy Vimoto lost his life in the Korengal valley of Afghanistan, a member of 2/503 Infantry Regiment, 173rd Airborne. His father, Command Sergeant Major Isaia Vimoto, was the 503rd Infantry Regiment CSM on the same deployment. More about their story can be read here. In another example, The book The Invisible Front: Love and Loss in an Era of Endless War by Yochi Dreazen chronicles the story of Major General Mark Graham and his wife Carol, whose two sons, Jeff and Kevin, lost their lives within nine months of each other. Kevin died by suicide as an ROTC cadet at the University of Kentucky, while Jeff was killed by a roadside bomb in Iraq. There is tragedy, loss and sacrifice in these cross-generational stories, but a difference is that CSM Vimoto and MG Graham were career Soldiers, and their sons old enough to remember 9/11. We are approaching a time in which the outcome is the same, but the circumstances are different.
The modern military is very much a family affair. A fellow veteran, Jeff Adamec, said that he had a conversation with an eighteen year old recently, and this young man said: "America is at war, but that's not really true. The military and their families are at war. America doesn't seem to know or care anymore because it's uncomfortable to know. And that's a tragic truth." The fact is, however, that there is an even greater truth in that statement: military families are at war. Husbands and wives. Fathers and daughters. Mothers and sons.
And soon, there will be children who were not born at the beginning of these current global conflicts who will be participating in them. What lessons have we learned? What lessons are there still to learn, the impact of sustained conflict on these two generations?
We are currently experiencing the passing of the WWII generation. The last living U.S. Veteran of WWI died in 2011 at the age of 110. The cross-generational impact of these conflicts will be felt for well over a century, into the 2100s. While this may mean many things to us as a nation, the communities we live in, and the narrative we bring, I believe we also have to be aware of the impact on individual mental health and wellness. We are entering into uncharted territory, and it would be best if we did so with caution and awareness.
Want to keep up with all of the Head Space and Timing content? Subscribe Here 
The Head Space and Timing Blog is supported by the Colorado Veterans Health and Wellness Agency, a 501(c)3 Nonprofit in Colorado Springs, Colorado. The goal of the CVHWA is to provide military culturally competent mental health counseling to veterans and their spouses, regardless of characterization of discharge, time of service, or era of service. Our vision is to assist veterans to identify and remove barriers to their mental, physical, emotional, and behavioral wellness. For questions or inquiries, contact us!