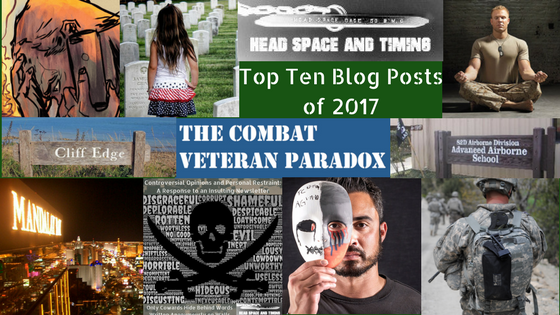 Another year gone, another just begun. Before we get into the new posts for the new year, I thought that I would share some of the top Head Space and Timing posts from 2017. These ten posts, in no particular order, were the most read and shared posts that were published in the last year. There's no doubt that there is an interest in Veteran Mental Health, and the popularity…and subject matter…of these posts reflect that. There are two posts that have to do with veteran suicide, a couple of guest posts, a couple that have to do with significant events that occurred throughout the year, and some PTSD and a failure story, thrown in for good measure. Take your time, enjoy them all, and we'll return next week with new blog posts.
The Combat Veteran Paradox Infographic
The single most popular post in 2017 is actually an infographic based on a study described in a 2015 article in the Journal of Traumatology, authored by Carl Castro, Sara Kintzle, and Anthony Hassan. The different paradoxes that many veterans face, as identified by the authors, really hit home with readers.
http://veteranmentalhealth.com/2017/01/26/the-combat-veteran-paradox-an-infographic/
 What to Say to a Veteran Contemplating Suicide
I had the honor of being featured on Task and Purpose for an article about how to respond to a veteran contemplating suicide. This is something I have experience with, both personally and professionally. If you had to choose one of these ten posts to read, this one is it.
http://veteranmentalhealth.com/2017/02/17/a-resource-for-how-to-respond-to-a-veteran-contemplating-suicide/
A Response to an Insulting Newsletter
In August of 2017, a newsletter made the rounds of a local university, the University of Colorado Colorado Springs. It was mentioned in the news, after all of the torches and pitchforks got put away, that it was a social experiment perpetrated by a couple of students…who happened to be veterans…but the simple fact that someone thought this up and found it necessary, or funny, to present to the public is certainly a sign of our times. My barely restrained frustration at the situation is contained within the post.
http://veteranmentalhealth.com/2017/08/31/controversial-opinions/
Six Thoughts on Posttraumatic Stress Disorder.
Call it PTSD, PTS, PTSI, or any other name, it's the combination of thoughts, emotions, and behavioral reactions that result from exposure to a traumatic event, and often multiple traumatic events. It's no secret that I think that the challenges that veterans face go beyond just PTSD and TBI, but this post still shows that there is a lot of interest in the subject. Hopefully these six facts can widen the lens a little bit.
http://veteranmentalhealth.com/2017/06/20/six-thoughts-on-posttraumatic-stress-disorder/
The (Inappropriate) Case for Suicide
There were some high-profile individuals who took their own lives in 2017, which led to an increased discussion about suicide in the general public. Although the discussion died down quickly, it is always a complicated topic of discussion very much on the mind of the veteran community. This post was an attempt to have a complicated discussion about it, and help readers to understand what their own feelings are towards suicide. Mine, as I clearly state, are that I believe that it's wrong. Period.
http://veteranmentalhealth.com/2017/04/20/the-inappropriate-case-for-suicide/
Four Lessons Learned from Failing Jumpmaster School
We can be inundated with "failure porn," with lessons from failure gurus talking about how failure is a necessary recipe for success. I agree, but I also don't glorify failure…there were points in this story where I could have learned from the mistakes of others, and been just fine. But if you want a story about a Jumpmaster School instructor having a few kicks at my expense, it's in there.
http://veteranmentalhealth.com/2017/04/11/four-lessons-learned-from-failing-jumpmaster-school/
A Veteran's Response to Mandalay Bay
Speaking of moving on beyond hard topics, it might be hard to believe that October of 2017 brought the single worst mass shooting in U.S. history. I don't know about you, but I haven't heard anything more about the motives behind it; what I do remember is that I saw the event much differently from those who have never served, and the same can be said from many veterans I talked to. We saw it with different eyes and listened to it with different ears.
http://veteranmentalhealth.com/2017/10/05/mandalay-bay-massacre-veteran-point-view/
The First Cross-Generational War
It hit me this year, as my kids approached enlistment age: we've been in Afghanistan for a real long time. The first casualty of 2018 happened in the same district that I was deployed to in '09-'10. The battle is still going on, and soon, it will be up to the next generation to finish it. This isn't a condemnation of practices or choices or the horrors of war, but a simple stating of the facts: there are children who were not born on 9/11 that will soon be fighting in the war that followed shortly after.
http://veteranmentalhealth.com/2017/05/02/welcome-to-the-first-cross-generational-war/
The Lingering Burden of the Combat Medic
One of the most beneficial things that has come out of the Head Space and Timing blog this past year was that other veterans used it as a platform to tell their story and use their voice. This blog post, written anonymously, describes the continued burden that this medic carries, and I find that it's common among many of the medics I work with. Good job, Doc. Everyone else thinks so, too.
http://veteranmentalhealth.com/2017/02/08/physician-heal-thyself-the-lingering-burden-of-the-combat-medic/
The Benefits of Mindfulness to Veteran Mental Health
I meditate. You may think that means that I have a special room in my house with pillows on the floor where I burn incense and blissfully tune out until I reach Nirvana, but that's certainly not true. Mindfulness meditation is not about clearing your mind of thoughts, it's paying attention to those thoughts and recognizing them for what they are. It's about focusing on right now, not yesterday, not tomorrow. Veteran voice Jason Juardo was kind enough to share his own experience about meditation with me, and with the HS&T readers. It must have resonated, because it made it into the top ten.
http://veteranmentalhealth.com/2017/01/18/mindfulness-veterans-focusing-on-now-not-the-past-or-future/
Is your favorite post not here? Do you remember one in particular that spoke to you, moved you, got you to do something? I'd love to hear about it. Reach out, leave a comment, send carrier pigeons if you have to. Thanks for your support over the last year, and I look forward to seeing where the new year takes us.
The Head Space and Timing Blog is supported by the Colorado Veterans Health and Wellness Agency, a 501(c)3 Nonprofit in Colorado Springs, Colorado. The goal of the CVHWA is to provide military culturally competent mental health counseling to veterans and their spouses, regardless of characterization of discharge, time of service, or era of service. Our vision is to assist veterans to identify and remove barriers to their mental, physical, emotional, and behavioral wellness. For questions or inquiries, contact us!