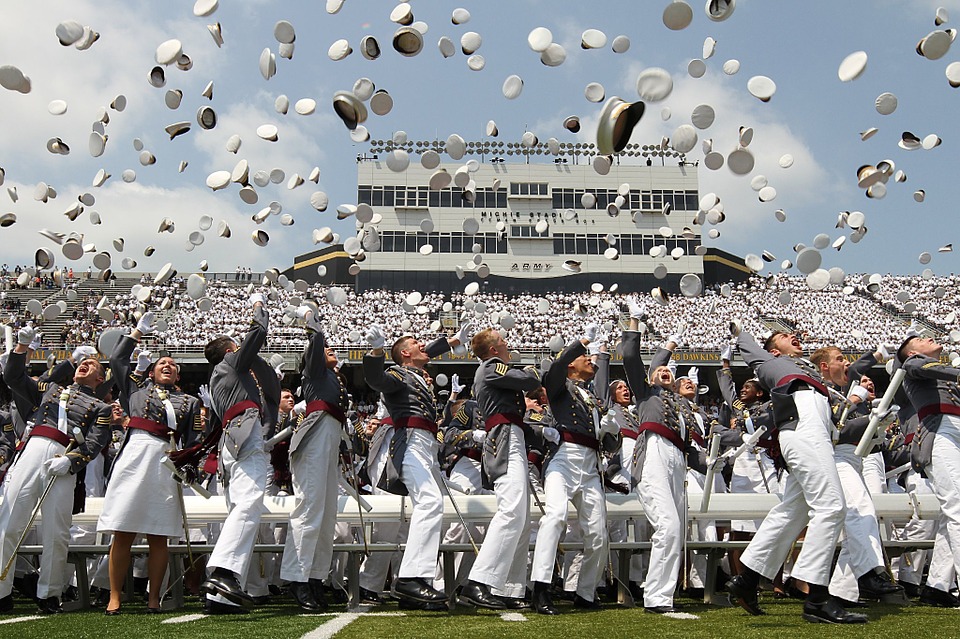 What does ten years of college have to do with veteran mental health? Maybe more than you might think. This is a story of perseverance and determination, and not quitting even though there were opportunities and urges to do so. If that's not talking about the resilience of the veteran, then I don't know what it's about.
At the time I publish this, I will have recently completed the coursework for a Masters in Business Administration with a concentration in Public Management. Did I need it? Not particularly, as I already had a Master's Degree in Clinical Mental Health Counseling and am working as a practicing clinician. I had time left on my GI Bill, though, and one thing that mental health professionals do NOT learn in their graduate program is business management. Of course, many have congratualted me, and that's appreciated. But, as in many other things in life, there is much, much more to the story.
You see, I started this particular educational journey in 2007, standing in my company operations center in Iraq. I was already a Senior Noncommissioned Officer, and had focused on career and soldiers almost exclusively up to that point. I've told this story before, but here it is again: one of my Soldiers walked in with his newly awarded Associate's Degree in his hand. He was proud, and rightly so; he asked me, "So, what's your degree in, SFC?" I told him, as politely as you can imagine, that my degree was in "none of his business." Actually, at that point in my life, I probably said more words that are unfit for publishing. My point was, I was too busy. It wasn't important to me. I didn't see the need for it. Wasn't necessary. All the stuff I told myself up to that point really didn't matter; if I didn't choose to do something then, I wouldn't be where I am today.
Fast forward ten years. Ten years is a long time to do anything, including college. Paralleling those ten years in college are four deployments, each of which I was enrolled in college at the time. Retirement. A job change. My daughter is a Senior and my son is a Junior in High School; they were in first and second grade when I started to go to college.
I got my Associates Degree in Counseling and Applied Psychology, my Bachelor's of Science in Psychology, an Undergrad Certificate in Clincial Mental Health Counseling, a Master's in Clinical Mental Health Counseling, and now a MBA. In an ever-present effort to provide value to those who spend precious time to read what I have to say, I thought I'd pass along ten lessons I learned in ten years of school.
It's never too late to start college
For veterans, this is so well known that it almost doesn't bear mentioning, but it's true. When you get out after five years and start school, you feel like the old man. Whether you're 26, 46, or 56, it's never too late. The recent changes with the GI Bill mean that it's REALLY never too late. So even though I was 15 years into my military career, in the middle of a deployment to Iraq, and had no clue what I was doing, I did the only thing I could: I started.
You never know where this path will take you.
That AA in Counseling and Applied Psychology? It wasn't because I wanted to be a therapist. I chose it because I didn't want to get a General Education degree, and wanted the least amount of math possible. I didn't know what would happen when I started; my moment of clarity didn't come until AFTER I redeployed from Iraq. Only after I started school did I realize what I wanted to do when I grew up…
When you're trained in unconventional warfare, everything around you is a weapon.
In other words, use the resources you have at your disposal. When I was on Active duty, I had Tuition Assistance to pay for my Associates, my Bachelors, my Undergrad Certificate, and a huge chunk of my first Masters. If I had waited until I got out, I would have probably only gotten a Bachelors and one Masters; instead, using GI Bill, I got two.
Never take a 400 level Biopsychology Course while leading patrols in Afghanistan
This one might sound obscure, but do your best to plan your school around your life. I found myself taking the last two major courses of my Bachelors Degree, a Senior level Biopsychology course and a Senior level Clinical Psychology Research course while deployed as a Platoon Sergeant in Afghanistan. I would be out on a security escort patrol for three days, then return to my hooch to nudge out eight page papers on the neurological impact of PTSD while my joes were kicking back playing Call of Duty. In retrospect, it was one of the most challenging parts of my educational journey. If you can do it, pick an easier class when you're in the middle of a war zone.
Know your limits
This one goes along with the last one. Know what you can handle, and what you can't handle. We often have trouble understanding our own capacity to handle stress, but knowing what's possible and what's not will help you tremendously. After learning the lesson above, I decided not to start my Master's Degree while deployed to Afghanistan the second time a year later. Instead, I chose an easier target, an Undergrad Certificate. Just because you can pick up heavy things doesn't mean you always have to.
Be your own advocate
After finishing my Bachelors, I had a heck of a time getting the Education Center counselors to approve an Undergrad Certificate to be paid by tuition assistance. I kept getting told, "the Army already paid for your degree, they won't pay for another one." I didn't quit, and you can be sure that I researched the regulations. If you can spend hours on an interpretation of the regulation on the length of mustaches just to prove you're right about something, you can certainly spend time to do so for something that's going to benefit you. I found what I needed, took it to the counselors, and didn't take no for an answer. Advocate for yourself, in a respectful way, and you'll get what you need.
Find a mentor
I can't tell you how beneficial it has been to find a mentor throughout each stage of the process. From the counselors at the Education Center that I talked to early in my career, to individuals who were extremely beneficial at critical junctures in my journey, none of this would have been possible if I hadn't sought out guidance. At one point, after finishing my Bachelors Degree, I was considering what I was going to do for graduate school. Here's where serendipity kicked in…I went to the Ed Center for advice.
I was sent to see a temporary counselor, because my regular counselor was not in . Turns out he was only there for a short period of time, but it was the best thing for me. Ronnie Bush happened to have already walked the path I wanted to walk…he was a Senior NCO, got his Master's Degree in Clinical Mental Health Counseling, had worked in the community as a mental health provider, and was in the process of onboarding for the Army Substance Abuse Treatment Program. The 45 minutes I spent with him made all the difference in the world; had I not taken the time to seek out mentorship, and apply the guidance provided, I wouldn't be where I am today.
Do your homework
Of course, I mean this literally, but when choosing a degree program, do your homework. Make sure that it's going to get you where you need to be. One of the best pieces of advice that I got was from Mr. Bush, above. I was looking to choose between a three year doctorate from a non-accredited school, and a three year Master's degree.  He said, "if I had two clinicians in front of me applying for a job, and one had a PsyD from a non-accredited school and the other had an MA from a CACREP school, I'd hire the MA every day of the week." Don't just jump into a graduate program to finish the graduate program; make sure it is going to get you where you need to go. If you're going to spend this much time on it, make sure it counts.
The perfect is the enemy of the good
This has been one of my biggest challenges in college. Like many veterans, I'm a 98% kind of guy. I don't call myself a perfectionist, because I know there's no such thing as perfection, but for a long time I held myself to such a high standard that I simply didn't have an acceptable band of excellence in my life. If I aimed for 98% and hit 89%, I'd beat myself up so much that it would have been like I got a 59%. For the longest time, a "B" was unacceptable to me. I told myself that it was a failure…but it wasn't, literally or metaphorically. It's what I told myself. Do what you can, do your best, and the rest will fall in place. Don't be too hard on yourself so that you can't enjoy the fruits of your labor.
It's always darkest just before the dawn
This has shown up so often that it's not something that I really realized. This degree is capping off ten years of college…and it almost didn't happen. Earlier this summer, with work, a significant loss in our family, and the course load I was carrying, I almost dropped it all and walked away. It was the same way with my Bachelor's Degree, as well as my first Masters Degree. I was done. I was tired of it, I wanted it to be over. All three times. I knew how to handle it this time, so even though I was on one knee two hundred yards from the finish line, I had to get up and drag myself across. What is worse…finishing the race bruised, bleeding, but standing, or realizing that the goal was in your grasp and you couldn't close the deal?
So this article was longer than normal, but so was the educational journey I just completed. Hopefully something you read here can help you on your way, maybe get you through your own educational journey. Maybe it will help you start one. I'd love to hear your story of your educational journey, so reach out. Let me know.
You never know where you're going to go, and you're not going to go anywhere if you don't start.
The Head Space and Timing Blog is supported by the Colorado Veterans Health and Wellness Agency, a 501(c)3 Nonprofit in Colorado Springs, Colorado. The goal of the CVHWA is to provide military culturally competent mental health counseling to veterans and their spouses, regardless of characterization of discharge, time of service, or era of service. Our vision is to assist veterans to identify and remove barriers to their mental, physical, emotional, and behavioral wellness. For questions or inquiries, contact us!