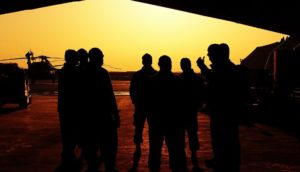 The following post is a collaborative effort by veterans Carl Bishop and Duane France regarding a type of "forgotten veteran" identified in one of Duane's previous posts, the Reservist and National Guardsman. We hope you enjoy it. 
In a previous post, I wrote about those veterans who seem to have been forgotten in the wider discussion of veterans in America today. Not intentionally or maliciously forgotten, but forgotten nonetheless. Those veterans who did not serve in combat, and those who did serve in combat but were discharged with less than full Honorable discharges, joined the military just as those of their brothers and sisters who are seen as "heroes" did.
At the end of that post, I identified another type of "forgotten veteran," and that is the Citizen Soldier, the Reservist and National Guardsman. According to the Defense Manpower Requirements Report for 2015, the Reserve components of the Army, Air Force, Navy, and Marine Corps, as well as the Army and Air Force National Guard, have an end strength of over 800,000 service members; nearly 38% of our nation's total fighting force.
While the majority of my military career was in the Active Duty Army, I did spend just over a year in the Army Reserves before enlisting for full-time service. That experience, as well as my service alongside Citizen Soldiers during deployments, provided a unique perspective into the particular challenges of being both community member and veteran. In order to provide a more in-depth perspective, I reached out to fellow veteran and LinkedIn Pulse contributor, Carl Bishop.
Forgotten Veterans dealt with those service members that served in "non-combat" times or that were released before meeting particular milestones. Carl is going to add in the Citizen Soldier element. The U.S. Reserve and National Guard forces are a vital part of our National Defense.
In his unit, their family of citizen soldiers is well trained. Maybe they don't get enough credit for that, but you don't make up more than a third of the nation's military force by not being ready. Not only are they proficient in their warrior tasks and drills, they come equipped with a wide range of other skills. In their company they have contractors, nurses, lawyers, police officers, chefs, Chief Executives, as well as city leaders, state legislators and such. Their ability to adapt is limited only by the number of problems put before them.
The ability and professionalism of the citizen soldier is often called into question, but nothing can be further from the truth. While Carl was deployed to Afghanistan in 2011-2012, his small crew assisted an Active Duty unit in conducting inspections on their Black Hawk helicopters, as well as our Carl's unit's own maintenance functions. His team proved to match their active counter parts and exceed them in quality and quantity of work. His charge to his team was, "we don't turn over work, we finish what we start, and we finish what they start. That way they can't say we messed it up." There was not one challenge his troops didn't accept and complete. They were learning and training right alongside Active Duty Soldiers. Each of them specialized in areas the other was lacking. In this way, collaboration with the active, contractor, DOD civilian and reserve soldiers produced the "Total Force" required to fight and win our nation's wars.
Another aspect of the citizen soldier is the mobilization/demobilization process. Many reserve and National Guard soldiers serve in positions that earn them a higher standard of income verses their military rank. Once they are identified for mobilization there are dozens of things that need tending to. Storing personal belongs, shutting up a house and unfortunately sometimes even closing a business, securing powers of attorney, developing payment plans to cover the loss of income and so on. The human element has no end. Medical examinations, soldier skills training and such all take place at times that are beneficial for the government, but not always for the service member.
The Demobilization process introduces an entirely new set of stressors. You've deployed to combat; you've done your duty and survived. Medical evaluations discover something is not right. Now you have to make a choice. You don't get to go home and relax and decompress, reconnect with family, unless you deny the problem. So off to a warrior transition unit, because there is no Medical Treatment Facility near your home. Soldiers often ignore issues, serious issues, because they are craving that decompression time. They've just spent 12 months away from their families, and you want them to spend another 2-6 months or more, alone, injured? Much like their Active Duty counterparts, not happening! Hopefully most of them do return to the system for the help they need, but there are many that fall through the cracks.
Another less well-known aspect of service in the reserve component is the fact that, when we talk about the unit as a family, we are often speaking literally. During the deployment mentioned above, Carl had a Soldier whose father was his Platoon Sergeant. That Platoon Sergeant's brother-in-law was the Noncommissioned Officer In Charge. This type of connection presents a unique challenge and at the same time creates an atmosphere of family. Carl's own son-in-law is a helicopter pilot. They work together full time, but they serve in separate military units because Carl refuses to deploy into combat situations with him. Carl didn't feel it would be fair to their family. They were in theater at the same time, just in separate locations.
One of the most significant challenges in regards to these forgotten veterans is when they experience issues. For example, Carl was recently diagnosed with cancer. Although he served the military for 30 years, 15 of which include Title 10 or "active" service, the Department of Veterans Affairs determines that it is "less likely than not" that his disease was cause by his service. He is being forced to retire, but will not be able to draw his retirement for another four years. He feels abandoned by the system, and he's just one of the stories.
As you can see by Carl's perspective, the challenges of service in the Reserve and National Guard component are unique. One of the first times this hit home for me was while working with a National Guard unit from Indiana when I was deployed to Afghanistan. An Engineer unit, these Soldiers had the responsibility for construction of buildings and roads in our area, and we often partnered with them as a security escort in order to construct or repair structures. The two Soldiers I remember most clearly worked with us often…they were cousins. Literally related to each other, their mothers were sisters. They once told me that almost a quarter of their unit were related in one way or another. That kind of community sacrifice, that kind of family sacrifice, is not widely experienced in the Active Duty military, and deserves a special kind of consideration and respect.
If you're a veteran of the Active component, reflect on your experiences with those in the reserve component. Maybe they weren't positive…and quite likely their experiences with you weren't positive, either. Personal experiences aside, however, the fact is that these citizen soldiers served, and did so honorably; for that, and for every veteran who has served in a similar way, the thanks of a grateful nation are required.
Carl Bishop is currently serving in the Mississippi Army National Guard and works as a Federal Service Technician. He has 30 years of military experience including 13 years of active duty Air Force, and two Army Deployments, one to Kosovo as a UH-60 Helicopter Crewmember and on to Afghanistan as a UH-60 Helicopter Repair Team Chief and 16 years as a Federal Civil Service Technician. He has served as Quality Control, Platoon Sergeant, Safety NCO and Technical Training Instructor with over 10,000 hours of classroom and lab instruction on aviation maintenance techniques and procedures. He has recently started an LLC in which his goal is to take his experiences in leadership and training into the civilian market.