The human capacity for stress is much greater than what we individually believe.
Was there a time where you thought that you weren't going to be able to accomplish something? You were at your limits, emotionally, physically, mentally, spiritually?
You're still here, aren't you?
Life is challenging, and it's even more challenging when we choose to put ourselves in stressful situations. This is what amazes me about veterans is that we find ourselves in some of the most extreme, tense, and stressful moments in life, and sometimes don't even realize that it was our choices that placed us in that moment.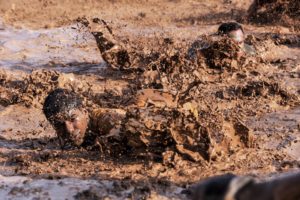 Think back to basic training or boot camp. It might have been intense, or not so much, but it was certainly…instructive. It could have been possibly the most challenging thing that you experienced in your life up to that point. With the exception of older veterans who were caught up in the draft, the majority of veterans today made that choice.
Just when you get through that, though, and you feel like you're prepared for anything, the military continues to throw more curve balls at you. Permanent Change of Station. Foreign countries. Responsibility. Relationships. The need to balance personal life and professional life when the two are so impactfully intertwined. I recall my first duty station in Germany, I was walking through downtown Mannheim one day trying to read the signs and getting thoroughly confused. I knew what the letters were, but I had no clue what they meant! It's a really strange feeling to be betrayed by the alphabet you've known your whole life…but we manage those stressors. And it makes us stronger, more resilient, more capable. More professional.
Our individual capacity for stress is like a bathtub. Everyone has a limit to how much stress they can contain, and it's different for each person. For some, the size of the bathtub is like a teacup. For others, the size of the bathtub is like the room you're sitting in. No matter the size of your bathtub, it is going to be filled by life's stress. There are two ways to get water out of a bathub, though…the "wrong" way, by filling the tub up so much that the water spills over the top and makes a huge mess, and the "right" way, of unblocking the drain and letting the water go where it wants to.
Oh, and did I mention that the bathtub is made of rubber? That the size is flexible? My capacity to handle stress was much less when I was 18 and going through Basic Training, compared to when I was 33 and going to Iraq for the first time. I had a long time between those two events to expand my capacity for stress, to increase the size of my bathtub.
The key to managing the stress of life is first recognizing that we are reaching our limit, and the second is figuring out how to reduce that stress in a constructive way. Many times, we are not aware that our stress is about to overflow the tub until there is a huge mess in the bathroom, and we have to deal with it. We're not always the cause of it directly…we can blame life, we can blame others, we can shake our fist at the heavens but we still have a mess to clean up. Figuring out a solution to keeping the tub from overflowing is much easier, in the long run, than raging and blaming.
Have you ever dropped a solid object in a container of liquid? If the tub is full, and you drop a block of concrete in it, then it's going to overflow. We may be able to handle one block, perhaps two blocks, but then things seem to start getting overwhelming.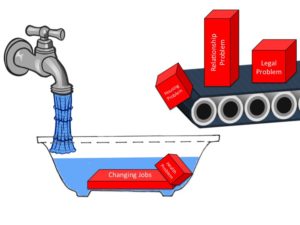 So you have your tub. The faucet of life is constantly running, stuck in the open position, filling your tub with the stress of the daily grind. Bills to be paid, kids to get to school, work to be done. Then, drop an unexpected problem into the tub; you get a ticket. You're about to get out of the military, which you've never done before; you're about to have another kid, the cost of living is too high where you're currently stationed, and the future is uncertain.
Recipe for disaster, right?
The thing about realizing our capacity to handle stress is that, in the exact moment we need to remember that capacity the most, we recognize it the least. We are so focused on the current challenges that we don't take a break, step back, and look at everything in it's proper perspective. That moment of pause to recognize, let's look at everything I've been through…how does this compare to that? You say to yourself, "I had seven different jobs in five years while I was in the military. I am experienced at picking up and moving to a new town, getting started in a new place. I have handled bigger things than this."
After so many experiences of "I can" and "I did", why is it that we still have "can't" in our heads? The anxiety, the nervousness of the uncertain future freezes us as if we getting off the bus (or cattle car) at Basic Training all over again. We made it through then…what is keeping us from getting through it now?
Sometimes it's the should. I should be able to handle this on my own. I should be strong enough, smart enough, good enough to take care of this. I should not need help. I don't need to go to the doctor for this pain in my foot, I don't need to go to a therapist for these thoughts in my head. Sign of weakness, have too much to do, what will others think.
What happens when the tub overflows?
Did you enjoy this post? You can read it and many others like it in the first Head Space and Timing eBook, available for purchase on Amazon now.