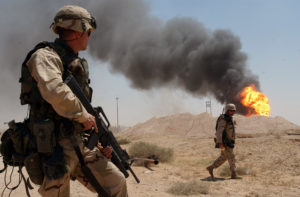 This is the second post in a series of articles describing how a group of veterans in Colorado Springs are attempting to make a difference for other veterans in their community. You can read the FIRST POST HERE.
As described in the first post in this series, I am firmly of the opinion that real change for veterans will come when veterans start taking care of their own. In the spirit of that concept, I'm proud to announce the formation of a 501(c)3 Nonprofit, the Colorado Veterans Health and Wellness Agency.
Some background on the conditions that exist in our community:
The mental health of transitioning veterans is of a major concern to employers, veterans, their families, and the communities in which they live. According to the U.S. Census, there is an estimated 81,330 veterans residing in El Paso County, Colorado. While the prevalence of mental health concerns in Post-9/11 veterans vary wildly, the majority of the studies indicate that anywhere from 5% to 20% of veterans will be diagnosed with Posttraumatic Stress Disorder (PTSD), depression, substance use disorders, or other associated mental health concerns. While not all of the over 80,000 veterans in the region are post 9/11 veterans, conservative estimates arrived at by comparing these two facts implies that there are between 4,000 and 16,000 veterans struggling with some form of difficulty related to their mental wellbeing.
While the care provided to eligible veterans at the local Department of Veterans Affairs is adequate, and provided by committed professionals, the overwhelming demand for services requires a significant amount of time before a veteran can be seen. According to an audit conducted by the Department of Veterans Affairs, the average wait time for a new patient to receive mental health services was over 36 days in VA's Eastern Colorado Health Care System. This indicates that there is a gap in services at the time when a veteran needs services the most, at the onset of distress and difficulty arising from mental health concerns. While the VA is attempting to address these immediate concerns through referrals to their Preferred Choice Provider and Veteran Choice provider networks, many veterans do not pursue this route due to an aversion to seeking mental health treatment, perceptions of more barriers which causes them to feel as though seeking help is to difficult, or because they are not eligible for these programs.
Another source of demonstrated need can be seen through veterans participating in the Colorado Fourth Judicial District Veteran Trauma Court (VTC). The VTC is a program for veterans involved in the justice system who are diagnosed or preliminarily diagnosed with a trauma spectrum disorder related to traumatic exposure during military service while on duty. While in the program, veterans are required to attend mental health treatment as a condition of the probation imposed in their sentence. While the offenses committed by the veterans vary wildly, the majority of the offenses in some way involve substance use/abuse, aggression or assault, and weapons charges. Since the inception of this VTC in 2010, there have been over 400 participants in the program. Had these veterans been able or willing to access care prior to their offense, many of them may have been able to manage their mental health concerns to such an extent so as to not become involved with the justice system in the first place.
For over ten years, one outpatient mental health counseling practice has been providing comprehensive mental health counseling services to active duty service members, veterans, and their families in El Paso County, Colorado. While going through several changes in ownership and partnerships, the mission has remained and will continue to remain the same: providing quality mental health care to our nation's service members. The current agency, The Family Care Center of Colorado Springs, is focused on providing the best outpatient mental health counseling services possible. In order to do that, the owners of the Family Care Center have established the Colorado Veterans Health and Wellness Agency in order to address the shortcomings in veteran mental health identified above.
There are several outstanding organizations providing no-cost mental health services to Veterans, such as Give An Hour and The Soldiers Project. These organizations rely on a connected network of mental health providers volunteering to provide pro bono services to veterans. Therefore, the burden of providing these services are on the mental health professionals, who are unable to dedicate all of their time and services to address this problem. The approach of the Colorado Veterans Health and Wellness Agency is to pursue grant funding and charitable donations from interested partners in order to provide support to veterans in need. Therefore, instead of mental health professionals giving an hour of their time, those who are interested in supporting a veteran achieve wellness can give an hour of counseling to a veteran by donating the cost of a single hour of treatment for a veteran.
As with any organization, the Colorado Veterans Health and Wellness Agency wish to be defined by their Vision, Mission, and Values.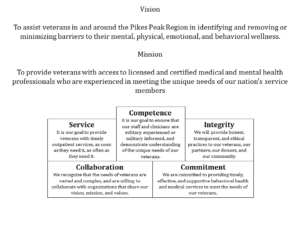 We have received a significant amount of support in this endeavor. While there are a multitude of 501(c)3 Nonprofits that provide support to veterans, we feel as though there is a serious gap in supporting veterans in their mental health and wellness. Through the efforts of this public/nonprofit partnership, we are certain that we will be able to fill in these gaps.
What can you do? Several things:
If you are in or around the Colorado Springs or El Paso County Area, contact me in order to learn how we can serve you and the veterans in your community. We would be pleased to come to your meeting or event and provide a presentation on veteran mental health.
If you are outside of Colorado, we are always interested in pursuing funding opportunities. While we do not intend on taking direct donations at this time, we are very interested in learning of grants, foundations, and funding opportunities that we are able to pursue in order to make our goal a reality.
Regardless of your location, Like, Follow, and Share our Company Page on LinkedIn. Together, we can make a difference for veterans.