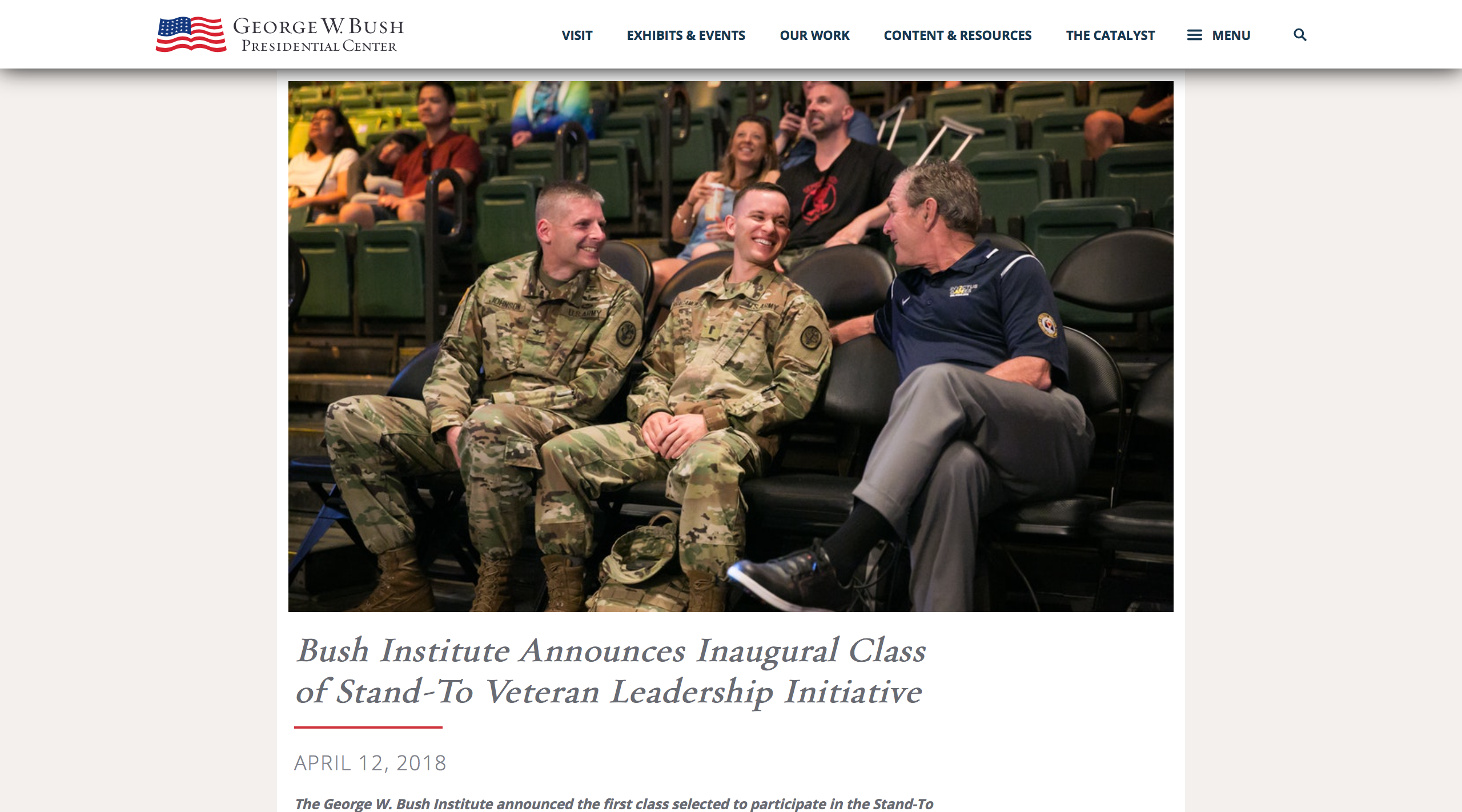 Faithful readers, I've got one heck of an announcement to make: I've been selected as one of the first group of veterans and non-veterans serving in leadership roles across the nation to participate in the Bush Institute Stand-To Veteran Leadership Initiative.
For those of you who haven't served, the concept of a Stand-To is when all members of a unit would take their place on the perimeter of their assigned sector. Thinking back on it, this might not even be a common occurrence in the training for our most recent conflicts; in the 360 degree battlefield, everyone is always on alert for a potential attack or ready for a potential assault. It was certainly a constant element of every training exercise I conducted before 9/11; every soldier in the unit, regardless of rank, would rise before dawn and take up a position on the perimeter. Soldiers in the foxholes, NCOs watching their sector, Officers manning platoon or company command posts; everyone prepared and alert.
It's fitting that the George W. Bush institute has named this leadership initiative as a Stand-To. While we are not defending our sector against the potential onslaught from the Krasnovians (the fictional "enemy" of all of training scenarios I participated in), our nation is fighting on another front: the growing divide between those service members who have successfully transitioned out of the military, and those who struggle in that transition.
Over the next six months, I will join an impressive and diverse group of leaders from across the country to conduct a stand-to in order to meet that challenge of veteran transition head on. It is only through collaboration, not competition, that we will ultimately ensure that every service member will return to their communities and live the post-military life they both desire and deserve.
---
From the announcement:
On April 12th, the George W. Bush Institute announced the first class selected to participate in the Stand-To Veteran Leadership Initiative, a first-of-its-kind program aimed at individuals serving our nation's veterans who are motivated to broaden their skillsets, knowledge, and influence across the country.
Throughout the six-month program, participants will hear from a variety of nationally known and distinguished professionals, educators, and experts in post-9/11 veteran transition issues and leadership development. The inaugural class will gather for an opening session in Dallas in June and in the following months attend four weekend sessions in Dallas, Washington, D.C., and Seattle.  The program will conclude with a final session and closing ceremony at the George W. Bush Presidential Center in the fall of 2018.
Selected participants are rising leaders – both veterans and non-veterans – from a wide range of sectors who are working to improve post-9/11 veteran outcomes. They hold a variety of roles including business and community leaders, members of veteran-serving non-profits, as well as leaders in government, academia, and active military service members.
The Stand-To Veteran Leadership Initiative is part of the Bush Institute's commitment to developing and supporting effective leaders. This program builds on the Bush Institute's extensive body of work on veteran transition issues, and each participant joins the program with a personal leadership project, which allows them to implement what they learn in the program in service of improving veteran outcomes across the United States. The Bush Center gratefully acknowledges the support of The Boeing Company as the Founding Program Underwriter.
The 2018 Class of the Stand-To Veteran Leadership Initiative includes:
John Boerstler, Director, Combined Arms, Houston, TX;
Mary Beth Bruggeman, Vice President, Program Strategy, The Mission Continues, Burke, VA;
Blaire Brush, TAP Employment Workshop Facilitator, The AFX Group, Rio Rancho, NM;
Cicely Burrows-McElwain, Senior Public Health Advisor-Military and Veteran Affairs, Department Health and Human Services – Substance Abuse Mental Health Services Administration, Harpers Ferry, WV;
Richard Casper, Executive Director, CreatiVets, Nashville, TN;
Anne Meree Craig, Executive Director and Co-Founder, The COMMIT Foundation, Bozeman, MT;
Tiffany Daugherty, Manager, Head of Military Employment, First Data Corporation, Jersey City, NJ;
Jonathon Field, Deputy Director, Veteran Education Programs, Ohio Department of Veterans Services, Columbus, OH;
Duane France, Director of Veteran Services, Family Care Center, LLC, Fountain, CO;
Jennifer Goetz, Veteran Student Services Advisor, Washington University in St. Louis, O'Fallon, IL;
Blake Hogan, Executive Director, Bunker Labs Nashville, Nolensville, TN;
Jonathan Horowitch, President and CEO, Easter Seals Serving DC|MD|VA, Bethesda, MD;
Michael Hutchings, Staff Digital Product Manager, General Electric, Suwanee, GA;
Kevin Jones, Director of Strategic Planning and Assessment, Polk State College, Wesley Chapel, FL;
Lyla Kohistany, President and Co-Founder, PROMOTE, Alexandria, VA;
David Lee, Director, Military Programs, CVS Health, Henrico, VA;
Bart Lomont, Co-Founder and COO, Robin Technologies, Inc., Dallas, TX;
Christina Lowhorn, Senior Consultant, Business Development, Nationwide Insurance, Columbus, OH;
Abigail Malchow, Commodity Manager, Intel Corporation, Scottsdale, AZ;
Ryan Manion, President, Travis Manion Foundation, Doylestown, PA;
Saul Martinez, Director of Warrior Services, Warriors and Quiet Waters Foundation, Bozeman, MT;
Christopher Meek, Senior Director, Global Relationship Management, S&P Global, Inc., Stamford, CT;
Meaghan Mobbs, Third Year Doctoral Student in Clinical Psychology, Department of Clinical and Counseling Psychology, Teachers College, Columbia University, West Point, NY;
Kimberly Moros, Chief of Career Transition, United States Special Operations Command, Warrior Care Program-Care Coalition, Department of Defense-Army, Tampa, FL;
Jason Pak, Veteran Outreach and Engagement, Government Operations, The Boeing Company, Arlington, VA;
William Parker III, Senior Quality Improvement Coordinator, Nationwide Children's Hospital, Canal Winchester, OH;
Dan Pflieger, Executive Director, Salute Military Golf Association, New Market, MD;
Michael Richardson, Vice President, Independence Services and Mental Health, Wounded Warrior Project, Atlantic Beach, FL;
Christine Schwartz, Chief Operating Officer, Service to School, Fort Polk, LA;
Charles Sevola Jr., Vice President, Head of Veterans Initiatives, Prudential Financial, Randolph, NJ;
Amy Taft, Manager of Curriculum and Learning, Institute for Veterans and Military Families, Jacksonville, NC;
Brian Thompson, Management and Program Analyst, U.S. Department of Education, Washington, DC;
Kevin Walton, Systems Engineer, The Boeing Company; Ambassador, Foundation for Women Warriors, El Segundo, CA;
Michelle Zook, Constituent Services Manager & Veterans Affairs Policy Lead, Office of Congressman John Ratcliffe, Royse City, TX.
To learn more about the Stand-To Veteran Leadership Initiative, please visit bushcenter.org/veteranleadership.
###
About the George W. Bush Institute:
Housed within the George W. Bush Presidential Center, the George W. Bush Institute is an action-oriented, nonpartisan policy organization with the mission of developing leaders, advancing policy, and taking action to solve today's most pressing challenges. The work is achieved through three Impact Centers – Domestic Excellence, Global Leadership, and the Engagement Agenda – by which the Bush Institute engages the greater community with its important work.
The Military Service Initiative within the Bush Institute honors the service and sacrifice of all post-9/11 veterans by ensuring that they and their families make successful transitions to civilian life, specifically in addressing the challenges of employment and overcoming the invisible wounds of war.
---
It is with extreme gratitude and appreciation that I share this with you, the community of veterans, family members, and those who support them that has supported me over the last two years. I firmly believe that the encouragement and support that I've received from everyone is a large part of being selected for this honor. I hope that this experience will enable me to continue to bring awareness to the need for veteran mental health awareness, and to help change the way that we think and talk about veteran mental health.
The Head Space and Timing Blog is supported by the Colorado Veterans Health and Wellness Agency, a 501(c)3 Nonprofit in Colorado Springs, Colorado. The goal of the CVHWA is to provide military culturally competent mental health counseling to veterans and their spouses, regardless of characterization of discharge, time of service, or era of service. Our vision is to assist veterans to identify and remove barriers to their mental, physical, emotional, and behavioral wellness. For questions or inquiries, contact us!