You don't climb a mountain by saying you wish you could.
One of the challenges that I see with the veterans I work with as a mental health counselor is an experience of being stuck. Regardless of how things were when they were in the military, they seem to feel bogged down in their post military life. How often do we say that we want things to change, wish they were different, but still do the same old thing?
One of the things that I always stress with my clients is the need to become self-aware. What am I thinking. What am I feeling. How is the environment affecting me, and how am I impacting the environment. Without this awareness, we may know that there's a problem, but we don't know what it is. And if we can't define the problem properly, then we can't come up with a solution.
There are a lot of things that get in the way of taking action. In applying the theory of planned behavior to veterans seeking health care, the authors identified a number of barriers that keep a veteran from taking action. These include stigma against seeking help, the beliefs of others about help seeking, and not knowing how to access support. Without overcoming these barriers, change won't happen.
Awareness Is Not Enough
I've said before, and I say it often to veterans I work with, that awareness is the key to recovery when it comes to veteran mental health. Often, veterans don't know that things are different unless it's brought to their attention. A mentor of mine, Dr. Steven Kidd, says it this way: "people will seek mental health treatment because of one of three things: their lawyer, their lover, or their liver." Something in the world brings the problem to the veteran's attention; but simply being aware of that is not enough.
In a study released in January of 2018, the National Academies of Science, Engineering and Medicine interviewed over 4000 post-9/11 veterans, and found that over half of them screened positive for some form of mental health condition. Of the number that screened positive, 16% of them knew that there was a problem…but refused to engage in treatment. Knowing there is a problem is not enough to solve the problem, it's only the first step.
Negative Thinking Holds Me Back
Another thing that keeps us from taking action is that we're caught in a cage of our own construction. We tell ourselves that something is impossible, when it really isn't. That we "can't" for whatever reason. We wouldn't be allowed, we don't have the ability, the task is impossible. Going back to the quote at the beginning of this article; we may stand at the foot of a mountain and look at the top and want to get there, but if we tell ourselves we can't do it, then our desires will not be fulfilled. Wanting to be on the top isn't going to get us there; we literally have to take steps to make it happen, in this case. This speaks to the Audacity Principle; if I put limits on my own sense of what is possible, then I'm not achieving all that I can. Or even all that I want.
My Perceived Limitations are Greater Than They Are
This is something that I see with veterans. We allow conditions to define us, instead of moving forward in spite of the conditions we find ourselves in. "I had to get out of there because of my anxiety" or "I can't get going because of my depression." Action is moving forward in spite of instead of not moving because of. It's as if our anxiety or depression or disability, if we want to call it that, is an external force that we have no control over. We do have control over it; I am certain of it, because I see the evidence around me every day. If we accept our limitations as the upper limits, rather than acknowledging them as simply obstacles to navigate, then we will remain stuck. We will not take action.
It's Easier to Want than to Do
Change takes effort. Whether it's physical health, psychological health, spiritual health, it all requires work. I often hear from veterans; "I wish this would just go away overnight." It didn't happen overnight, did it? Why would we think that we could instantly untie a knot that has been forming for years? The small steps…action…are what will eventually lead to a big change.
It was once described to me in a crude way, but I haven't heard a better one. It's as if we're sitting in a warm pool of our own crap. We don't necessarily like it, but it's known and it's comfortable. Getting out of the pool takes effort and work; and that effort is uncomfortable. We start to think of those barriers: "there's no help out there." "Nobody really gives a crap." "Nothing I will do will make a difference anyway." Then, we slide back into our known and comfortable pool of crap, and say, "I wish I could get out of this."
A Little Effort Goes a Long Way
Start something today. Make a small change. If you want to write, don't start on a novel; start with a paragraph. If you want to lose fifty pounds, start with a walk around the block. Small actions, done consistently, will accumulate into large results.
You just have to take action.
---
Want to keep up with all of the Head Space and Timing content? Subscribe Here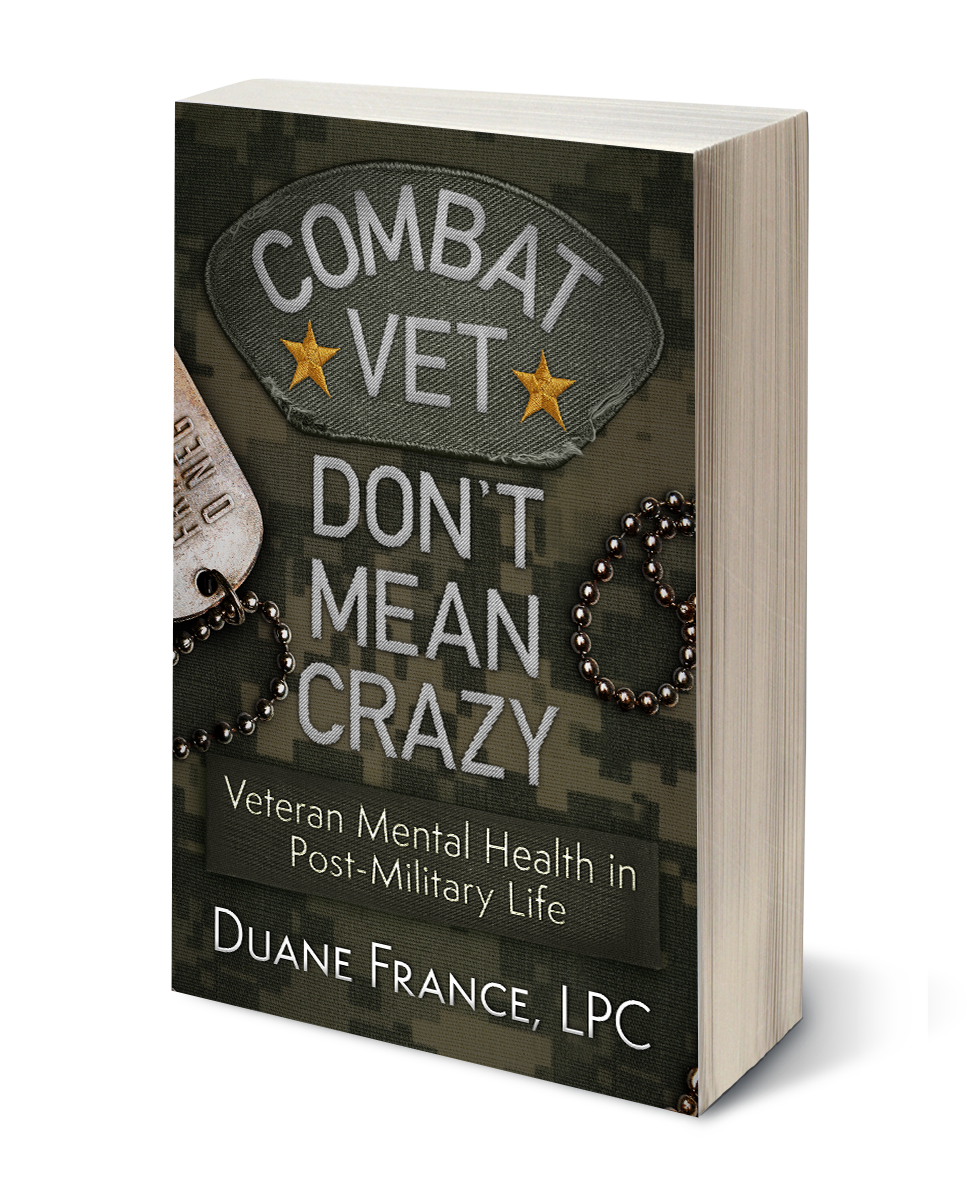 Want to learn more about veteran mental health? Check out the latest Head Space and Timing book,Combat Vet Don't Mean Crazy: Veteran Mental Health in Post-Military Life
. Check out what people are saying about it:
Overall 'Combat Vet Don't Mean Crazy' is a very well written, thought-provoking book. As usual, SFC France did a fantastic job! Being a combat veteran myself who has served in both Iraq and Afghanistan, I feel there's a lot of powerful information and tools in this book that you can put to use immediately – even as you're reading this book. Definitely an excellent read on those days of rest and/or distress. – J.C.